As an international educator and Redken and Tearsheet Artist, Eyliana Gibson is no stranger to long, hard days of work in order to create beauty within the industry. She exudes passion and an exuberant amount of energy as she passes her knowledge on to her students. Striving for excellence, her work shows in her beautiful collections and ability to teach others so effortlessly. A team player, this year at Symposium Eyliana was a part of the FashionTrends team, and it's no wonder with her style and grace. See her take on the experience…
---
Think back to school or a big project at work… There is anticipation, stress, and lots of preparation. It's exciting, nerve wracking and worth every minute! The two years of waiting in between Redken Symposium is full of just that.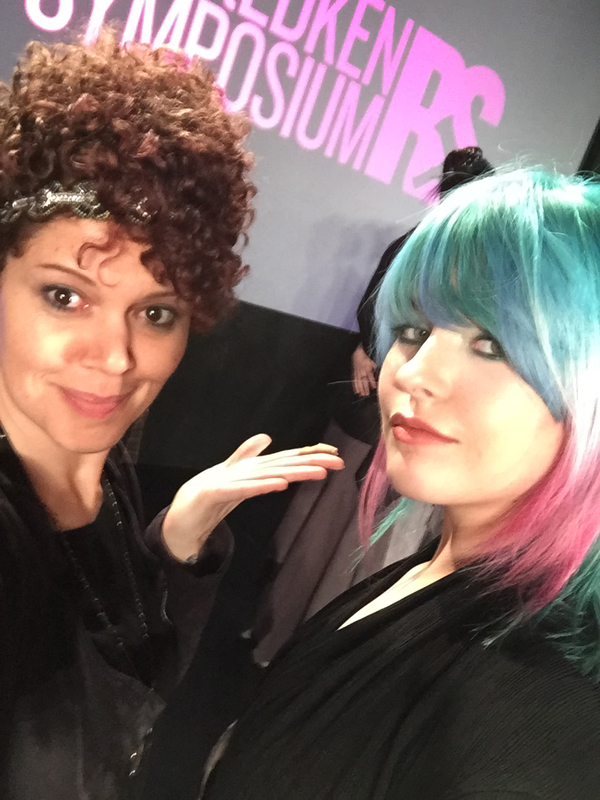 Prep. It's all in the setup.
It's a big job and our fearless leaders have their work cut out for them.
Held in Las Vegas at Mandalay Bay, Symposium is a bi-annual event and the largest single manufacturer hairshow in the US. This year, with our sister Pureology and brands like Sam Villa, Tearsheet, and Kasho in the house, it was a well-rounded party!

All the hours spent filling in the blanks, taking notes, practicing techniques, rehearsing the moves, working through color challenges, and finding the perfect models lead up to three short days its finally time for Redken Symposium!!

Live education in the Redken gallerie provided attendees with up close and personal views of the magic of CityBeats and the new goodies launching this year, as well as opportunity to try products and discover PhBonder!! If you were one of the 8,000 salon professionals who walked through the Gallerie during Redken Symposium 2017, you may have seen windows into the madhouse that is 'The Model Room'. Most of us are used to working in organized chaos and this is no exception. Each team is building an entire show and the amount of work that goes into the planning and execution of the presentation is unbelievable.

Our team was an instant family. Joining me on the FashionTrends team were leads Ellen Lawlor, Adam Browne, Mana Dave and Carmody Homan as well as support Kierstan Lehner, Chachi Tuy, Kerry Smith, Rachel Poteet and Sherry Slaight. While we are all disciplined professionals and colleagues working in different salons around the world, we are each unique in our skill sets and working habits. Communication was key to the synergy and success of the group. We met prior to Model Casting Thursday afternoon to put our heads together and get direction from the leads about expectations for the show. With a clear idea in mind and the team energized, we joined the other Redken Artists for a pep rally with our fearless (and voiceless) Sheri Doss. Breaking down the dance moves and inspiring the tribe via a whiteboard was a testament to the love this brand puts into everything!

Upon completion of the model selection process, each team went to work! Creating makeup and wardrobe plans, call times, schedules for the next two days of color prep, and of course, celebrating wins! We connected with teammates and shared ideas, practiced energy, and got our kits packed for the job ahead. It's a long walk from the hotel room to Oceanside (Mandalay Bay) and a rolling suitcase is a must. Comfortable shoes and water, water, water!! Also, discovered the magic of fanny packs again...welcome back!

DAY 1
Call time: 7 AM
Presentation models and technical models begin arriving and consults are done, release forms signed, and the first cuts and colors start right away. Many projects were multi layered and needed 6-8 hands on deck to complete the job. We were all working for a common goal; completing 27 models start to finish in 36 hours. There were 10 hairdressers on our team, some specializing in color and others in design and finish. We pooled our talents and delegated tasks to each person, creating a synergy that fueled us for the duration. From feeding each other snacks to blow dry support and back rubs, we all took care of each other and the models.
Teamwork does in fact make the dream work. For all of us who saw the sunrise and sunset from the bay door, I salute you!!! Losing sense of time and reality is easy when you're backstage and that doorway to the outside world provided not only a breath of fresh air and sunshine, but sometimes a moment of meditation as well.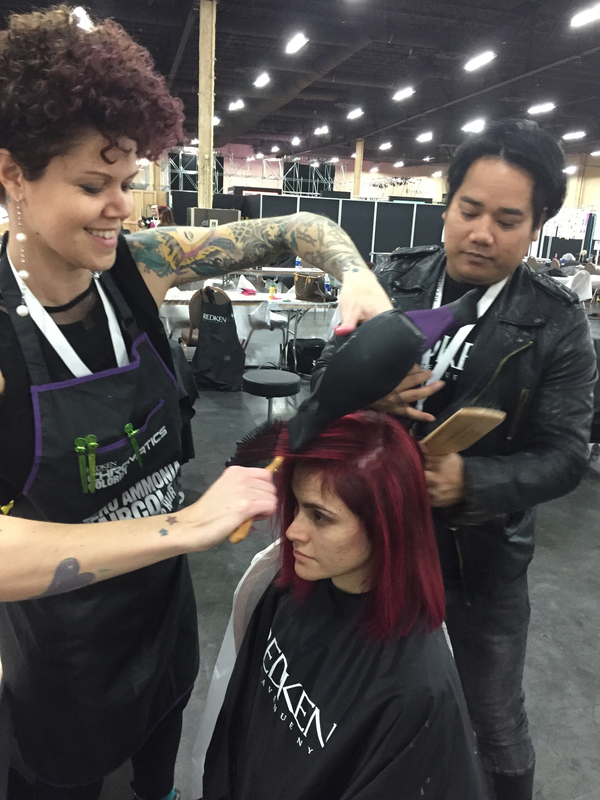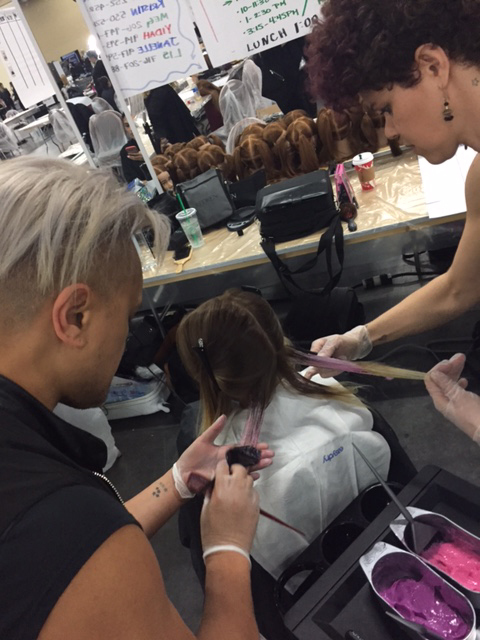 Day 2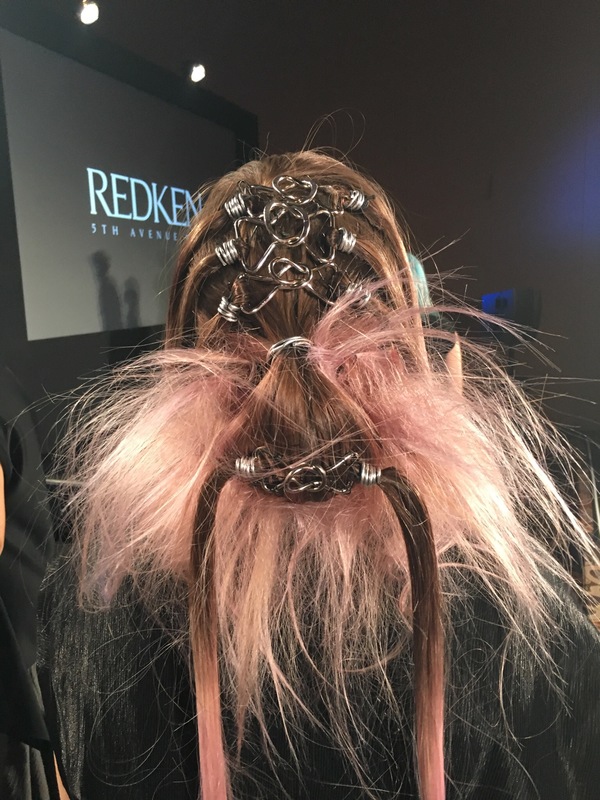 Call time: 7 AM
After a very productive first day, we had a lot of work to do but it was less daunting. More of a hill than a mountain! Refining color, creating PowerPoints, perfecting finished looks and rehearsing technical demos kept us busy all morning.
When we were able to line up all our models for rehearsal, it was a magic moment. The choreography and hair are just a small part of the presentation...wardrobe, music, lighting, the shoes and of course, the crowd! We are nothing without an audience and that rehearsal is when the presentation comes together visually.The WHY behind the countless hours is sharing what we love with amazing Redken stylists who travel from all over the world to receive education from some of the top hairdressers in the world!
After rehearsal and lunch, work resumed and with only 12 hours before the first show, it was time to make sure all the work was complete, perfected and ready to go onstage. Some of my favorite personal projects included creating a pastel color wash for our Kate Moss look-alike and the wefts used to create her finished look, a blonde to teal transformation using 40 tubes of City Beats, and an eleventh hour color correction that went from mission impossible to show hair in 4 hours! Did I mention teamwork?? At the end of the day, we had completed the work, laid out flow charts for first program and had just enough energy to throw on fresh clothes to attend Grand Opening!!
It was a stunning show and the teams creating the hair deserve much applause...well done!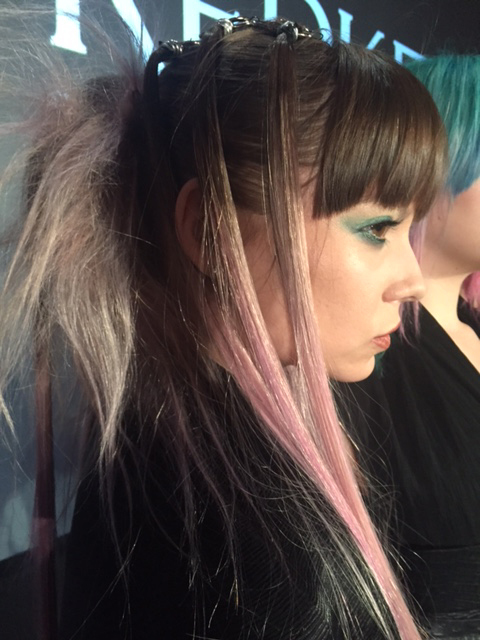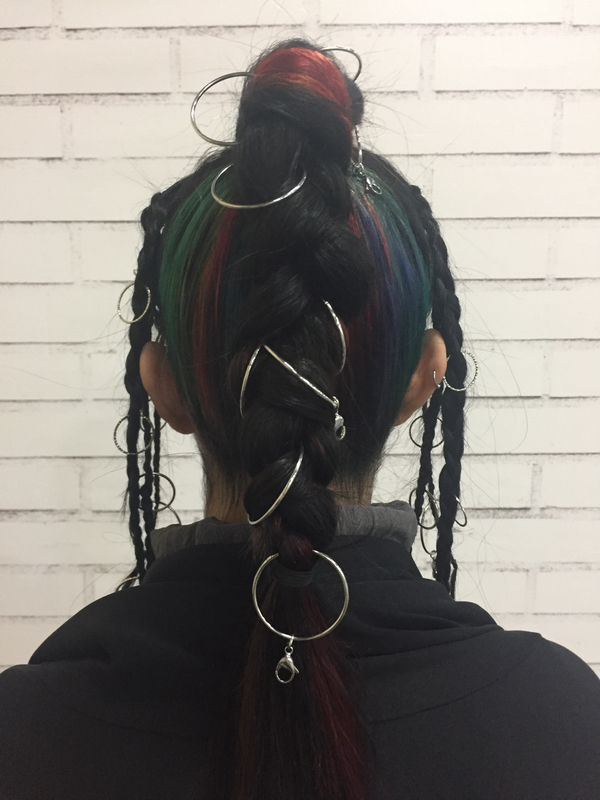 Day 3
Call time: 5 AM
Show day!!! The energy in the model room was lively despite the early hour. Shout out to coffee for keeping us all upright!
Everyone was focused on specific tasks and got to work right away. We had all the models on deck, wardrobe and makeup working overtime and every team was feeling the pressure to stay on track. The true nature of the Redken Artist tribe was evident, as cheers of support would echo the model room when a team walked in, it showed the openness and excitement to work together, learn and grow with each other and celebrate the wins, which is priceless.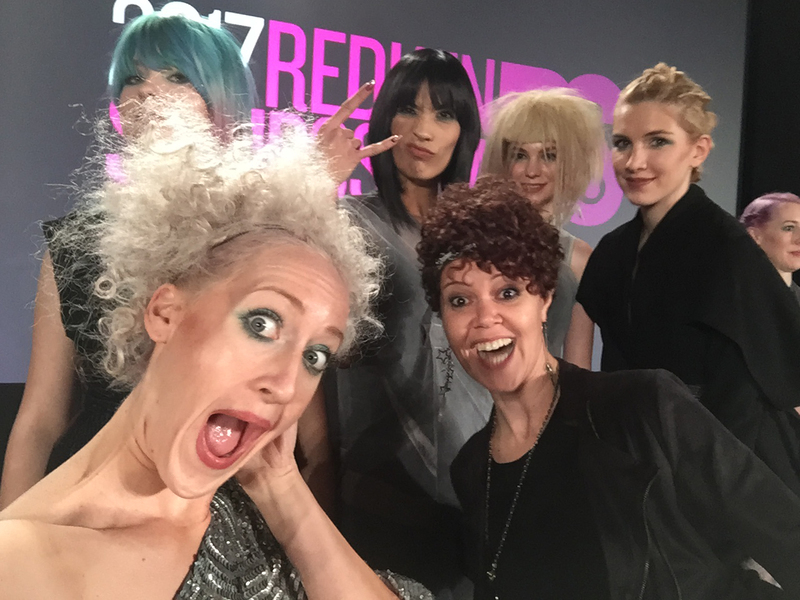 When it was time for FashionTrends first show, we were ready! The team delivered great content, our models were gorgeous and the end result was inspired stylists armed with new techniques and information. From CityBeats to PhBonder and marbled, braided finishes, we had it all. Adam incorporated a giant white board into his presentation and painted large-scale patterns using CityBeats. Ellen used her impressive collection of loops and buckles to create a variety of dazzling finishes and Mana and Carmody kept the team strong with beautiful color techniques and salon friendly haircuts! Backstage, it's all model wrangling, timing and following the show script. "What you can see, you can manage" is very true backstage and the support had hands full with model organization, tech support, and energy!

After debriefing and holding a planning session for the final day, we wrapped, which meant it was time for dinner and some adult beverages. The RS17 Bash featured a concert by DNCE and a massive dance party! No better way to celebrate a day of great education...Redken style!


Day 4
Call time: 5 AM
Somehow, it was the last day. Strangers had become friends, transformations had been made, and it was time for the last shows...funny how time flies when you're having fun at work!
We fueled up on oatmeal, Nutella, hard-boiled eggs (and coffee!) and got to work. The teams were seamless and all hands were on deck supporting each other and even jumping in with other teams when there was downtime. As each team finished their programs, the high fives and cheers continued. It was lovely to see artists from all over the world sharing photos, ideas, and hugs! We really are a global family and Redken Symposium is our opportunity to do what we love, as a tribe. Bringing that much creative energy together creates dynamic possibility and it is a big hair jam where we mentor each other to achieve the best possible outcomes. Do what you love and you'll never work a day in your life...

When the last class wrapped, we all connected for a last debrief. It was a bittersweet moment...exhausted and dehydrated, but somehow wanting to do it all again. Empowered with words from our leaders, we toasted to a job well done, each other and the future! Before dispersing to the airports and various countries around the world, we met for hands in the middle. Redken Tribe on 3!!!
Being surrounded by these extra hard working, unbelievably dedicated, mega passionate, uplifting human beings is the best part of my job and we are so lucky to have the opportunity to share it all with you.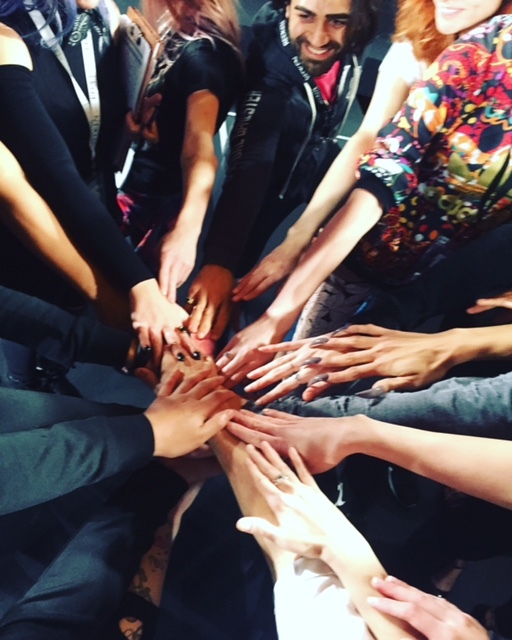 LEARN, EARN, AND LIVE BETTER
Matthew Tyldesley gave a great recap of the Grand Opening team prep and process, showcasing some of the most inspiring moments from RS2017! Take a peek into the model room and see what it's like to work behind the scenes with Redken 5th Ave and the Redken Artist Network behind the scenes, here!