Whether you're a bridal hair artist or simply have a lot of clients heading off to ceremonies this season, weddings are big business in the salon. "When it comes to the business of bridal, you really need to be prepared for anything," says Redken Artist Jackie Litscher. From go-to products to must-have styles, Litscher details everything you need for the perfect bridal look as well as a well-rounded kit below.
"My beachy, bridal inspiration for this look was a chic, effortless look that also has a classiness behind it. This look will last all day and night, and your clients can really make the look theirs by adding in a hair piece like I did here, by twisting their hair into a knot at the back of their head, or by leaving all their hair down with loose waves. The hair piece really adds a fun element to the look – it's the perfect addition to have an effortless look with a twist, an accessory your client might not normally wear." - Redken Artist Jackie Litscher.
GET THE LOOK:
Prep dry hair with a few spritzes of Redken Iron Shape 11 throughout your lengths and ends for heat protection and a touch of hold.
Comb out 1" sections of your hair with a fine-tooth comb, then use a 1" curling iron on each section moving away from your face.
Allow all of the areas to cool.
Using a crimping iron, crimp the under layers at the back of your head for added root volume. If you don't have a crimping iron, simply backcomb these sections with a fine-toothed comb.
Starting on one side of your head, take the face-framing sections of your hair in the front (about ¼ of your total hair's thickness) and separate into two sections.
Twist these sections around each other, then secure in the back with bobby pins. Repeat on the other side of your head.
Using your fingers, allow your face-framing baby hairs to peek out on either side to soften the look and add to its effortless vibe.
Spray a few spritzes of Redken Control Addict 28 all over the look for hold and humidity protection.
If desired, secure a glitzy barrette in the back to add a bit of extra polish.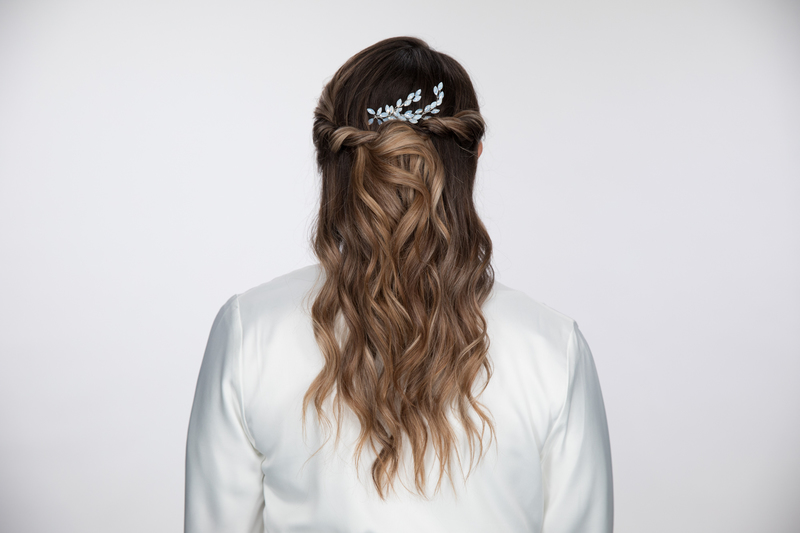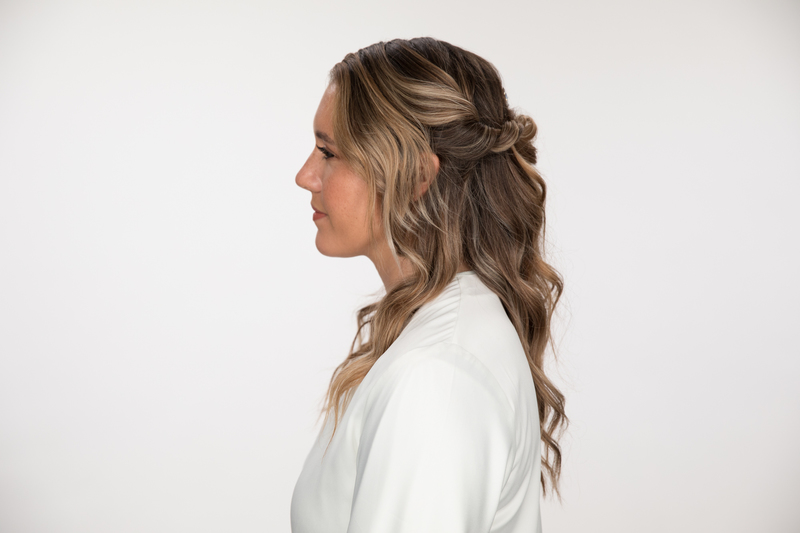 Adding bridal services to your book can be a great way to bring in extra income as well as meet new clients. Because many stylists behind the chair don't offer bridal services, this can be a great way to diversify. When a bride trusts you for their big day, they are sure to turn to your for cut and color advice as well!
"When it comes to the business of bridal," Redken Artist Jackie Litscher says "...you really need to be prepared for anything. Sit with your client and have them explain how they want their end look to make them feel. At the consultation, try a few different looks a few different ways and see what makes them feel the most comfortable. Anticipate any stress or concerns they might have day-of. And one of my favorite tips involves your kit – one of the things that have been most helpful to me when it comes to feeling prepared is to always carry extra hair accessories. Have all of the different types of hair pins, bobby pins... one of the different tools that I use are plastic needles. I do a lot of sewing with updos, so that way the bride doesn't have to worry about a ton of bobby pins in her hair. That's always a huge thing that I've realized a lot of stylists don't do, and clients love that. You can show them quickly how to take it out. Plus, it doesn't hurt to always carry a few hair accessories like a glitzy clip, an enamel floral pin, etc. so the client can feel like the look has a touch of flourish. And finally, keep yourself 'in the know' of all the different ways to complete a hairstyle - for example, there's like ten ways to put in a ponytail – show your client how a ponytail can mean many different things!"
---
For more color formulas, tips, and tricks visit www.redkensalon.com/, follow along and tag us in your creations on social media @Redken!