The color seen round the world (other than Gold) was Lady Gaga's periwinkle blue hair. Bringing in a stellar win on and off the Red Carpet, Gaga's blues continues to top the list of the best dressed. With award season just beginning, The Golden Globes started off the year with a few quirky moments, some heartfelt speeches and tons of fashion and beauty inspiration for the season ahead - we'll be adding a pantsuit to our 2019 wish list. Take a peek below to learn more about the top styles and the stars who wore them!
Lady Gaga
The A Star Is Born actress definitely took the cake when it came to overall appearance. She has us guessing: which came first the dress or the hair? Her stunning bespoke gown compliments of Pierpaolo Piccoli was a custom shade that was made in accordance with her pastel hair. While some are seeing this as a throwback to the blue hues Judy Garland once wore, we're seeing it as a whole new way to style yourself.
Julia Roberts
#TuxedoTrousers have never been more popular. It's ok, we want a pantsuit now too. From her outfit to her stunning side-swept blonde hair, The Homecoming star was STUNNING on all fronts. We loved this 60s-esque style on her, complete with perfect hair and skin.
Lupita Nyong'o
We all knew that hair accessories were back this year, but Lupita Nyong'o is pulling off the trend with style and grace. Her Calvin Klein by Appointment dress, in deep blue with chain accents, complimented her hair beautifully. Using her natural hair and creating a stand-out silhouette - a chain woven into a beautiful braid create detail and interest throughout her style.
Irina Shayk
While we desperately wish Bradley Cooper would grow his A Star Is Born scruff, we'll live vicariously through the stunning style of his girlfriend - Irina Shayk. Cooper slightly resembled a cake-topper, but maybe it was on purpose so he didn't steal the show from Shayk? Shayk is showcasing a blunt bob that effortlessly grazes her chin, indicating that sleek styling is in fact back again.
Charlize Theron
Oh, Charlize. #swoon What we wouldn't give for an ounce of your style! Keeping her look classy with a black and white haltered gown, Charlize opts for a supremely sleek half-up hairstyle. By pulling her hair out of her face she capitalizes on those cheekbones and her cut even shows off her clavicles.
Janelle Monáe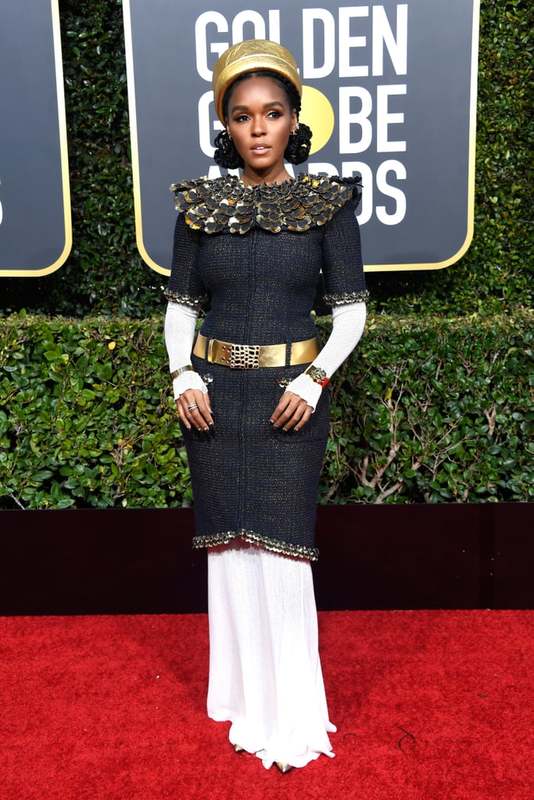 Image Source: Getty
Is there anything she can't rock? Janelle Monáe is giving us all the feels with her classic look. Her Chanel style is all in the details and tying it together, her gold hat is the perfect accessory to accompany her jewelry and belt. We love her playful approach to her hair with buns and braids creating a youthful appearance to this demure outfit.
---
Stay tuned for even more styles from Award Season and be sure to tag us in all your creations on social media @Bangstyle!
For more fashion-forward styles be sure to stock up on all goodies the Bangstyle store has to offer!