Every New Year we set goals for ourselves, some we obtain, while others fall by the waste-side. It's time to make the hair you want an attainable goal, and we've got the ways to help you get there. From healthier hair habits to improvements on the look and feel, read on to discover how to achieve your best hair yet!
Shampoo & Condition Without Damage
To improve the health of your hair, start with your shampoo and conditioner. Shampoos should remove residue from your hairspray, serums and/or mousse from your hair, but not strip your hair of anything and everything. When it comes to improving the health of your hair, you'll want to stay away from clarifying shampoos on the daily – save a clarifying shampoo for every other week before deep conditioning to makeup sure your scalp holds on to the healthy oils your scalp produces.
Daily, you want a system that will repair damage, even if your hair isn't damaged. Total Results So Long Damage Shampoo, with Ceramide, enhances your overall shine, helps boost your hair's strength to reduce breakage, and allow hair to grow longer. Conditioners improve the look and feel of your hair making it shinier and softer. That's not the only thing conditioners are good for; they also coat your hair to protect it from heat damage. When shopping for conditioners, look out for formulas that contain ingredients that won't rinse off. Total Results So Long Damage Conditioner boost strength, reduces breakage and enhances shine.
Choose To Air-Dry Over Blow-Dry
The good thing about air-drying is that it is good for every hair type and texture. Allowing your tresses to air-dry overnight will keep damage to a minimum and allow you to experiment with new looks. The tools you use to get your hair sleek and straight are damaging because the cuticle is weakened leaving your hair dry, brittle and lackluster, so steer clear on the regular. After washing your hair, work in a quarter-size amount of Total Results So Long Damage Break Fix Leave-in Elixir to damp hair, and braid it into two to four loose braids. By doing this, you will smooth out your frizz, loosen your natural curl pattern, and add natural-looking waves to straight hair.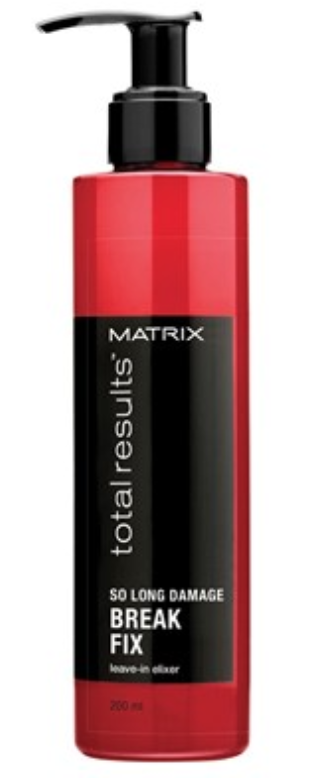 Let It Shine
Oils and serums are all well and good, but sometimes they are better for the long run. They definitely can improve the look of your hair, but they often don't create a natural looking finish. Opt for a dry oil or a mist to smooth your hair's cuticle. The smoother your hair cuticle, the healthier your hair will be and look. The right spray will add shine while fighting frizz without the greasy look and feel, it's suitable for all hair types, and will easily blend into any hair-styling routine. Biolage Sugar Shine Illuminating Mist is the perfect primer for preventing damaged locks and attaining a brilliant, natural finish.

Read more from Estilo y Forma on our blog and follow us on Facebook and Bangstyle for more helpful tips and tricks!
---
Cómo Mejorar Su Cabello en 2018
Cada Año Nuevo tenemos metas para nosotros mismos, unos lo logramos, mientras otros caen por el lado de desperdicio. Es tiempo de hacer el cabello que quieres una meta alcanzable y tenemos las maneras de ayudarte llegar allí. ¡Desde cabello saludable a mejoramientos sobre el aspecto y sentimiento, sigue leyendo para descubrir cómo alcanzar su mejor cabello!
Champú y Acondicionador Sin Daño
Para mejorar la salud del cabello, empieza con su champú y acondicionador. Champús deben remover residuo de su laca, sueros y/o espuma del cabello, pero no deben quitar su pelo de cualquier cosa y todo. Cuando se trate de mejorando la salud del cabello, vas a querer mantenerse alejada de champús clarificantes todos los días – reservar un champú clarificante para cada otra semana antes de usar un acondicionador profundo para asegurar de que el cuero cabelludo sostiene los aceites saludables que producen.
Diariamente, vas a querer un sistema que va a reparar daño, incluso aunque el cabello no es dañado. Total Results Champú So Long Damage, con ceramidas, aumenta el brillo, ayuda a fortalecer el cabello largo para ayudar a reducir a su rotura y prolongar el crecimiento saludable del cabello. Acondicionadores mejoran el aspecto y el sentimiento del cabello haciéndolo más brillante y más suave. Eso no es la única cosa que acondicionadores son buenas por sino también cubren el cabello para protegerlo del daño térmico. Cuando compras acondicionadores, busca fórmulas que contienen ingredientes que no van a enjuagar. Total Results Acondicionador So Long Damage ayuda a fortalecer el cabello, reduzca la rotura y aumenta brillo.
Elegir a Secar por el Aire Sobre Secar con una Secadora
Lo bueno de secar por el aire es que es bueno para cada tipo y textura de cabello. Permitiendo sus mechones a secar por el aire durante la noche minimizará el daño y le permitirá a experimentar con miradas nuevas. Las herramientas que usan para hacer el cabello estilizado y liso son perjudiciales porque la cutícula está debilitada dejando el cabello seco, frágil y mediocre, entonces alejarse de hacerlo regularmente. Después de lavar el cabello, usa una cantidad de moneda de Total Results Elixir Reparador sin Enjuague So Long Damage Break Fix en cabello húmedo y trenzarlo en dos o cuatro trenzas sueltas. Por hacer esto, vas a alisar el encrespamiento, aflojar el patrón natural de sus rizos y añadir ondas con un aspecto natural a cabello liso.
Déjalo Brillar
Aceites y sueros son buenos y todo, pero a veces serán mejores empleos en el plazo largo. Definitivamente pueden aumentar el aspecto del cabello, pero a menudo no crean un acabado con un aspecto natural. Optar por un aceite seco o un producto nebulizado para alisar la cutícula del pelo. El más liso la cutícula del pelo, el más saludable su cabello va a ser y mirar. El spray adecuado va a añadir brillo mientras que combate el encrespamiento sin el aspecto y sentimiento grasoso, es adecuado para todos los tipos de cabello y va a mezclar fácilmente en cualquier rutina de estilización. Biolage SugarShine Spray de Brillo es el producto perfecto para prevenir mechones dañados y lograr un acabado natural y brillante.
---
Lea más de Estilo y Forma en nuestro blog y síganos en Facebook y Bangstyle para más consejos y trucos útiles.