Chie Sharp of Perpetual Studio created quite the collaboration in this collection! Working with body painter, Aryn Fox, this duo created the ultimate fantasy. Take a closer look at her art and learn a bit more about Chie!
---
1. What was the inspiration behind the collection.
The creative process changes depending on the shoot. This project I needed to create something that body painter, Aryn Fox could play off of. Aryn is an amazing artist who was on this last season of Skin Wars. She took the basket weave in the hair and used it in the "robe". I just love how it all came together. This was a bit of a longboard distance relationship. I created the hair before Aryn arrived from her journey to the studio.
2. What is your recipe for an amazing shoot?
A great team and a good idea is always the perfect start. Add in some good communication and planning to make it all go smooth. Of course there is always the little problems that occur but you have to be able to adapt as you go.
3. What is your pump up playlist?
We tend to listen to a local radio station that plays only the best classics... Ya know, stuff like "Back To The Hotel and Insane In The Brain." Classics...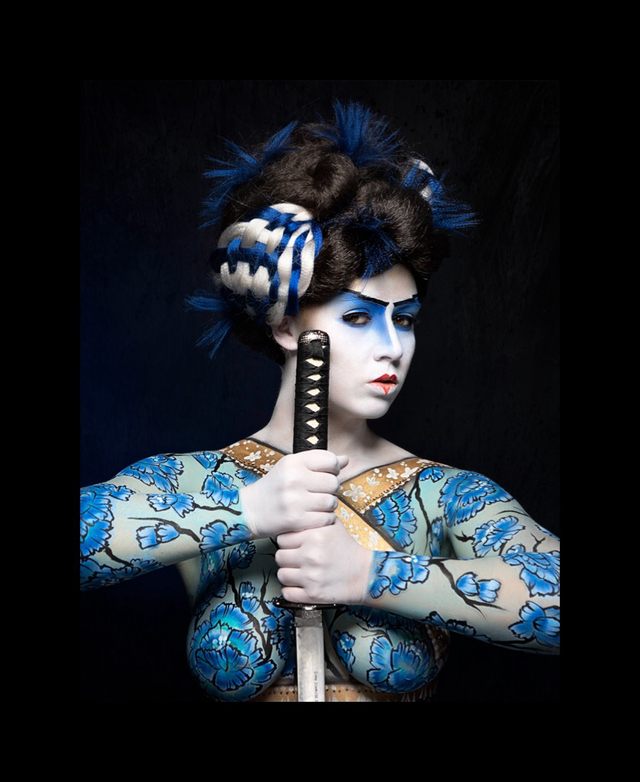 4. What other areas of beauty do you draw inspiration from?
I get inspiration from all sorts of things... Landscapes, city sky lines, sunsets, works of art. Even people on the street or the feel of music.
5. Who are your style icons?
I don't really have people who inspire me. I'm more inspired by works of art or feelings portrayed by those around me.
6. If you could style anyone's hair who would it be and what would you do with their hair?
If I could pop my own head off and work on myself that would be rad! I can't remember the last time I sat and someone styled my hair.
7. What is the one tool or product you can't live without?
I'm pretty sure I can't live without bobby pins! It's the one "tool" I must always carry with me. I bet you could follow a trail of bobby pins and it will lead you to me creating somethings fun. Product...if a case of Transforming Spray by Aquage were to show up at my door once a week, it would bring me tears of joy each time. I love that product. Extreme hold without any flaking making it great for photo shoots a f movie sets when you need to restyle the hair.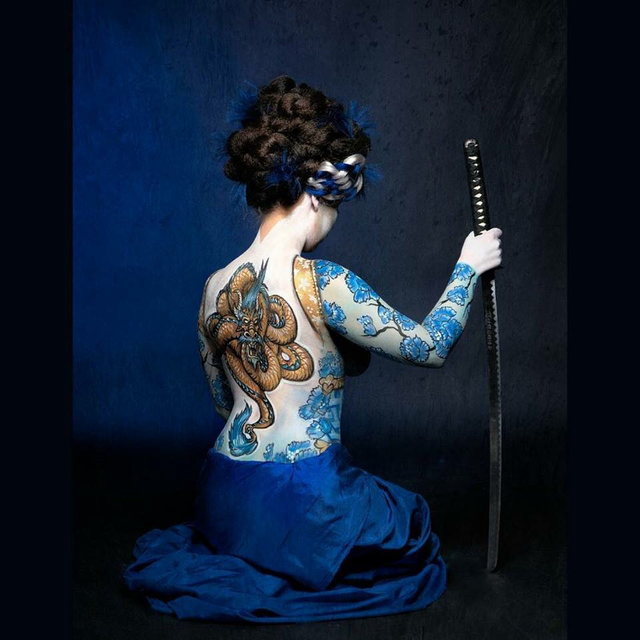 8. What hair trends are you loving?
Deep waves. I really dig seeing all the variations of it. So many fun ways to incorporate into shoots and with clients in the salon.
9. Any hair trends you would like to revive?
I appreciate and am inspired by most trends of the past. There is a certain about of skill that is needed to achieved those classic looks. I'd have to say the 20s and 50s are my favorite. I'm a firm believer that people should be individuals and not worry about what is "in" style. If you want it, then do it! Who cares!
10. What time do you feel most creative?
My mind races with ideas late at night or the magical 3:00 am time when thoughts start flowing. I tend to do most my physical creating in the morning. It seems to be the best time for my patience to work on my behalf.
11. You're home alone with no one to judge you what do you eat? What do you watch? What song do you belt out?
A month ago it would have been something yummy like Fruity Pebbles but now it's healthy junk like protein shakes but you can't get me to stop watching 3rd Rock From The Sun. I love that show! Cocaine Blues by Johnny Cash, but I'm sure that's what everyone sings to put them in a good mood.
---
Be sure to stalk Chie on Bangstyle to see all of her latest inpsirations!
Hair: Chie Sharp
Body Painting: Aryn Fox
Photography: Kerri Jean
Model: Aria Steel