Say goodbye to bobby pins—seriously. This entire look can be created with some product, braids, hair elastic and the STITCH. Follow along:
What You'll Need:
Mousse and Microcrimper
2 Hair Ties
2 Strings of Hair Elastic
---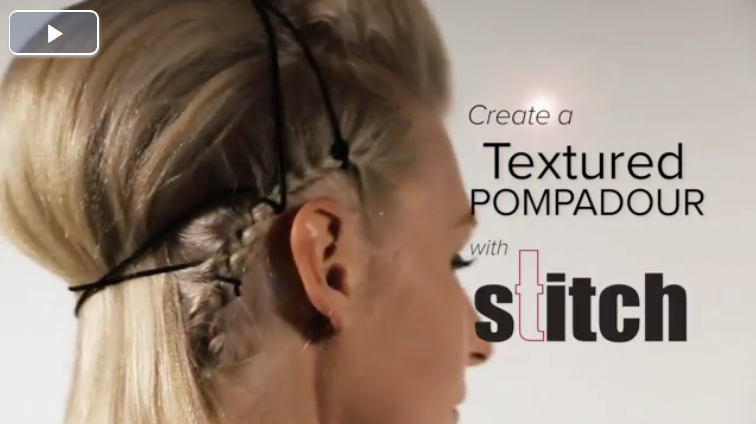 Click to Watch and Follow the Steps Below!
---
Get Textured // Step 1: Flat Iron and Microcrimp
1. To create texture, apply mousse from scalp to ends and blow-dry. Then, alternate subsections, starting from the front, with a flat iron and the Sam Villa Textr Iron and you're ready to STITCH!
Get Braided // Step 2: Braid and Backcomb
2. When parting the hair, take a profile section on both sides of the head—like a Mohawk—starting from the recession and work down into the nape area. Make sure the part is very neat and clean. That way, you won't grab hair from the other section when braiding.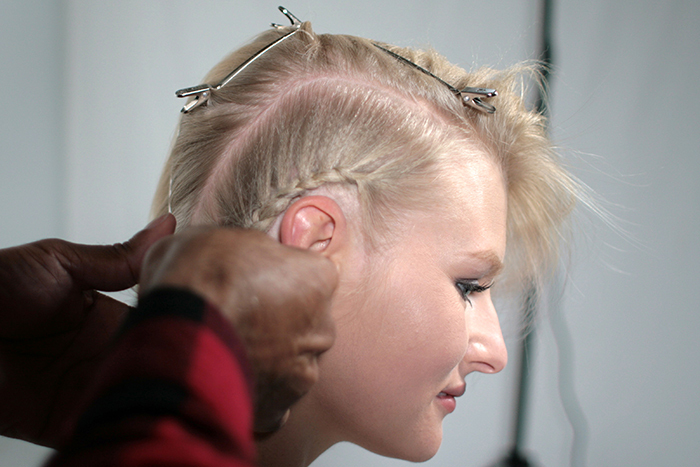 3. To braid, add hair only from the top, pulling the braid down and low towards the ear. Make sure the braid isn't too tight; if it's too tight, the needle or elastic won't glide through as easily. Work down the side of the head until you get all the hair into the braid. Secure with a hair tie. Repeat Step 3 on the other side.
4. Backcomb the top section of hair, starting at the front and working your way back.
5. Use hairspray to control fly aways and provide texture and separation. Make sure the top silhouette is finished before you move onto the next step.
Get STITCHed // Step 3: STITCH and Textured Pompadour
6. Slide the STITCH underneath the braid and pull elastic through with the tool. Anchor the elastic by tying it to the braid.
7. Create an indentation by pulling the elastic over the backcombed silhouette on top, creating the pompadour in the front.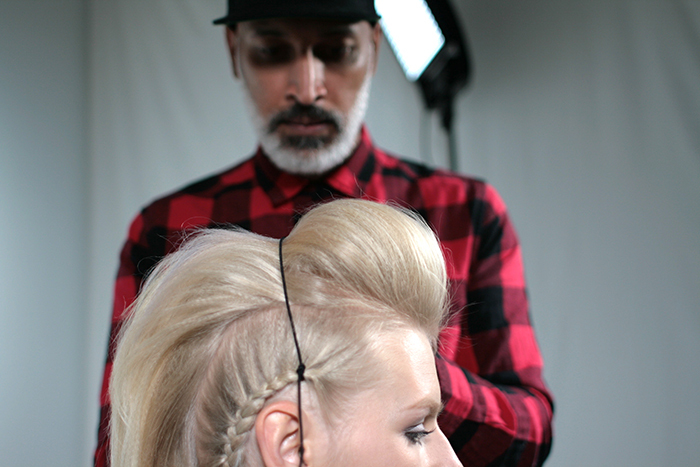 8. STITCH the elastic on the opposite side of the head. Leave some room at the beginning of the braid because you'll anchor another elastic there.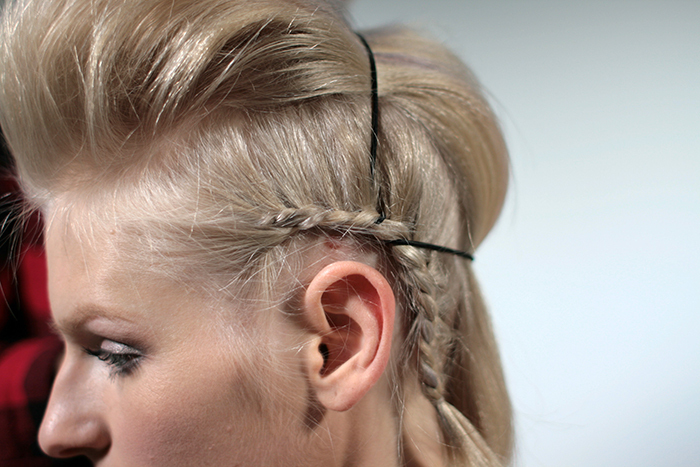 Tip: For a more secure STITCH, loop the elastic around the braid again in the same spot and STITCH through to make sure the elastic is properly anchored. (See photo below)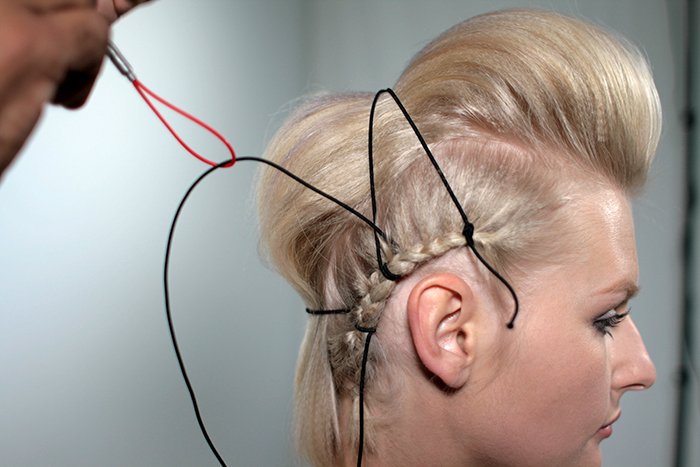 10. Pull across the silhouette again and anchor near the end of the braid. Tie off the elastic. Repeat Steps 6-10 on the other side of the head.
11. To polish and clean your Textured Pompadour, run your bristle brush on the hairlines.
---
For more STITCH inspiration stalk Daniel Roldan on Bangstyle and follow Daniel on Facebook and Instagram.