Making waves as one of the top low key hairstyles of the season, the half up half down look will be everywhere. Ideal for everything from everyday events to weddings, this style is casual chic and perfect for any occasion. This look pairs great with the glam beauty trend of the moment because fabulous hair and makeup elevate any outfit. Breaking down the look, Caralee Pridemore, Sam Villa Ambassador @caraleestyles, shares an easy half up half down style posh enough for a party or wedding, yet chill enough for a Zoom meeting or grab and go meal.
Get The Look: Half Up Half Down
Prep hair by blow-drying with a Sam Villa Signature Series Thermal Round Brush 1.5".

Take 1" sections all over head and compress with a Sam Villa Signature Series Textur Professional Texturizing Iron about 4 fingers down from the root to build a strong foundation for a lasting style.

Starting at the crown, backcomb down about 2" to create additional volume at the root.


Take two small sections of hair from the left, twist and tunnel pin towards the center. Repeat on other side. Lightly pinch and pull apart twists to slightly create a soft effortless look.


Use a Sam Villa Artist Series 2-in-1 Marcel Iron and Wand 1" to create alternate beach waves leaving the ends straight. Pull hair apart and fluff out pieces randomly for a more causal feel.

Take a horizontal section near the occipital bone, create a soft bun and pin at the root. Gently pull at the bun to pancake or expand it.



Apply AIIR Smoothing Cream and Jade Hair Oil for a frizz free style and to create more dimension on highlighted hair (can be applied before and after curling).


Pull with fingers and run a comb through random sections for a soft natural look.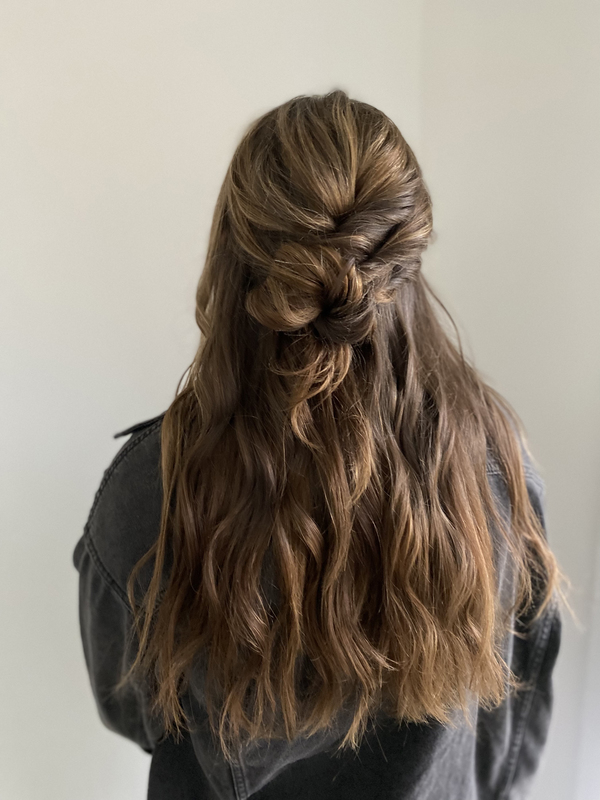 Shop The Look:
Sam Villa Signature Series Thermal Round Brush 1.5"

Sam Villa Signature Series Textur Professional Texturizing Iron

Tune in weekly to learn more valuable information from Sam Villa and team here. Including "Mannequin Mondays," "Transformation Tuesdays," and "Wellness Wednesdays" on Facebook @SamVillaPros and YouTube @SamVillaHair. Quarterly "Show Must Go On" events can also be accessed on the same channels for FREE!