While temps are just beginning to dip and seasonal favorites are starting to be seen everywhere, we are beginning to dream about the holidays. Hot cups of dark chocolate cocoa, snow on the ground, our favorite holiday sweaters and the KEVIN.MURPHY stocking stuffers you anxiously wait for all year long. With a plethora of new promo packs coming your way, it sounds like Santa and his elves have been pretty busy this year. The only thing better than getting them around the holidays would be getting your hands on them now!
ANGEL.BODY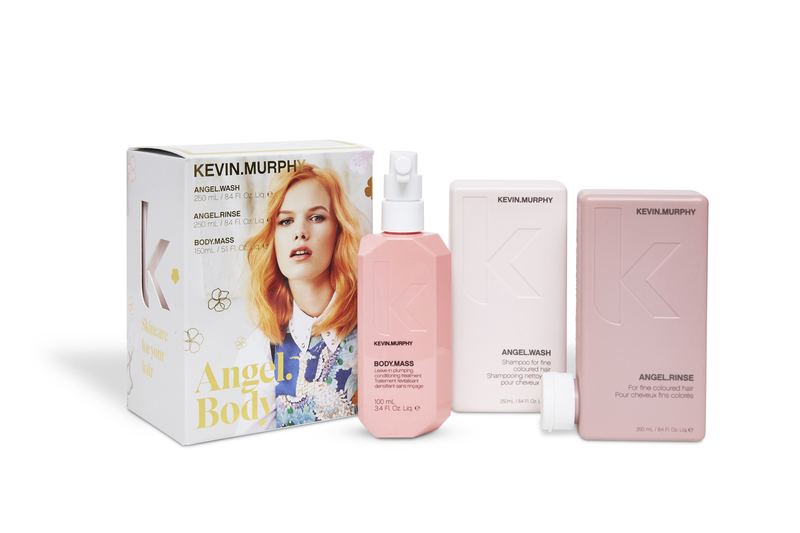 Let's face it; all anyone wants for Christmas is voluminous hair. Whether you've got fine, skinny strands, or a thick mane looking for an extra boost of volume, ANGEL.WASH and RINSE are the perfect duo to take your strands to new heights. This weightless combo paired with BODY.MASS, a light leave-in plumping spray, will have the guests at your holiday party talking about your hair… not who you are kissing under the mistletoe!
The Best of Men's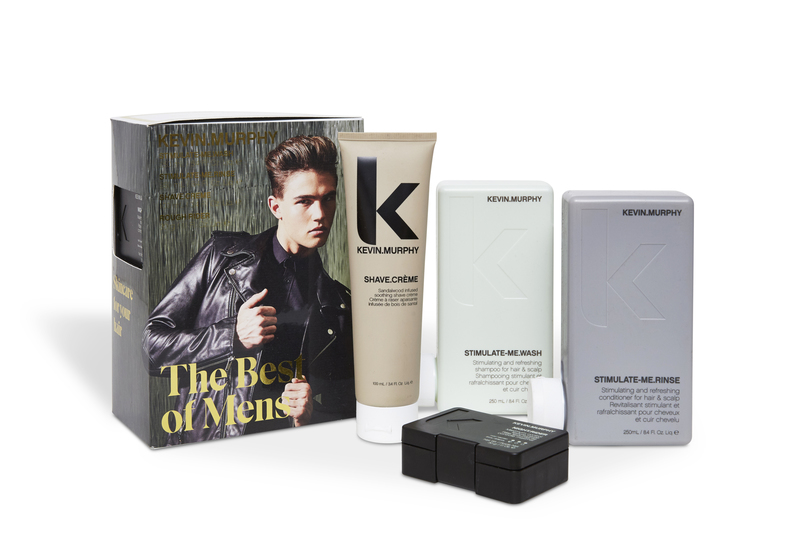 It's time to spoil the ones you love the most, and what better way to do that than by giving your gents the "Best of Men's" from KEVIN.MURPHY? Here's what's included: SHAVE.CREAM infused with Sandalwood that will leave skin feeling smooth and hydrated. STIMULATE-ME.WASH and RINSE, a refreshing duo for hair and scalp that is packed with Camphor Crystals, Bergamot Mint, and Black Pepper to awaken the scalp and reinvigorate hair growth. Plus, finish off this masculine makeover with NIGHT.RIDER texture paste, proven to give your style a strong hold.
Hydrate and Repair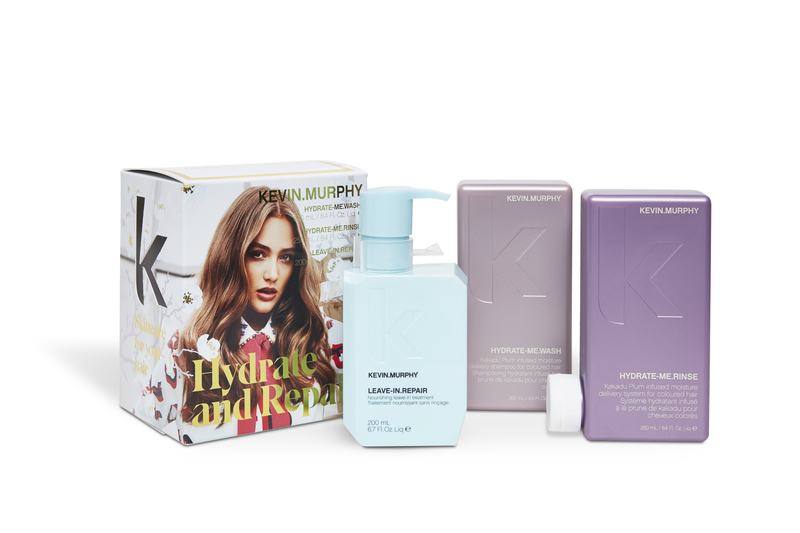 No matter the season, most of us could use a little extra moisture and repair for our strands. HYDRATE-ME.WASH and RINSE contain Hydrolysed Silk Extracts to instantly smooth the surface while sealing in moisture. Vitamins A, E and C in this duo lock in added moisture to create a soft, shiny, silky feel and a sensual touch. Double down on your repair with KEVIN.MURPHY LEAVE-IN.REPAIR. With Superfood proteins derived from Green Peas and extracts from Bamboo and Jojoba Seed Oil to nourish, strengthen and repair your hair so it's ready for all your holiday festivities!
REPAIRED.AGAIN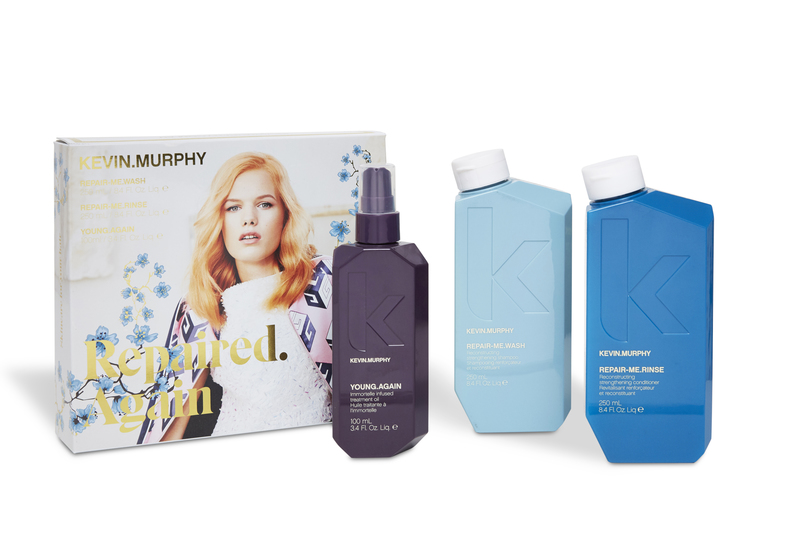 Do your strands need a serious helping hand? Hair colour and heat styling can leave hair damaged and brittle. This pack is the perfect present to fix your strands just in time for the Carolers and Egg Nog. REPAIR-ME.WASH is a reconstructing shampoo with powerful protein from Bamboo and Silk Amino Acids that work to strengthen hair while gently removing impurities. REPAIR-ME.RINSE, a strengthening conditioner, seals the deal with Shea Butter and Aloe Vera extracts to gently lubricate hair strands to protect from further damage, enhance manageability and provide a reflective shine for dull hair. Like a satin ribbon on a perfectly wrapped package, YOUNG.AGAIN will make your strands shine bright. This weightless leave-in treatment oil infused with immortelle to counteract the oxidization and ageing process.
ROLLER.BALL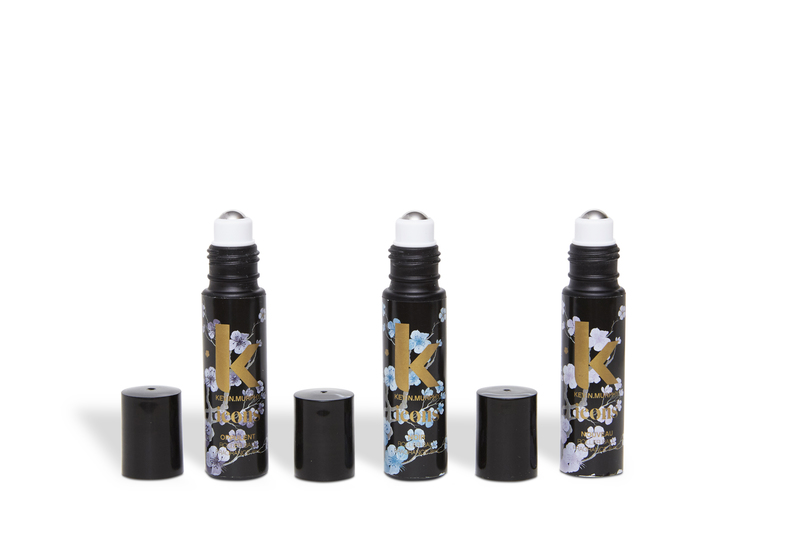 This new goodie from KEVIN.MURPHY will make sure your holidays are on a roll. The new ROLLER.BALL featured in 3 intoxicating scents will have you ready to get out on the town:
–  Noir, the scent of BEDROOM.HAIR
–  Nouveau, the spicy smell of SHIMMER-ME.BLONDE
–  OPULENT the iconic scent found in YOUNG.AGAIN.
Extend your KEVIN.MURPHY sensory experience with our Limited Edition rollerball fragrance. It is the perfect accessory to take with you wherever you may go this holiday season!
SHIMMER.SISTERS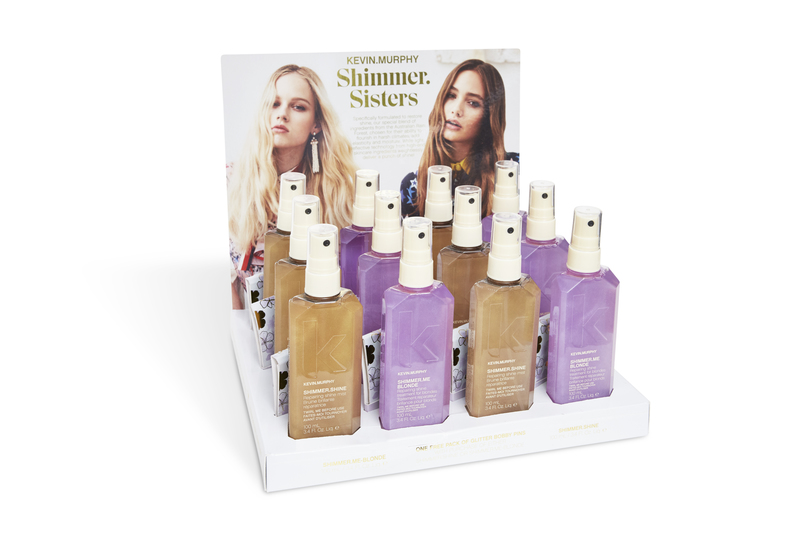 You and your BFF will shine this holiday season with SHIMMER.SISTERS. SHIMMER.SHINE and SHIMMER-ME.BLONDE revive shine and repair hair with a wide range of vitamins and natural ingredients leaving strands brighter than the twinkle lights you still have up from last year.
TEXTURED.BLONDE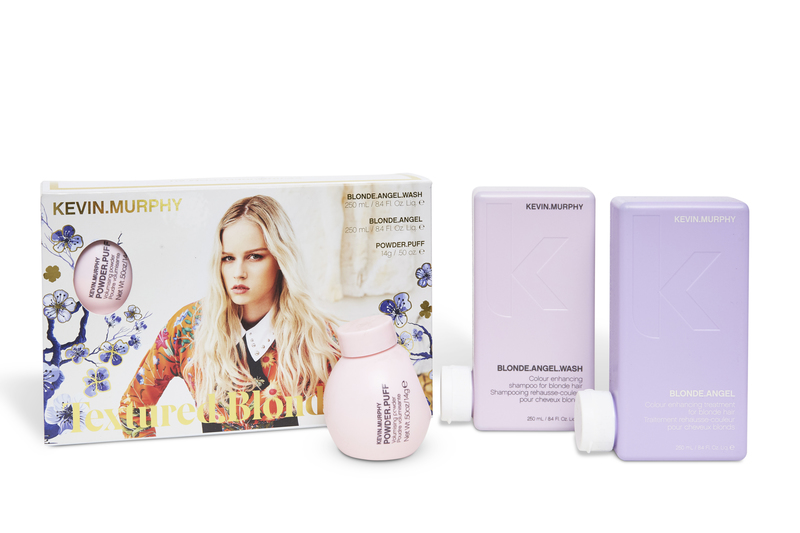 They say blondes have more fun… and we'd have to agree, especially when you add natural texture to the equation! Natural hair is all the rage and what better what to pump yours up that with KEVIN.MURPHY POWDER.PUFF! Made up of Seaweed Extracts from France along with Extracts from Apples, Plums, Cranberries and Citrus create this unique powder volumiser. Want to keep your blonde bright? The lavender infused colour enhancing BLONDE.ANGEL.WASH and TREATMENT will keep your colour on point whether you are blonde, grey, or looking to loose the brass from brunette strands. Optical brighteners will rescue dulled colour and restore your brilliant shine.
With all of this holiday cheer coming your way, it will be hard not to look and feel fabulous this holiday season. Be sure to check with your local distributor or KEVIN.MURPHY Salon to snag these goodies! To get a jump start on the holiday cheer and be sure to check out these KEVIN.MURPHY products, that are sure to make your holiday, and your hair, shine bright.
---
For fashion-forward colour & style inspiration be sure to visit us on Instagram, Facebook, Twitter, and Bangstyle