Choices you make each and every day contribute to the health, shine, and vibrancy of your style, especially when it comes to your hair color. Daily factors like water, sun, weather, and heat styling can easily impact the feel and finish so whether your locks natural or dyed, platinum, bronde, brunette, red, pastel, or anything in between there is a certain level of upkeep you'll need to follow to maintain color-treated hair this season.
Choose Your Tone Wisely
Certain tones or placement may be easier to maintain than others. For example, if you've opted for lived-in balayage that is only 1-3 shades lighter than your base shade, it will be much easier to maintain than if you've opted for higher levels of lift like blonde baby lights or a global platinum shade. This is in part due to the effort needed to achieve the tone but also the consistent appointments and home care needed to keep it up.
Always Opt For A Gloss
It doesn't matter if you get regular root touch-ups, highlights every 4-6 months, or embrace your natural tone, one service you should book on a regular basis is a gloss. Gloss or "toner" is a semi-permanent hair color service that can be tailored to any shade (even clear) to add shine, improve the condition, impart tone or correct unwanted ones. A gloss, known by salon professionals as a Shades EQ Gloss, can be performed after each and every color appointment to lower pH levels of the hair and create a healthy feel and finish. The latest release, the new line of Shades EQ Bonder Inside toners are a revolutionary system that also includes pre-dosed bonders in the formula to help protect the strength of sensitized hair. This is especially important after a lifting service because hair undergoes a chemical change that can easily affect the inner structures of the hair leading to damage and breakage. To help keep hair looking and feeling its best, opt for a gloss every 4-6 weeks. To continue to lower the alkalinity caused by lightening services and improve the health of the hair, ask your stylist to follow up with Redken Acidic Bonding Concentrate in the salon and pick up home care products for added benefits. Learn more about Redken Acidic Bonding Concentrate here.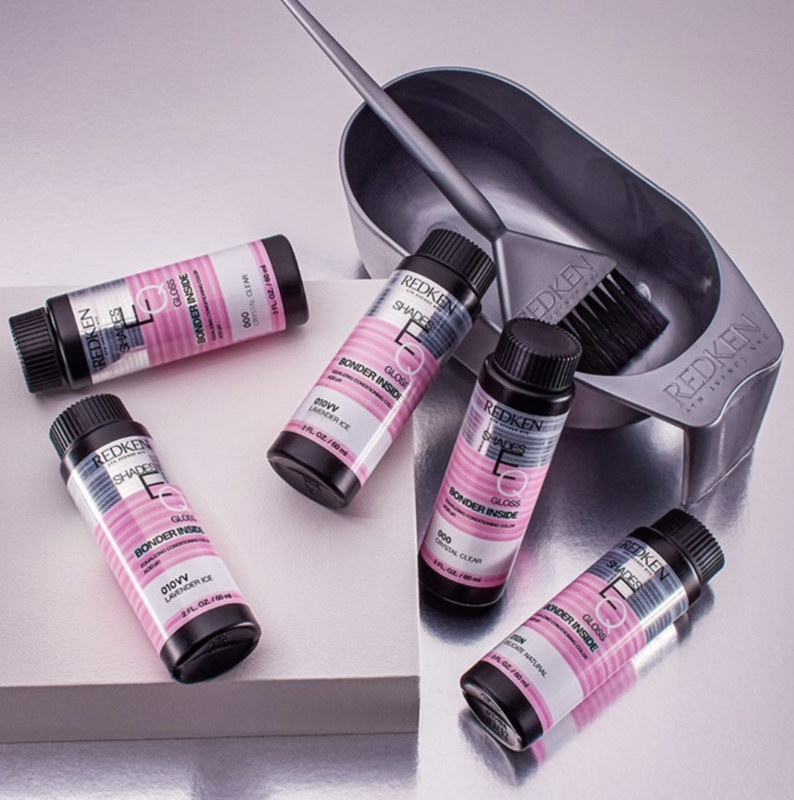 Cleanse With Care
While a glossing service is a professional salon treatment, there are a few options for toning at home between appointments. No matter what color your hair is, utilizing a color-safe or color-enhancing shampoo, conditioner and mask treatment at home is ideal for maintaining color-treated hair.
Color Extend Magnetics
The sulfate-free shampoo and conditioner formulas can be used on all hair types and colors to cleanse and condition while also strengthening the hair. Using Redken's IPN technology and amino-ions it leaves color-treated hair 3x more fortified*
Color Extend Blondage
With violet pigments and Triple Acid Protein complex, this range tones, strengthens, and brightens blondes for a brighter finish. Utilize the Redken Color Extend Blondage Shampoo and Conditioner once or twice a week to cut down on brass and yellowing and for an instant transformation, choose the Redken Color Extend Blondage Express Anti-Brass Mask for a 5-minute instant fix! For ever more options there are also the new Redken Color Extend Blondage Masks in Rose Blonde, Honey Beige Blonde, Icy Blonde Hair Color.
Color Extend Brownlights
This shampoo and conditioner duo was formulated with blue tones specifically for highlighted, balayage or natural brunette hair. Correcting unwanted tones and preventing brassiness this sulfate-free shampoo and conditioner helps prolong a naturally cool color.
Extend Time Between Washes
One of the best ways to maintain hair color and cut down on premature fading is by extending the time between washes. You can easily do this and elongate your style with dry shampoo! Redken Invisible Dry Shampoo is a great option on day 1 or 2 and for darker hair colors while Redken Deep Clean Dry Shampoo is ideal for days 3 or 4 when a deeper refresh is needed.