Over the years, Redken has revolutionized in-salon services and take-home treatments for stylists and clients alike. Focusing on delivering the best possible outcomes for clients while increasing the stylist's bottom line, the latest release is a testament to where this innovation has led. Introducing Redken Shades EQ Bonder Inside!
No matter, where you are from or what other product line you carry, Shades EQ Bonder Inside is a must-have staple in any salon. Unveiling a new innovation, the first of its kind in 35 years for the line, Redken has included pre-dosed bonder inside their beloved liquid acidic demi-permanent formula. This step creates an all-in-one toner and bonder that provides stylists with the Shades EQ results they know and love, now with added strength, to help strengthen sensitized hair in one step.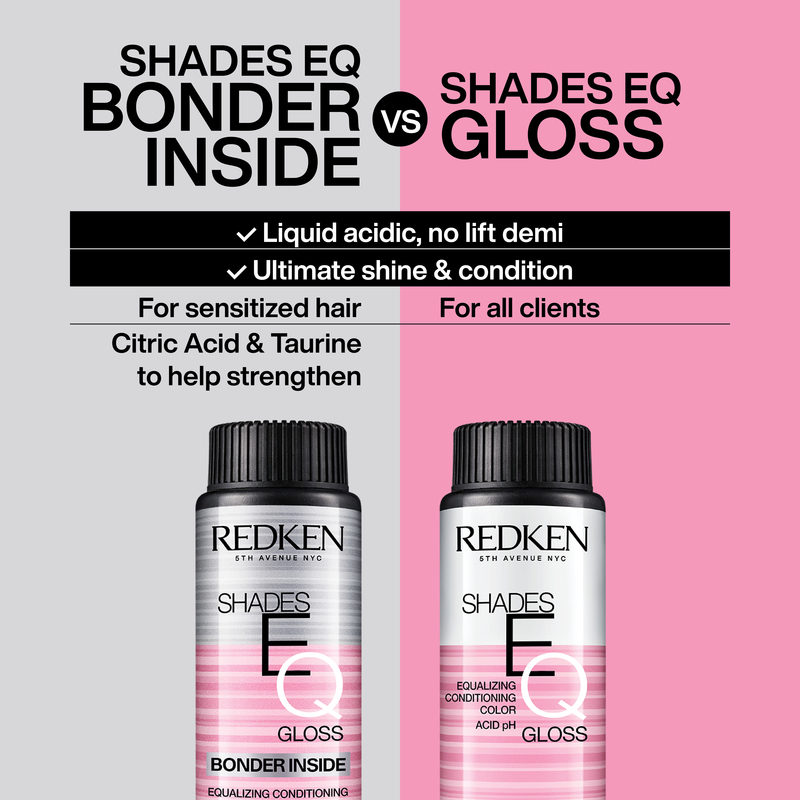 The Role of Shades EQ Bonder Inside During the Lightening Process
During the lightening process, hair undergoes a chemical change that can easily affect the inner structures of the hair, leading to damage and breakage. Additionally, residual alkalinity from a lightening service can cause damage to the disulfide bonds for up to 14 days following the service. Shades EQ Bonder Inside helps reduce residual alkalinity post-service while leveraging Citric Acid and Taurine to help protect the strength of sensitized hair. In fact, using bonder at every step of a lightening service with the Redken Power trio (Flash Lift Bonder Inside, Shades EQ Bonder Inside, and Acidic Bonding Concentrate Treatment), results in up to 77% less breakage.*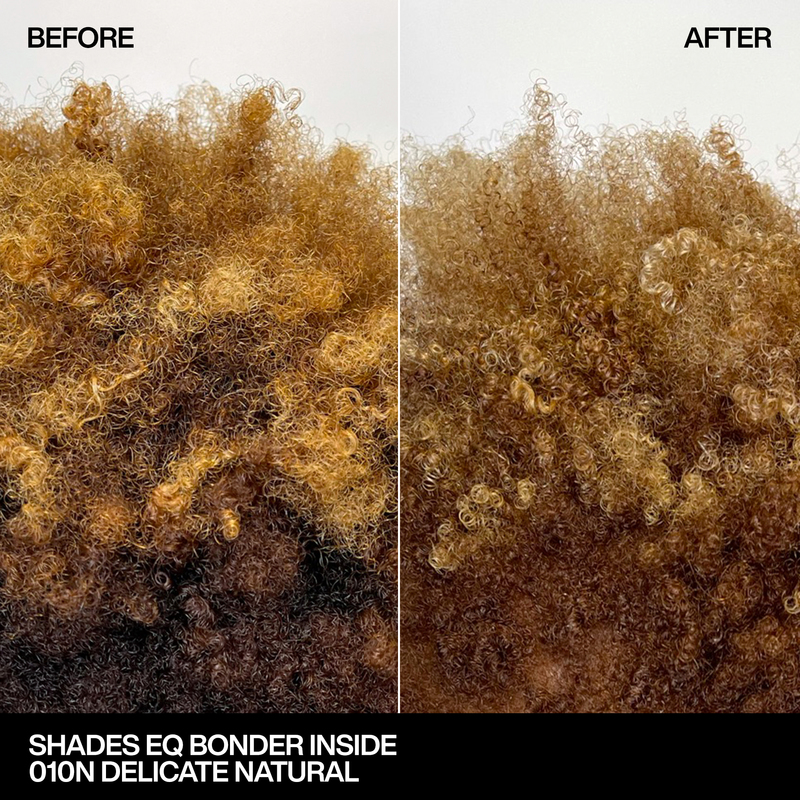 The New Shades
Shades EQ Bonder Inside will be joining the already loved Shades EQ range with the following high-level tones: Shades EQ Bonder Inside 010N Delicate Natural, 010VV Lavender Ice, 000 Crystal Clear, and NEW! 010NA Marble. Depending on the needs of each client, stylists can easily choose between the lines to achieve the same impeccable results they have learned to rely on.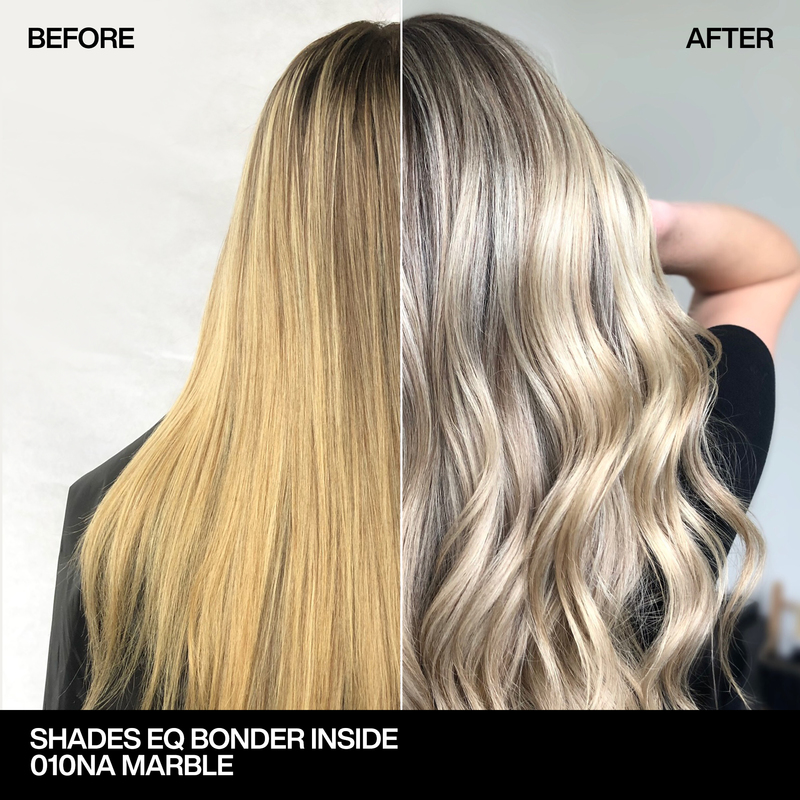 Why It Was Created
When speaking to how the innovation was born, Redken General Manager, Candy Gebhart, explained: "Our stylist community is our biggest source of inspiration. Through conversations with our community, we learned that stylists are lightening and toning more than ever but need formulas they can trust to reinforce the integrity of their client's hair. Without changing the Shades EQ results stylists love and trust, we were able to help stylists create the best color results, strengthen sensitized hair, save time and increase their revenue potential by adding our pre-dosed bonder technology to the beloved Shades EQ formula. With a suggested +20% service charge for a bonded gloss service with Shades EQ Bonder Inside, stylists can increase their annual revenue up to $24,000. Extra income paired with beautiful results and added strength? Just another reason to be even more obsessed with Shades EQ!"
Why You'll Love It:
Similar to the range of opportunity of the original Shades EQ, Shades EQ Bonder Inside gives stylists the ability to enhance their creativity behind the chair and push the limits of their blonding abilities with the added strength and condition they need.
Easy to use, the bonder is pre-dosed to allow for fast formulations without compromising the results of your color. Formulated with Citric Acid and Taurine to help strengthen sensitized hair in one step and help reduce alkalinity post-lightening service, this technology ensures a smooth cuticle for shine and condition.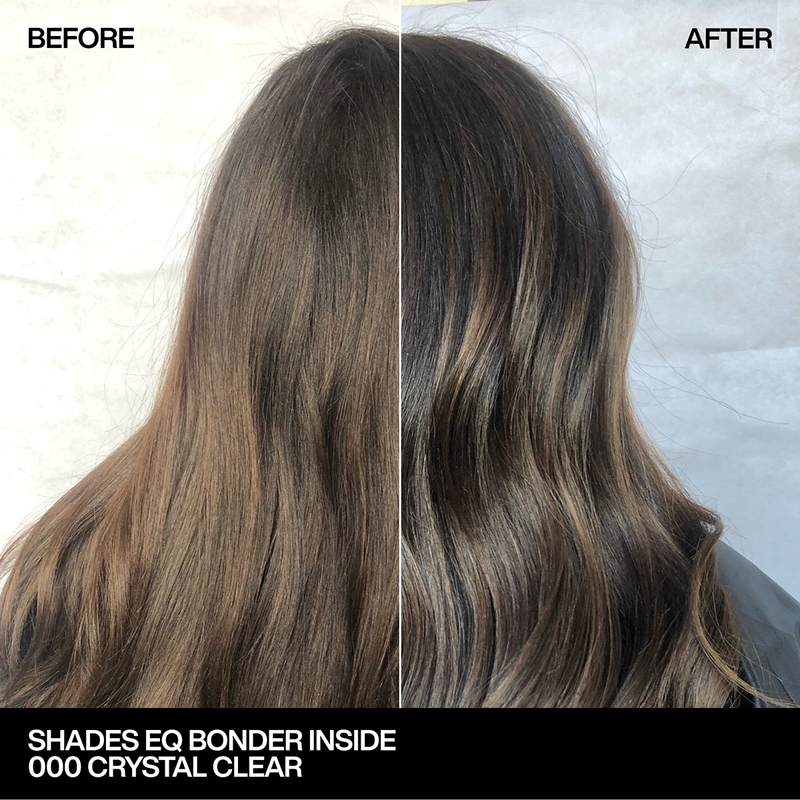 Redken Brand Ambassador Johnny Ramirez (@johnnyramirez) describes Shades EQ Bonder Inside as a "true innovation for stylists" saying, "for me, it is all about giving my clients' the best results. I have relied on Shades EQ for my entire career and now with Shades EQ Bonder Inside, I am able to get that same shine, condition, and tone with extra protection in one easy step."
When speaking to the launch, Redken x Mizani Brand Ambassador Leysa Carrillo (@leysahairandmakeup) says, "Shades EQ Bonder Inside is my must-have for toning and strengthening my blondest blondes who need that extra bit of love. Using 000 Crystal Clear Bonder Inside to help with condition and curl definition is my go-to for textured hair."

How to Use
Mix in a 1:1 ratio with Shades EQ Processing Solution or Shades EQ Processing Solution for Precision Application
Shades EQ Bonder Inside may be applied with a bowl and brush or bottle and may be diluted with Shades EQ Bonder Inside 000 Crystal Clear to customize any shade
Process at room temperature for 20 minutes on dry hair
*versus our leading lightener without bonder