With an array of new shades available from Matrix, we've seen hair color take on new heights this year. Hues from magnificent marigold, brilliant blonde, electric blue, vibrant violet, dusty pink or deep auburn red prove that hair color is able to take on any shade of the rainbow, and with Matrix do so brilliantly. Matrix knows that achieving the color is only one part of the equation, keeping it is the other. Keep reading to see our top tips for prolonging the life of your hair color!
As if the cold of winter and the sun of summer wasn't enough of a toll on your hair color, you still need to worry about protecting it from heat styling, harsh water and damage from constant tension. It's natural that with each wash a portion of your vibrant hue will be washed away, however with the latest release from Matrix, they're prolonging the inevitable. New Matrix Total Results Keep Me Vivid treatment and hair care range, ensure hair color— from blonde, red, copper, mocha, brunette to brights and pastels —remain vivid for up to 65 days!* More than just keep your shade truer, longer, it also enhances the appearance —the Keep Me Vivid system also produces a magnificent shine on every shade!
Keep reading to find out exactly how this process extends the life of your color!
IN THE SALON
Laminate & Lock In Hair Color
The color-retention magic begins in the salon with the revolutionary Keep Me Vivid Lamination Spray treatment. The spray is applied immediately after the color is rinsed out of the hair. The unique formula features a low pH of 4.0 to 5.0 that neutralizes the hair, stops the color processing and shuts down the cuticle. This action prevents color molecules from escaping and locks in the new hue. There's no need to shampoo and condition the hair after applying the Lamination Spray so it's also a real time-saver for stylists and their clients!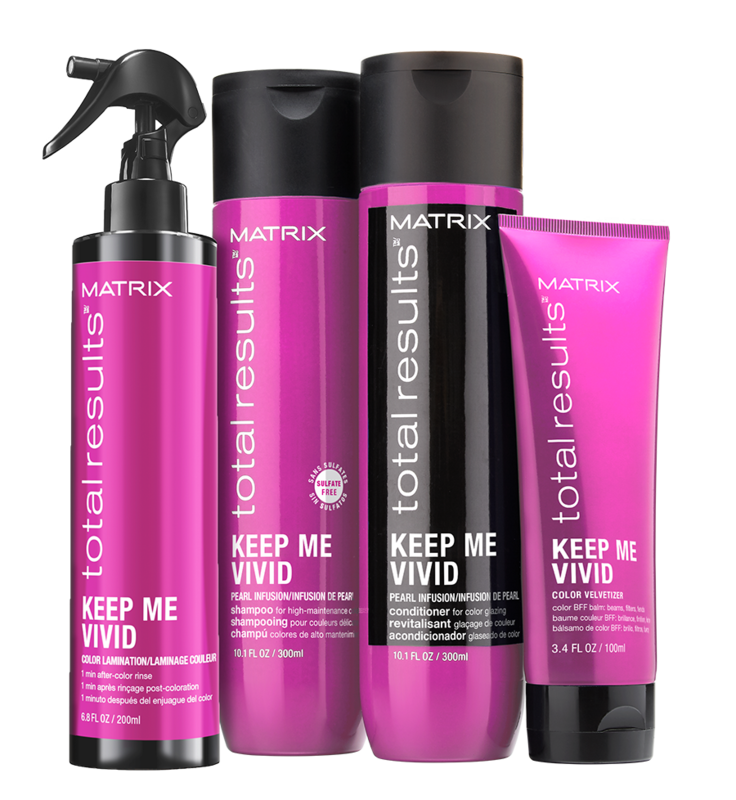 AT HOME
Keep Me Vivid At Home
It is imperative to chat with your clients about the importance of home hair care. Small changes in their daily routine can greatly impact their outcome. The first step involves changing out your shampoo and conditioner system. Then utilizing leave in conditioner and continued use of the lamination spray.
The at-home color-retention system continues with the Keep Me Vivid haircare system includes:
Keep Me Vivid Shampoo: Total Results' first sulfate-free shampoo formula. It gently cleanses without stripping the hair and doesn't disturb hair color molecules. As a gentle formula, it consists of 60 percent carrying agents and produces a luxurious lather.
Keep Me Vivid Conditioner: This acidic formula nourishes hair and amplifies shine. It's lightweight and suitable for every hair type. It weightlessly treats the hair and leaves it feeling soft and silky.
Keep Me Vivid Velvetizer: This unique, oil-to-crème leave-in is applied to damp hair after shampooing and conditioning. It smoothes hair, and thanks to its UV filter also protects color from fading. Use the velvetizer before blow drying or air drying.
Keep Me Vivid Lamination Spray: Continued use of the Lamination Spray between salon visits ensures hair color remains vivid and hair stays lustrous and shiny.
What stylists and clients love most about this formula – aside from the incredible results – are the heavenly new fragrances. Containing notes of vanilla, coconut and cotton candy, at home use becomes a treat for the sense. The cheerful pink packaging is easy to spot, it looks great in the salon and at home – brightening any shelf it sits upon.
Bright hues and pastel shades have never been in such high demand before and as their popularity increases, so does the need for quality products to enhance hair color. "So many of our clients are experimenting with hair color. I always aim to provide my clients with the most vibrant hair color no matter what shade they request." says Matrix Brand Ambassador, Philip Wolff "Haircolor is a commitment, notoriously high maintenance and eventually prone to fading. With the new Total Results Keep Me Vivid it's exciting to be able to create amazing hair color for our clients and assure them it will stay on point for 65 days!" He adds.
The other great part about the Keep Me Vivid regimen is that it was designed to be used with other lines of the Total Results family. Consider pairing Keep Me Vivid with the following options for your hair color needs.
ReBond – to rebuild hair bonds that have been weakened by chemical services and repair damaged hair
Brass Off – to neutralize blondes or highlighted brunettes. With the highest concentration of blue/violet pigments, it will neutralize brassiness, even in the darkest brunette tones.
SoSilver – to neutralize unwanted yellow tones in blonde and grey hair.
Color Obsessed – protects all color treated hair from fading due to UV exposure and extends the life of color vibrancy.
Total Results Keep Me Vivid will be available at salons and SalonCentric stores in February 2019.
*With use of Total Results Keep Me Vivid Shampoo, Conditioner and Lamination Spray.
---
For more updates, product releases and more from Matrix be sure to sign up for our newsletter HERE!