"Social media has made hair artistic again." Said Matrix Artistic Director Nicholas French. "I love all the insane colors. In 1969 when foil highlighting was created, that's when we used to ruin the hair with food coloring."
Color has gone through quite a transformation since then, formulas have improved vastly as colors have grown to become more stylistic. As the development of color has made it easier for stylists to become artists, they've transitioned their looks from everyday colors to a world full of fantasy. With Matrix's latest development, #SoColorCult, the world of color is about to get that much more interesting.
When we caught up with Matrix Artist Jessica Warburton she couldn't hide her excitement about the launch. "It's line of semi, demi and permanent vivid hair colors - it's a total game changer." She said. "Coming from a world of vivid color, the palette is amazing and in professional hair color it's the largest."

In June, Matrix breaks the mold with SOCOLOR Cult – the 1st brand to offer the same vibrant shades in up to 3 technologies – semi, demi and permanent. Finally, the power to control the longevity, condition and vibrancy of the color will be in the hairdresser's hands. With Socolor Cult, we are starting a movement, together!
What's different about SOCOLOR Cult?
Customizable Longevity - now hairdressers have the power to choose how long the color lasts with shades available in semi, demi and permanent technologies.
Superior Conditioning - deep conditioning agents built into every shade.
Ultimate Vibrancy - shades are formulated with our highest concentration of vibrant dye technology.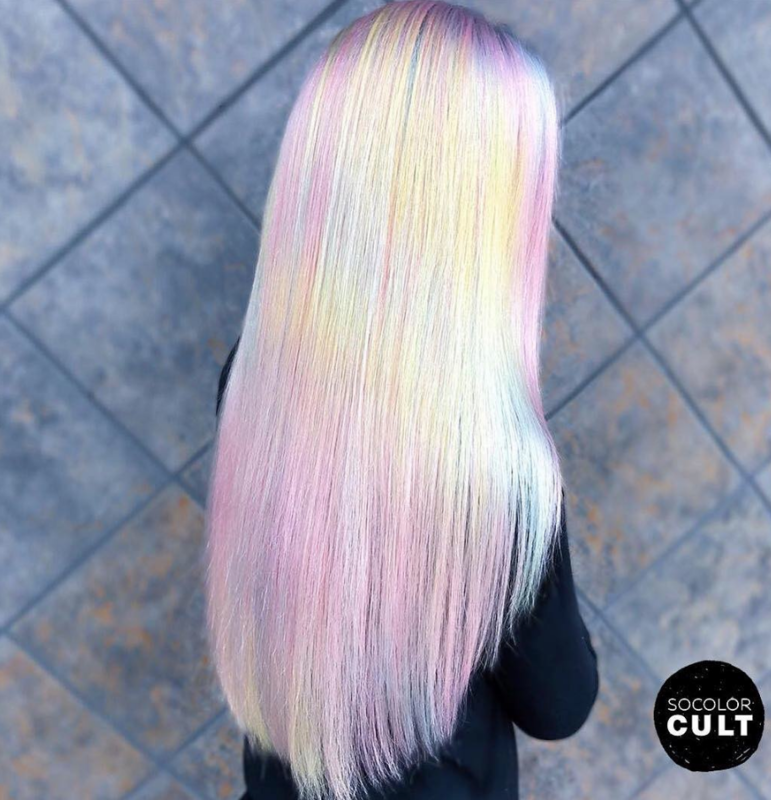 Now, you may be wondering what can you expect to see within the line…Let's take a peek at the SOCOLOR CULT Palette.
The 54 shades in the collection offer endless options for Instagram-able color design.
The color families, spanning across the technologies, include:
The Must Haves: Ten playful hues that range from fuchsia to orange to teal to orchid. There's even a vibrant citrus called Lucky Ducky Yellow, as well as Royal Purple that mirrors the Pantone 2018 Color of the Year.
Pastels: These five soft shades—Sparking Rosé, Stonewashed Denim, Bubblegum Pink, Sweet Mint and Lavender Macaron—evoke the sweet sophistication of a French patisserie!
Grays: Four shades—Disco Silver, Marble Gray, Clear and Black—give stylists the tools to create the season's most on-trend grey and silver tones.
Dusty Hues: For clients who like a romantic, muted effect, these three shades—Dusty Teal, Dusty Violet and Dusty Blue—lower the volume on their vivid color.
Neons: This is where things really heat up! Five neon shades—Neon Red, Neon Orange, Neon Yellow, Neon Blue and Neon Green—bring the intensity, and even feature SOCOLOR's new black light glowing technology!
Who's part of the cult?

Matrix united 10 artist influencers in November 2017 for our first-ever SoColor Cult Induction Day and Photo Shoot. These talented hairdressers included George Papanikolas (@georgepapanikolas), Constance Robbins (@constancerobbins), Ursula Goff (@uggoff) and Jessica Warburton (@hairhunter) to name a few. To keep the experience as authentic as possible, the influencers were able to choose their own clients and create looks with no boundaries. From #CherryHair to #Firemelt, #OceanHair to #BubbleGumHair – these visionaries brought to life the personality of the wide-ranging, vibrant palette. These looks will be part of a brand new menu of services available with the launch of #SOCOLORCULT.
"In the salon, there is more demand than ever for vibrant and fashion-forward tones," says Matrix Celebrity Stylist George Papanikolas, an original member of the #SOCOLORCULT. "SOCOLOR Cult offers so much flexibility. You can pre-lighten and tone, use them as base colors, or for highlights. And your client's hair benefits from the conditioning and color longevity that SOCOLOR is so well-known for."
If you didn't already know, the newest CULT Icon happens to be none other than FERGIE! Earlier this Fergie, 8x Grammy Winner, TV show host and beauty and fashion icon has inked a partnership with Matrix as the NEW Socolor Cult Icon
What's Next? Matrix is inviting you to share your work.
We want to see your SOCOLOR Cult transformations. Take a peek at the fun stickers available at www.matrix.com/stickers. With icons featuring the playful SOCOLOR Cult packaging – from a yellow duck to a purple macaroon –available for download to help stylists differentiate their work and show their love for MATRIX's newest color range.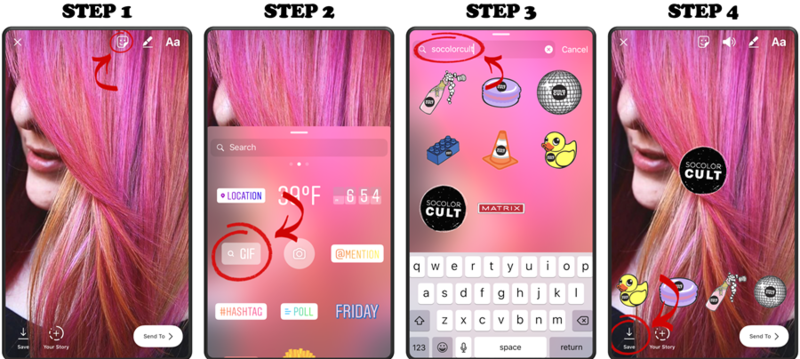 SOCOLOR Cult is available now for pre-order now at MatrixProfessional.com/SoColorCult!