There is no one-size-fits-all approach to styling curls, and that's exactly why natural texture is so alluring. Not only are there multiple curl patterns and texture types between clients, but there can also be multiple types within the same head of hair. With individuality of style being one of the top movements of our generation, embracing and enhancing various types of waves and curls has become an art form. As with any art, the proper tools, techniques and products are what makes a masterpiece. Looking for a few new secrets to style your waves and curls to perfection this season? Keep reading…
Take A Bespoke Approach
Knowing which cut, product or style is best for a certain curl pattern can come with a great deal of trial and error. When it comes to curly hair, it is not as simple as seeing as showing an inspiration picture and creating the look. You and your stylist need to get to know your hair — what works and what doesn't — to create the best path forward. Instead of bringing in inspiration pictures of others, bring in multiple photos of your own hair, throughout the years, with examples of what you did and didn't like. Together from here, you can test out the best products, cuts, and finished styles for your hair type.
If you're looking to add volume
The base of any style starts at the scalp. When it comes to curls, adding volume at the scalp can instantly propel your style to greatness. Due to the fact that it can be challenging to add volume to natural texture without disturbing the pattern, volume-specific products are a must.
We suggest: Wella Professionals EIMI Nutricurls Boost Bounce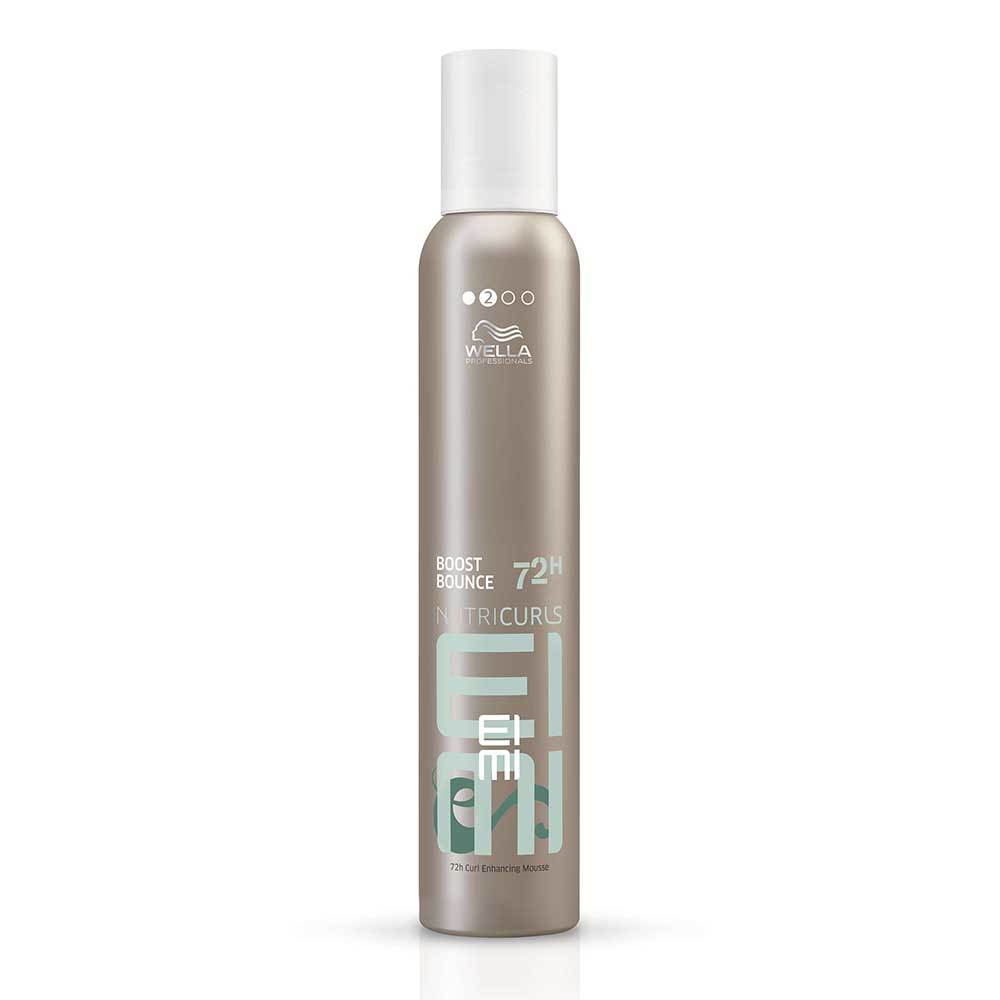 This curl-enhancing mousse is easy to apply and distribute at the scalp and in addition to creating volume, it will also enhance shine and cut down on frizz. For best results, apply to a scalp and mid-lengths, turn your head upside down and diffuse dry for up to 72 hours of enhanced curls, volume and definition.
If you need to revive strands:
Well-conditioned hair feels better, shows off color in a greater light and styles smoother. If your curls feel frizzy, tangled or undefined, consider adding a mix of deep conditioners in the shower and leave-in hair products targeted to revive strands.
We suggest: Wella Professionals Nutricurls Deep Treatment for Waves & Curls + Wella Professionals Nutricurls Curlixir Balm Defining Balm for Curls
This duo nourishes hair in the shower and while you style resulting in bouncy, beautiful curls. Consider adding the treatment to your routine about once a week, depending on how often you shampoo and utilizing the Defining Balm each time you wash, as it also doubles as a leave-in treatment!
If the hair is in need of an instant refresh:
Every curly client knows the struggle of sleeping on perfect curls and waking up to a less than stellar look. Instead of caving to washing, rinsing, and repeating yet again, consider utilizing a styler to simply refresh your curls.
We suggest: Wella Professionals EIMI Fresh Up
This styling spray can be used the day you wash or a few days after to refresh your curl pattern while adding shine and cutting down on the effects of humidity. Simply spray onto curls, scrunch and go!