After coloring or lightening services, hair can be left in a more sensitized state. This is exactly why specialized products are needed to treat these strands both in the salon and at home. By adding products before, during and after color applications or highlighting services you can easily cut down on damage and leave hair healthier. One of the best ways to do this is by adding Wella Professionals ColorMotion+ to the mix.
Why Wella Professionals

ColorMotion+

?
If you're looking to create stronger hair with vibrant shine and better color protection, Wella Professionals ColorMotion+ is the obvious choice. Not only does it allow for up to 8 weeks of color protection but it also strengthens strands thanks to the addition of WellaPlex bonding agent.
Services Offered
While Wella Professionals ColorMotion+ is an ideal line for color clients to take home, the real magic begins in the salon with its pre- and post-color care services.
Pre-Color Care
Prior to any coloring service, Wella Professionals has two ideal treatments to offer your clients.
For those with a sensitized scalp — Wella Professionals ColorMotion+ Scalp Protect can be applied prior to any service to help protect against irritation without impacting the results of your color.
If hair has a high level of porosity, you are performing multitonal color techniques or have just lightened the hair, Wella Professionals ColorMotion+ Pre-Color Treatment will smooth the surface and add shine, preparing the hair for more even color results.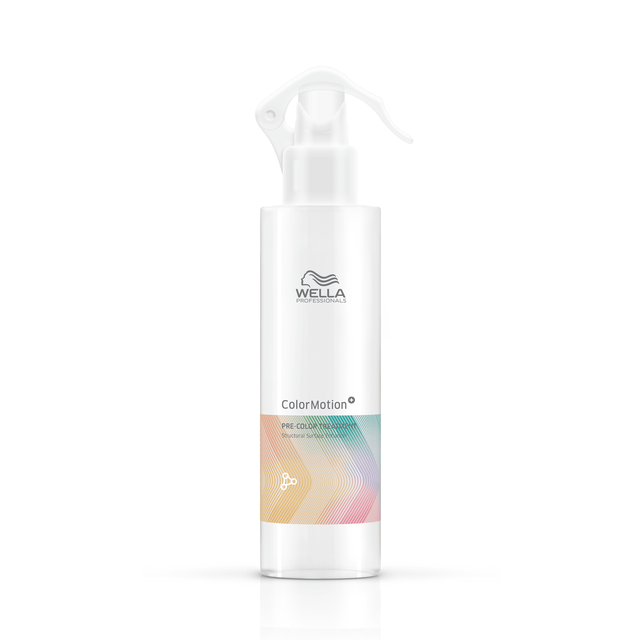 Post-Color Care
After color services, the pH of the hair is higher than normal and can leave strands in a sensitized state. By adding Wella Professionals ColorMotion+ Express Post-Color Treatment, you'll be able to improve the strength of the hair structure, optimize pH levels and set strands up for better color retention.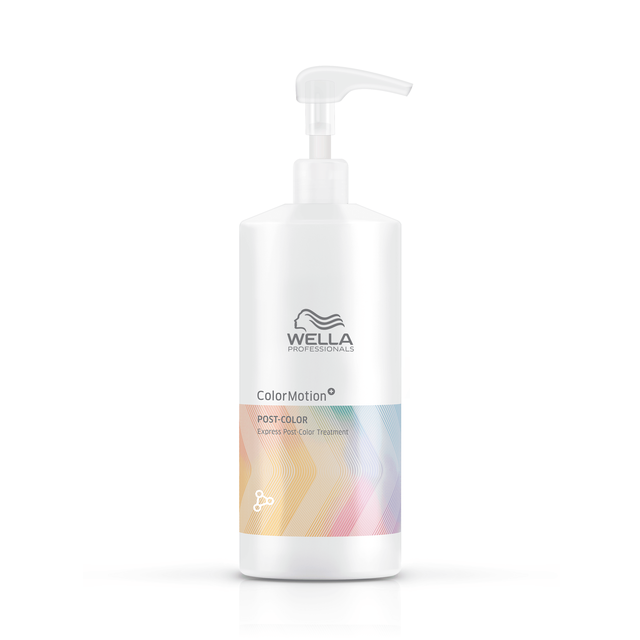 The Perfect Pair: Wella Professionals Shinefinity & ColorMotion+
Wella Professionals Shinefinity is a brand new professional salon glaze that can improve the look, feel and especially the shine of your hair. With multiple services like Shinefinity Glaze and Shimmer Melt Glaze and techniques such as Corrective Glaze, Speed Glaze or Balancing Glaze to choose from, you can instantly transform your client's tone while also improving their pH balance and increasing shine. This zero lift, zero damage clean formula imparts a gorgeous finish for up to 6 weeks and is ideal for all hair types, lengths and textures. When it comes to upkeep, Shinefinity and ColorMotion+ are the perfect pair. Due to the fact that many Shinefinity clients have multi processed hair, ColorMotion+ works to extend the longevity of the service while also rejuvenating the finish.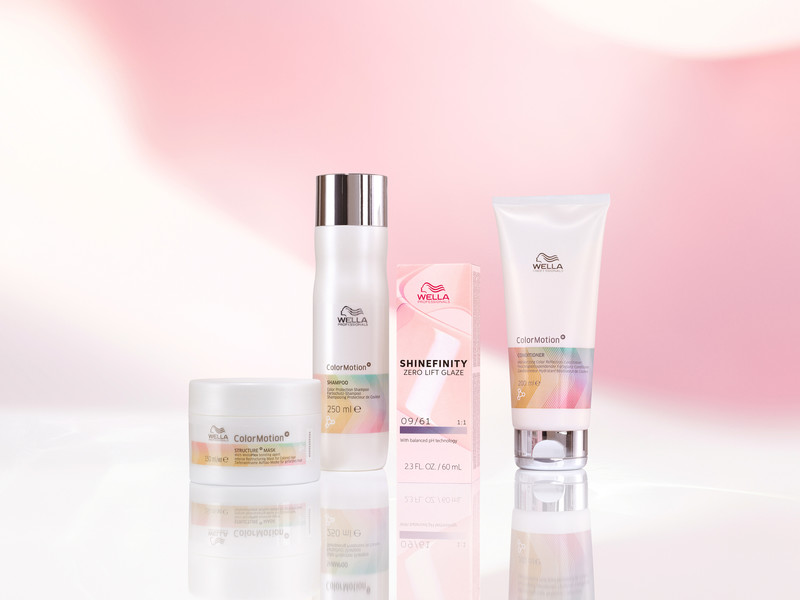 Wella Professionals

ColorMotion+

At Home
ColorMotion+ offers more than just color protection and stronger hair, over time it improves the hair quality leading to easier manageability and better looking and feeling styles.
An ideal home routine includes utilizing ColorMotion+ Shampoo, Conditioner for regular use and Structure+ Mask on a weekly basis.
For a deep conditioning cleanse:
1. Start by cleansing with ColorMotion+ Shampoo
2. Rinse and repeat
3. Then, gently towel-dry
4. Apply ColorMotion+ Structure+ Mask on lengths and ends
5. Leave for at least 5 minutes and rinse thoroughly then style as desired.