Ok, it's official. Lady Gaga and Bradley Cooper broke the Internet. Their intimate performance of "Shallow" at the 2019 Oscars definitely had everyone ugly crying at home. While some played fun at the "closeness" of Bradley Cooper and Lady Gaga on stage and we're all keeping an eye on Irina Shayk, others could see it as an endearing moment. Apparently, before the show, Cooper said to Gaga 'Let's just drop a little bit of joy.' It's clear by their performance that they sparked joy for an entire generation. Their chemistry and love for each other both on and off stage reminds us of Leonardo Dicaprio and Kate Winslet – a true friendship with constant words of encouragement and appreciation for their crafts. After Twitter and Instagram blew up, and everyone picked their jaws up off the floor, it's safe to say that Lady Gaga was the big winner of the night. And even though Gaga and Cooper were definitely the stars of the show, we felt everyone had a chance to shine this year - the lack of a host added a freeing vibe to the entire evening. Aside from the moving speeches (we're looking at you Gaga), the heartfelt performances and the fashion, the beauty sent us all off the deep end. Keep reading to see our favorite looks of the 2019 Oscars!
As awards season comes to a close we notice the stars and starlets becoming exponentially more glamorous. Instead of long and loose waves, we see demure and dramatic upstyles and the necklines to match.
Bradley Cooper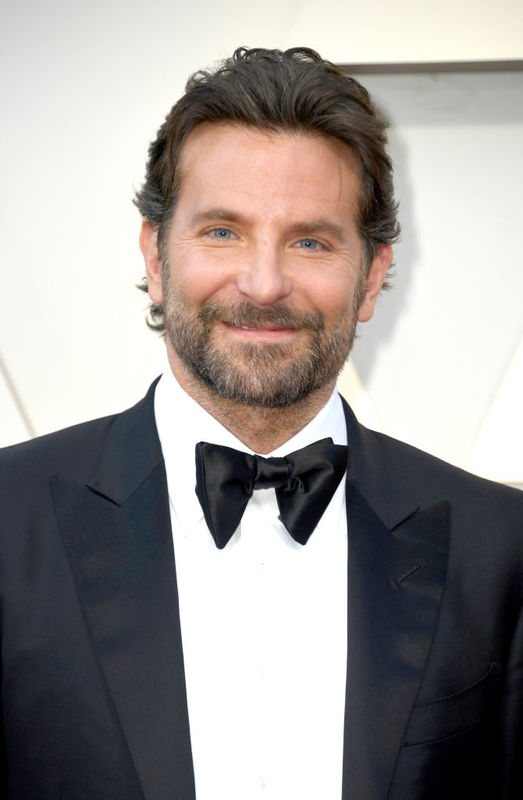 Getty Images
While we all wish we had someone to look at us the way Bradley Cooper looked at Lady Gaga, Cooper had us all looking at him in adoration for his swoon-worthy style. Doing a complete 180 from his Golden Globes white tux, Bradley proved that he looks GOOD in a black tux. With his outfit on point, all that was left was his hair, and we really love his length at the moment. "Bradley wanted his hair to look relaxed and styled back for Oscars," said Celebrity Groomer Natalia Bruschi for Redken. "I decided to use the Redken Brews Cream Pomade to give him that smooth, effortless finish. I really love the scent and feel of the Redken Brews products – they make it easy to groom my male clients, no matter the look." Curious about the steps? We've got you covered!
GET THE LOOK:
Prep hair by washing with Redken Brews 3-in-1.
Lightly blow-dry hair with your fingers until fully dry.
Scoop out a small amount of the Redken Brew Cream Pomade and rub it between your hands before raking them through your hair in a backwards direction to softly hold the style and add texture.
Once you've obtained your desired effect, lock the style in place with a few spritzes of the Redken Brews Hairspray.
Lady Gaga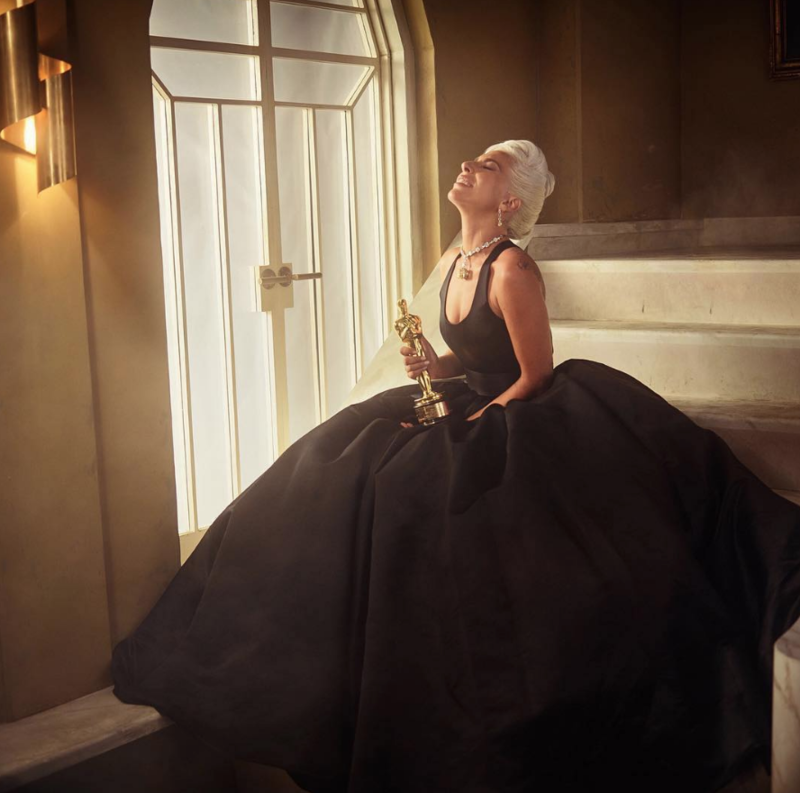 Instagram//@vanityfair
Aside from her performance and powerful speech, Gaga also stunned from a style point of view. A strong contrast to her Grammy's waves and rock girl chic, Gaga channeled Audrey Hepburn with her coifed upstyle and choice of gown and diamond necklace to match. A strong chord that Lady Gaga has brought up this year is about working hard and not giving up and overcoming rejection. And, the inspiration behind her look was letting that triumph shine through. Celebrity Manicurist, Miho Okawara said of her look "Tonight was incredibly special for Lady Gaga – she looked every bit the true star that she is! To complete her show-stopping look, I used one coat of essie's NEW spring 2019 stirring secrets shade, which worked perfectly with her hair and makeup."
Kerry Washington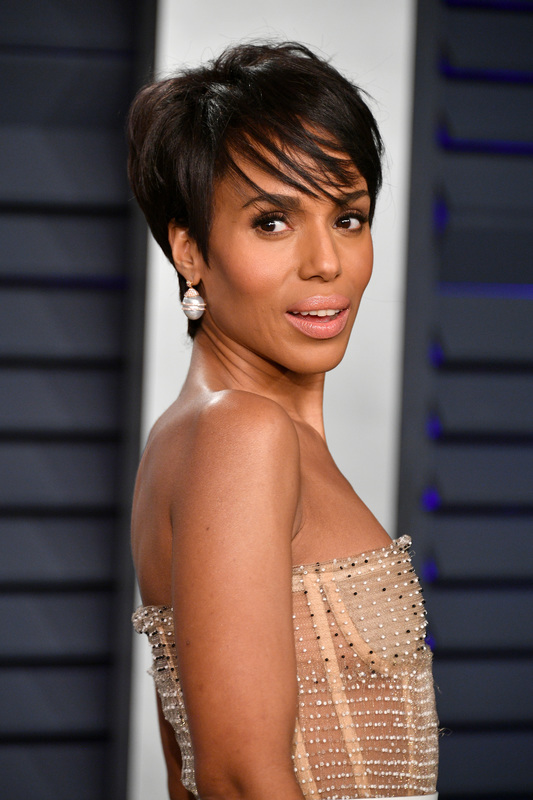 Getty Images
Speaking of another showstopper with some serious Audrey Hepburn vibes, everyone's favorite Olivia – Kerry Washington, debuted a new look that we can't help but love! Takisha Sturdivant-Drew for Matrix was the mastermind behind Washington's style "From the moment I saw Kerry's Schiaparelli couture dress. I felt it had a modern look of Hollywood glam. It has a 1950's feel of Audrey Hepburn to me. So I decided the hair should be short in a smooth cut and a little messy and undone." Going one step further than just admiring it, we got the steps to look!
GET THE LOOK:
To prep the hair while it's still damp, apply Matrix Keep Me Vivid Velvetizer as a heat protectant before blow-drying
Use a mini flat iron to smooth out hair, then apply dime size of the Matrix Keep Me Vivid Velvetizer again to give it a sleek and shiny look as it has great smoothing capabilities
Finish with Matrix Style Link Texture Builder Messy Finish Spray by spraying four inches away from the root. This creates a finished hold that adds texture and volume for an effortless look. Perfect for long-lasting hold with flexibility.
Priyanka Chopra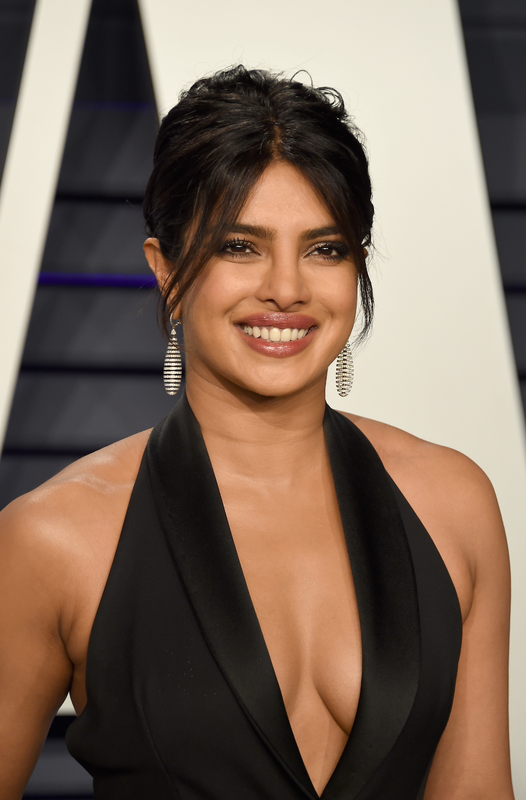 Getty Images
All eyes were on Jennifer Hudson, and not just because of her moment with Lady Gaga during her acceptance speech. With a fresh face, her center part a slicked upstyle was a common thread seen throughout the show. Kacey Musgraves, Ashley Graham, Emelia Clarke, Crazy Rich Asian's fashion icon Gemma Chan – seriously, that dress!!!! – and undeniable stunner Priyanka Chopra all rocked similar styles. Going behind the scenes, we got an inside scoop about what it took to get Priyanka's style Renato Campora for Matrix said the look stemmed from the total picture. "The inspiration was guided by Priyanka's stylists' vision for the look. We wanted her hair to have a 60s vibe to it with a modern take on a classic look full of texture." Achieving a simple, yet stunning style requires a few key techniques and product picks, and lucky for you Renato Campora is giving us the steps to this timeless look.
GET THE LOOK:
Apply Matrix Smooth Setter Smoothing Cream to hair while it is damp to create a strong foundation for the look
Then apply Matrix Volume Builder Mousse to damp hair to allow the hair to maintain a great texture once it is dry
Separated the hair section by section and blow dried using the Dyson Supersonic dryer. Once the hair is dried, divided the hair into two sections, leaving small pieces at the front of the head to frame the face
Added Matrix Texture Builder Messy Finishing Spray to give the hair added texture. Then take the two sections of hair and create a more modern take on a classic French twist by accentuating the texture of the hair.
To finish, spray with Matrix Volume Fixer Hairspray to keep the entire look stable and perfect
Jason Momoa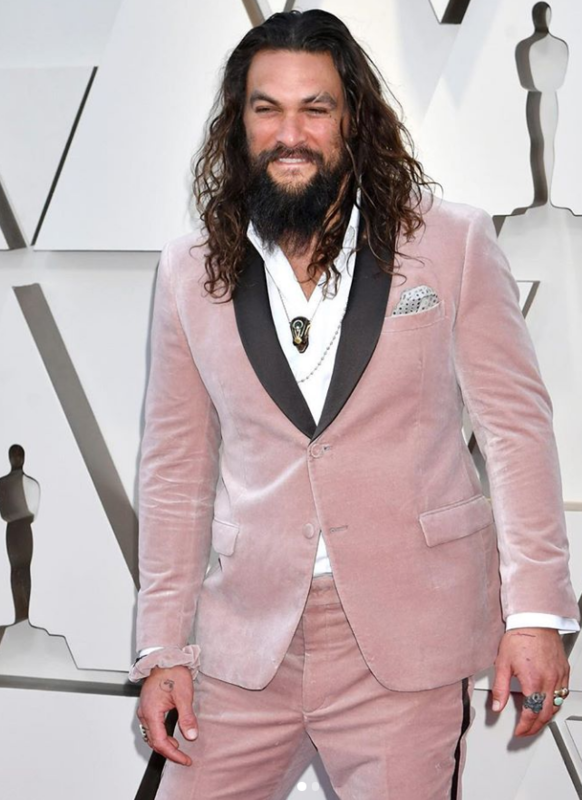 Instagram//@enews
Jason Momoa made headlines recently for the hilarious entrepreneurial spirit of one of the most famous Girl Scouts to date. Fifth-grader Charlotte Holmberg of Colorado gained nationwide praise after affixing Jason Momoa on a box of what used to be known as "Samoa's" or present-day Carmel deLites – deeming them "Momoa's". Aside from the obvious chatter on the Red Carpet between Jason Momoa and wife Lisa Bonet joking about great Girl Scout-gate, Jason Momoa actually turned heads for his style choices. Not only did he wear a pink velvet suit – which he pulled off exceptionally well, he also sported a matching Scrunchie to got along with it. Proving to men, women and Sex and The City Fans everywhere that Scrunchies, yes "A SCRUNCHIE" is officially back.
Danai Guirira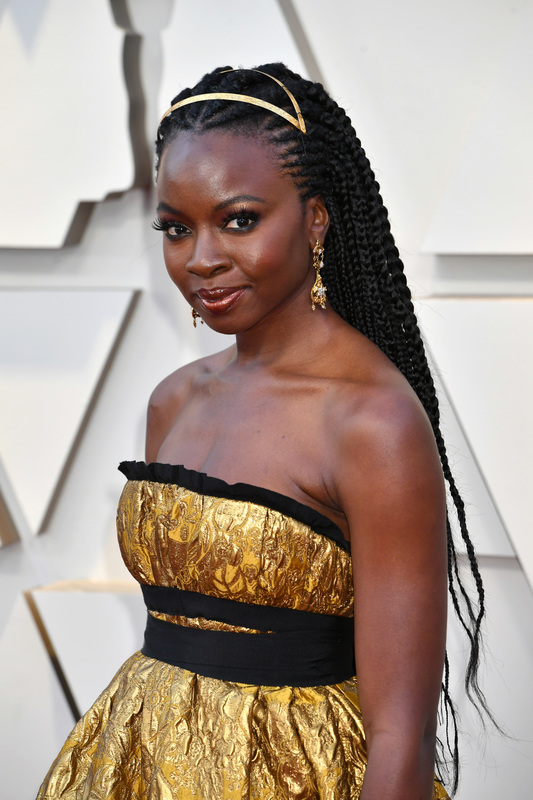 Getty Images

From Amandla Stenberg to Danai Guirira, braids were front and center and became an instant trend! Amandla's version had a finger-wave feel to it, while Danai went for XXL with a regal vibe. Danai Guirira, who constantly wins on the Red Carpet, was styled by Larry Sims for Biolage. Of the look, "Danai's hairstyle was inspired by African Princess Royalty." Sims said. "I wanted to create something strong, regal, and elegant that complimented her dress along with her 1920's Fred Leighton Headband so we went with gorgeous regal braids." From start to finish, using the proper product to ensure a seamless night sans flyaways is key, so keep reading to get the look!
GET THE LOOK:
Start by applying Biolage BlowDry Glotion to damp hair
Part hair into small sections, apply Biolage Texture Sap to the roots of the hair, and cornrow away from the face
Finish with Biolage Freeze Fix Hairspray once all over hair to make sure there are no flyaways on the red carpet
Billy Porter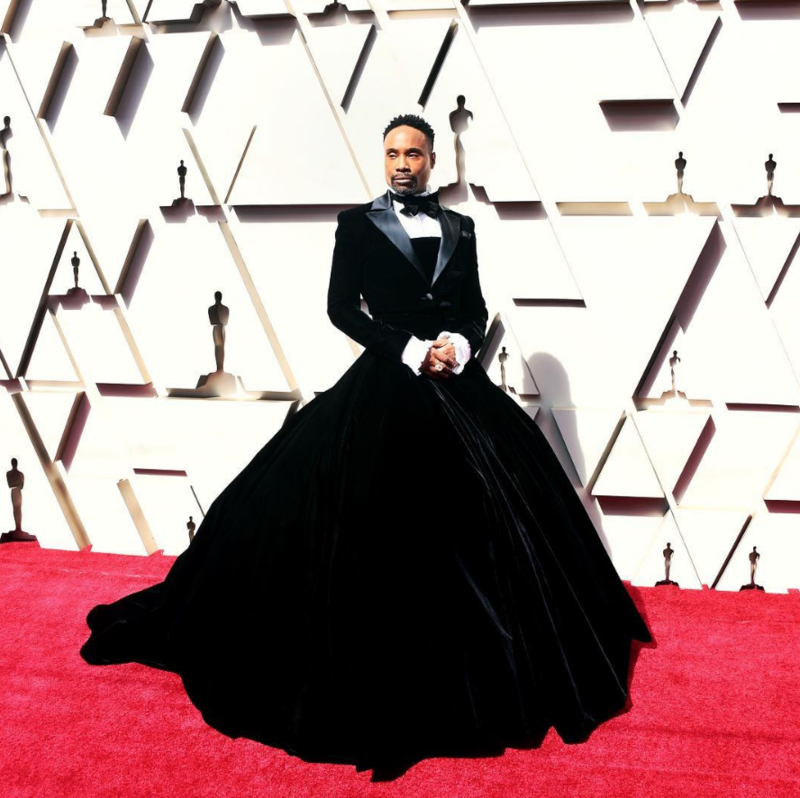 Instagram//@theebillyporter
Billy Porter seriously struck a "Pose" on the Red Carpet. Wearing a Christian Siriano tuxedo gown, he immediately grabbed the crown for Red Carpet style icon yet again. Critics everywhere agree that he "won the Oscars Red Carpet before it even started" and we couldn't agree more. To complement the look, his hair had a beautiful blend and was worn with a natural feel and expertly groomed goatee. Beyond blurring the lines between masculine and feminine, Porter is breaking down the wall and reinventing it and we can't wait to see what he wears next!
Awkwafina
Crazy Rich Asian's cast had a serious moment on the Red Carpet. From Gemma Chan's absolutely fabulous pink dress to Constance Wu's bold ensemble, shades were bright and beautiful. Speaking of shades, we chatted with Celebrity Manicurist, Christina Aviles and her choice for nails. "Constance is stunning in her yellow Versace dress! We went with essie's spiked with style to add an element of coolness to her princess-like dress. The result is the belle of the ball with some edge." Taking things even farther over the edge, while most of the movie's stars did opt for sleek upstyles, funny-girl Awkwafina broke the rules with lengthy waves. And, if you're going to wear waves to the Oscars you get them done by none other than wave-master, Ahn Co Tran. To get the look Ahn Co Tran detailed the process on his Instagram – using a flat iron to get the style!
GET THE LOOK:
Apply a good amount of medium-hold mousse on dry hair
Rough dry with the @ghd_northamerica Air Elite blowdryer and remember to lift the roots for volume!
Starting from the back using 1" subsections, apply a memory hold spray like @L'Oréal Constructor evenly throughout each section.
Brush thoroughly with a boar bristle paddle brush from @frommpro
Use the @ghd_northamerica flat iron to create the #nuwave.
Backcomb each section using the #frommpro 1907 Proglide comb
Continue working your way towards the front
Comb it through to create texture with the @frommpro 1907 Proglide comb.
Finish the look by spraying #loreal#savagepanache

While the obvious wins – Lady Gaga and Bradley Cooper for Shallow and A Star Is Born, Spike Lee's amazing acceptance for Green Book, Rami Malek for Bohemian Rhapsody, this year we felt like all the stars were winning both on and off the Red Carpet as a new era of support, positivity and equality took center stage.
---
For more fashion-forward styles and product picks and be sure to stock up on all goodies the Bangstyle store has to offer!