Bobs, lobs, fringe — anything that involves a one-length cut falls into this category and over the past few season's, these styles have become increasingly popular. With designs such as these, it is imperative that stylists create exacting lines, however, some hair types work better for these styles than others.
This is where hybrid cutting comes in. By learning how to master lived-in precision cuts, you'll be able to tailor styles to individual clients with varied textures. Showing you the way, Sam Villa, co-founder and chief creative officer of Sam Villa and global artistic ambassador for Redken, is lending key advice and fresh tips about how to created lived-in precision with ease.
"It's about minimum effort for maximum impact…and the way to achieve it is with education…understanding the limits and capabilities of the tools and fabric you're working with," he explains. By continuing to grow your acumen, stylists can always be prepared behind the chair. Villa uses the example of an iPhone – an older version can get the job done, but having the bells and whistles of a newer model makes everything a little easier and more exciting.
Top Tips:
When cutting along a diagonal guideline, subdivide sections for greater control.
To create a soft, diffused edge, point cut vertically – use ring finger to stabilize shears.
When creating graduation in the nape area, use paper-thin sections and isolate/clip other hair away to maintain maximum control.
Always use the mirror to check elevation and remain consistent, it's ok to rotate the guest's chair to view it. Mind the comb angle!!
Create rounder shapes on flatter heads by elevating the crown up 45° and cutting with a finger angle of 90° to create a corner and encourage volume.
Dry cutting is a visual exercise – the results are immediately seen, take advantage of it.
Hard edges can be softened by cutting ends on a diagonal with a Sam Villa Signature Series InvisiBlend Shear.
Using a 14-Tooth Point Cutting Shear gives the effect of point-cutting extremely quickly, with less strain on the wrist.
"When you learn the limits and capabilities of the tools and fabric you work with you can better understand which technique to use to achieve a predictable result. And, even have some fun doing it!" adds Villa.
Shop The Tools:
Sam Villa Signature Series InvisiBlend Shear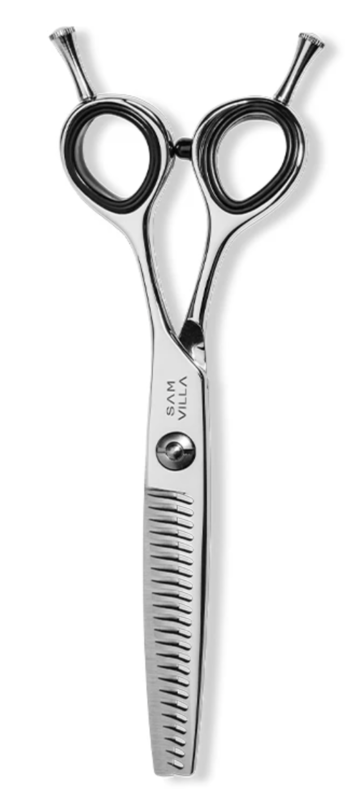 Sam Villa 14-Tooth Point Cutting Shear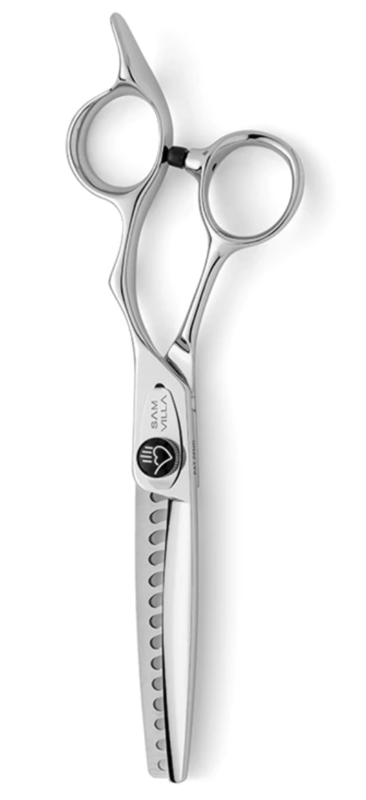 Discover more education with Sam Villa here.