As Fashion Week kicks off around the world we are excited to share the fashion and styles that will be on everyone's "it-lists" for the season to come! Melbourne Fashion Week is under way and for the 14th year Kevin Murphy leads his team in setting the looks for the show.  As he brings together beautiful fashion and stunning hair we see an ethereal feel at this year's events.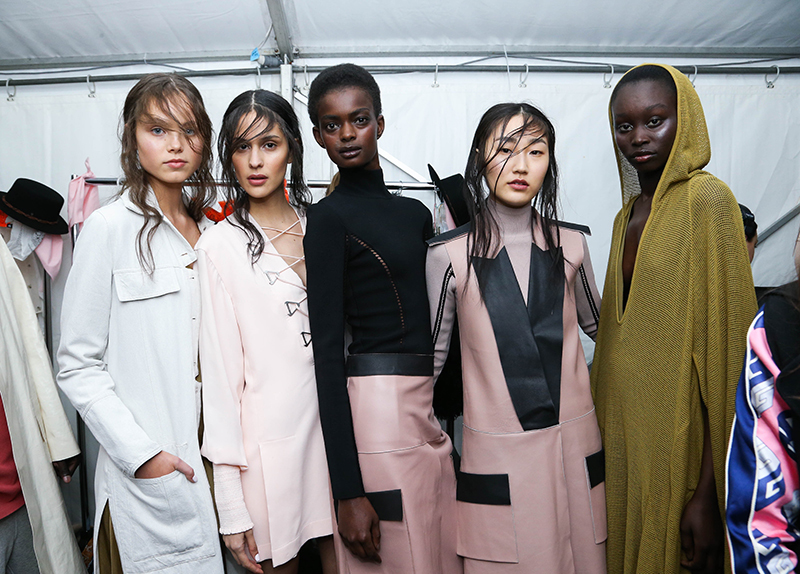 Opening night kicked off at Emporium with an open-air runway full of fashion and fun from designers Sass and Bide, Camilla and Marc, Alice McCall, Gorman and Manning Cartel.
"Healthy hair lustre is the hero this season. Our product use is seamless, creating authentic polish and shine. We detailed in two ways, first catching hair with invisible stitches and effortless wind swept pieces across the face and secondly with pearl details scattered though out. There was a real romanticism to highlight Emily Wards styling which was beautiful," said Murphy.
The pearl details turned into the ultimate hair accessory as they walked down the runway and each look enriched the romanticism of opening night. This look will definitely become a talked about trend this season so find out how to get the look!
Apply ANTI.GRAVITY lotion to towel-dried hair and blow-dry in 
 

Prep hair by layering in DOO.OVER and part hair across the centre of the head and leave an inch of hair out around the hairline
 

Secure an inch of hair from the part and secure this at the bottom of the nape
 

Spray in ANTI.GRAVITY.SPRAY from the nape upwards and dry in
 

Layer hair with BEDROOM.HAIR and loosely secure an inch of hair to the nape from either side of the head, leaving two strips out behind each ear
 

Secure the rest of the hair into a ponytail at the nape and finish with 
SHIMMER.ME BLONDE.


 
---
For more Fashion Week inspiration be sure to stay tuned and visit us on Instagram, Facebook, Twitter and Bangstyle!
Images: Courtesy of Lucas Dawson