The MERCEDES-BENZ FASHION DAYS take place every year in November. PAUL MITCHELL Switzerland is the official presenting sponsor and the creative team is responsible for the looks to grace the runways. 
The creative team doing hair is comprised of the entire Swiss team, about 8 stylists, as well as PAUL MITCHELL stylists from other European countries. My part is to lead the team. I am responsible for each and every look shown on the catwalk.  We receive input for the hair and make-up look from every designer. We have a one-day meeting in advance where we preview the looks for the whole 4 days of fashion events. After that, I train the team on the looks so that everyone knows what they have to do. The prep is really important, on the show days, we are very busy and we have sometimes 50-60 models to do. But, it's always fun! I'm also responsible for the VIP's hair. There are quite a lot of VIP's each year. They are mostly from Switzerland and all over Europe, but we also have a few from the US.  Like last year, Victoria's Secret Model Karlie Kloss, or Monica Cruz a few years ago.
Here are the looks from last year's events. These are 4 of our favorites; we covered 20 designers and hundreds of models over 4 days!
Look 1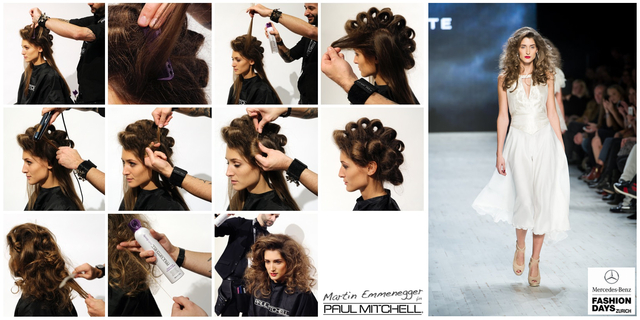 First, preparing the hair with EXTRA BODY SCULPTING FOAM and EXTRA BODY DAILY BOOST, blow dry it to get some body, volume and strong hold in it.
Using some HOT OFF THE PRESS for heat protection and EXTRA BODY FINISHING SPRAY for more hold. The hair is being prepared with a styler in a basic ribbon curl technique to get strong beautiful curls. Clip every section. When finished, release everything and go trough with the PAUL MITCHELL Detangling Comb. Add some texture by pushing back the curls and use a lot of EXTRA BODY FINISHING SPRAY for strong hold, as the models also have to change during the show
Look 2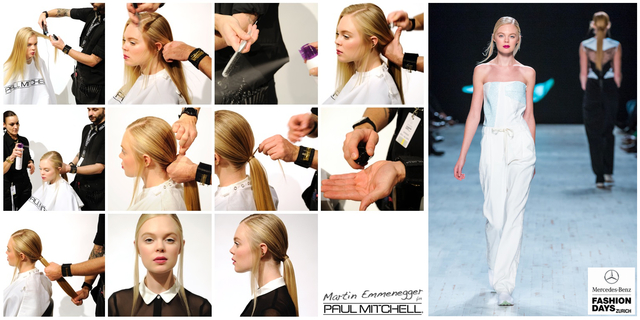 Preparing the hair with QUICK SLIP to add shine and natural softness. Use HOT OFF THE PRESS for heat protection and flat iron all the hair. Take on each side, 2 triangular parts away that will be left out, and do with the rest of the hair a low ponytail with a deep left side part. Using EXTRA BODY FINISHING SPRAY to add shine and strong hold. Cover the elastic. Add some STYLING TREATMENT OIL to the ends and the 2 triangular parts to add shine and softness.
Look 3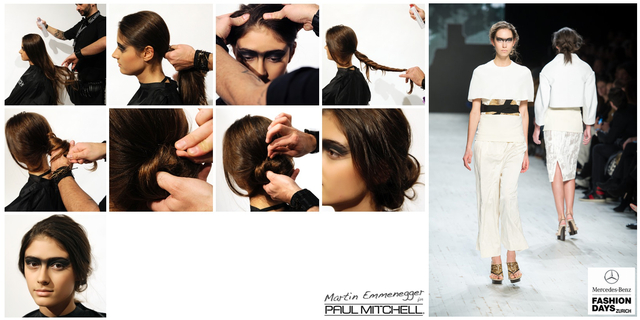 Prepare the hair with SCULPTING FOAM and blow dry it to get some grip and flexibility in it. Create a strong low ponytail using EXTRA BODY FINISHING SPRAY. Massage the head from back to front to get a loose undone look. Twisting the ponytail, add SPRAY WAX to get some grip and matt effect. Using a knotting technique and pin it in place. Let the ends out for an undone, self-made look.
Look 4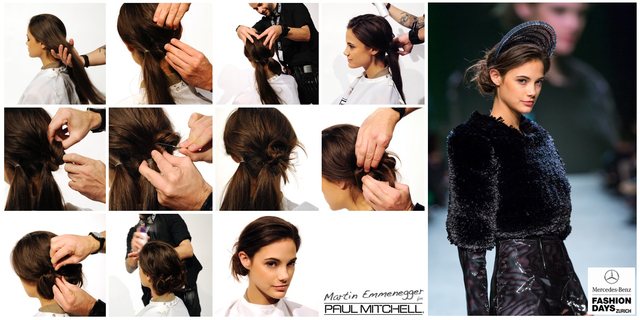 Preparing the hair with SCULPTING FOAM, blow dry and get a little movement in it using HOT OFF THE PRESS and a styling iron. Do two loose ponytails (one is a little smaller than the other) and fix with an elastic. Massage the head from back to front to get a soft look. Use some EXTRA BODY FINISHING SPRAY to fix it. Doing 3 knots in the back, the bigger ponytail is parted in 2 pieces. Fix it with bobby pins. Ends can be left out. The look has to be very natural like it is self-made. For that look, we also had some headpieces that I added backstage.