As the seasons change, you notice certain variations in your routine: the thermostat goes up, you switch out summer dresses for fall sweaters, sandals for boots and face creams for more intense face oils. With drying heaters and sub-arctic temps, your hair needs a pick-me-up just as much as your outfit does. And while miracles are usually reserved for the holiday's, this season Keune has a treat for your hair that will make you realize hair miracles do come true!
What it is: Keune Care Miracle Elixir.
What it does: Reduces up to 80% of internal hair damage while making hair twice as soft after a single application.
Where you can get it: By visiting your favorite Keune salon professional! They will be able to create your personal miracle mix: a treatment tailored specifically to your hair's needs.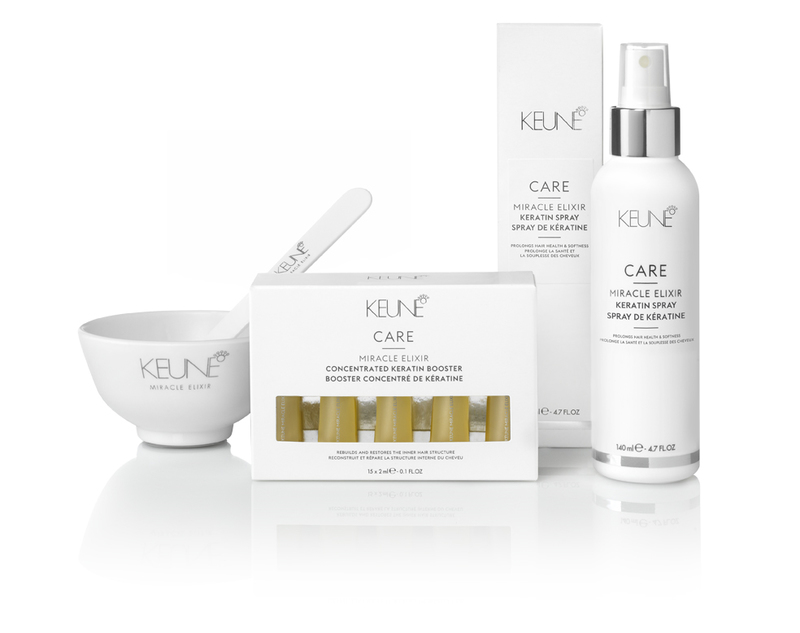 How it works: With an in-salon treatment, your stylist will be able to take your hair from shabby to chic in four easy steps!
1. Consult – Discuss hair type and what hair problems you are looking to treat.
2. Cleanse – Using Keune's premium Care shampoos, a stylist will personally select the proper products to precisely cleanse your hair to prepare for treatment.
3. Condition – You will have a tailored Mask + Miracle Elixir applied to your hair, relax for 20 minutes, rinse, then enjoy your silky new hair.
4. Complete – Hair will instantly be softer, silkier and shinier – you probably won't be able to stop touching it. To keep up with this treatment, simply grab a Keune Care Miracle Elixir Keratin Spray for at-home care – the keratin will help rebuild and repair your hair as it protects the structure of your strands while the Coconut oil moisturizes your hair from the inside out.
With Keune Care you don't need to worry about the state of your hair this season. From the revitalizing shampoos, conditioners and masks to elixirs, leave-in's and treatments, Keune has got all of your Care concerns covered.
---
Keune, for the salon professional since 1922.
To learn even more about their brilliant color, stunning styling, and trend inspiration be sure to stalk Keune on Bangstyle and follow them on Instagram, Facebook, Twitter, and Pinterest!