The fall and spring welcome an array of inspiration for fashionista's everywhere. As fashion month takes over the prominent cities of New York, London, Milan, and Paris, a whirlwind of excitement and new styles are left in their wake. Each year we are delightfully surprised by the designers' ability to take their runways that much farther than the season before – cue the late Karl Lagerfeld's iconic Chanel runways that have literally taken the outdoors and brought them in. Apart from the shows, the sentiments last much longer and this season the movement we noticed the most was sustainability. A mix of the political climate, as well as climate change, has stirred the senses of fashion houses everywhere as they make grand statements about the current affairs, cutting down on waste, and empowering the modern woman, just as she is. More than anything, a sense of pride emulated from these iconic shows, which is why we're excited to share with you a few favorite moments from around the world.
New York Fashion Week – Statement pieces and the empowerment of women.
Outfits have become less novelty and more wearable as resort wear has reached its pinnacle. The working woman (with nods to 80s power shoulders) is still in the limelight as women as seen as a force of strength - proving not all superheroes wear capes...instead they opt for a belted blazer, billowy sleeves, and a prominent shoulder.
Our favorite statement: Proenza Schouler
Balance was a strong element echoed throughout the Proenza Schouler SS20 show. Taking inspiration from the women who they work with - many of whom had children - the designers wanted to ensure an easily wearability with a high fashion flair. A strong nod to the 80s, with an upcoming collaboration with Birkenstock many of the models toted these shoes down the runway much like how women of New York change into their comfy shoes once they leave the office. At the root of it, women are shown as true forces who embody strength and independence.
"We're here at the Proenza Schouler show where the hair is a definite nod to the 80s with very dramatic ponytails that are smoothed with the new Sultra Bombshell Volumizing Dryer and sculpted with Redken Hardwear 16 Gel. A powerful dryer and great stylers are essential to any backstage look." – Redken Global Creative Director Guido Palau
GET THE LOOK:
Prep damp hair with Redken Extreme Play Safe for up fortify and strengthen strands with up to 450-degree heat protection, then blow dry smooth using the new Sultra bombshell Volumizing Hair Dryer (launching 10/1) to create a smooth, silky finish. The dryer emits both infrared and ions to smooth and speed up drying time, while nurturing hair.
Run dryer along hair straight back away from the face using the speed of the small yet powerful 1600 Watt Sultra Dryer to create volume.
Then, straighten using the Sultra Bombshell Curl, Wave, and Straight Iron to give it a flat texture to easily bind the hair.
Apply Redken Hardwear 16 Gel and apply through the front of your hair to create a wet texture, enhancing a very strong head shape, finishing with Redken Triple Pure 32 Hairspray to give a strong hold with no crunch.
Once that front texture is created, the hair is bound into a tight ponytail at the nape of the neck and wrap with leather, leaving about an inch of the ponytail out — so it resembles a horse's tail on the bottom.
Finish by straightening the bottom of the ponytail with the Sultra Bombshell Curl, Wave, and Straight Iron to create a strong, bold finish.
Spritz Redken Triple Pure 32 Hairspray over the whole look for hold.
London Fashion Week – Bracing for Brexit with an overtone of simplicity.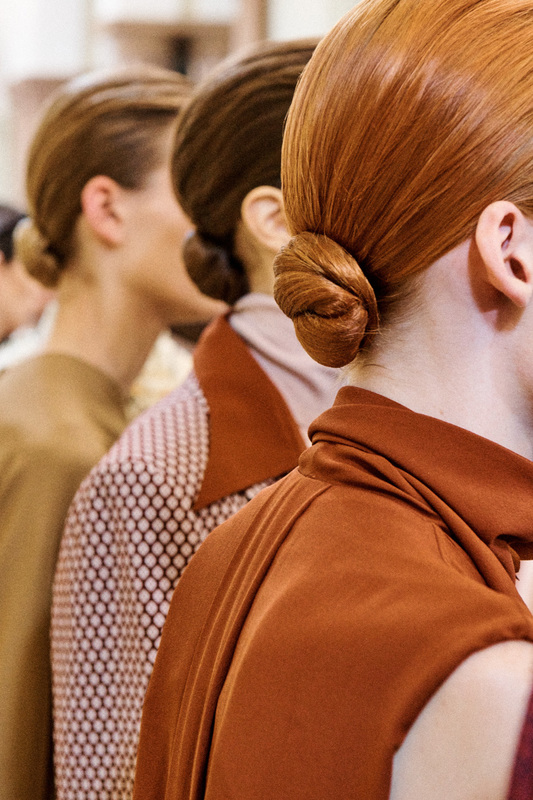 A renewed sense of sustainability and attainable fashion with everywhere from monotone looks to bright pops of color with faint nods to the 60s and 70s made their debut along the runways.
Statements of simplicity: Victoria Beckham
Victoria Beckham has come a long way from her first show 10 years ago. Going from simple shades and a great deal of black, the former Posh Spice has capitalized on color and flowy dresses for Spring 2020. Apart from chic dresses in a multitude of shades, suits and slit skirts made up a collection of easily wearable pieces anyone would love to wear come spring. To capitalize on this cool, chic aesthetic, Redken Global Creative Director Guido Palau created a chignon that any woman is sure to want to recreate.
"The hair at Victoria Beckham this season is very chic, beautiful, and slightly masculine. I've used Redken's NEW! Extreme Play Safe leave in to heat protect while blow-drying and flat ironing the girls' hair to get it very straight. Then, I've raked the models' hair back with my fingers, spritzing with Redken Fashion Work 12 to hold, and finishing it in a very chic chignon. The overall feeling is very groomed, pulled together, adult, and rich." – Redken Global Creative Director Guido Palau
GET THE LOOK:
1. Prep hair by washing with Redken Extreme Shampoo and Conditioner.
2. Apply a quarter-sized amount of Redken Extreme Play Safe to damp hair to heat protect up to 450 degrees.
3. Blow-dry hair with a round brush, leaving it smooth.
4. If needed, use a flat iron on your lengths and hairline for added smoothness.
5. Rake your hair back with your fingers and pull it into a low ponytail at the nape of your neck. Secure.
6. Using bobby pins, secure lengths into a chic chignon.
7. Spritz Redken Fashion Work 12 Hairspray all over for light, workable hold to secure the look.
Milan Fashion Week – Climate change and upcycling.
Silent protest, social media moments and climate change challenges were all around, Milan Fashion Week as Prada and Versace stole the stage.
The top social media moment: Versace
It was the catwalk seen 'round the world – Jlo stole the show and effectively "broke the internet" once again as she strutted down the runway – closing the show in a modernized recreation of the iconic green dress she wore to the 2000 Grammy awards nearly 20 years before. Looking just as stunning and in some ways even more breathtaking, for a show that started very humbly, she ended the show with a deafening crescendo. Buttoned up power suits and leather blazers a la '80s led the way for provocative minis that thoroughly complemented the female shape. As jungle print broke up the never-ending black, bright neons led the way for the Jlo finish. Hair was a slicked back wet look for a "fresh out of the shower" feel.
"I've done a wet look at Versace this season using Redken Hardwear 16 Gel, Redken Shine Flash 02, and Redken Triple Pure 32 Hairspray. It's meant to feel like you just got out of the shower – it's very messy, very sexy, and very Donatella." – Redken Global Creative Director Guido Palau
GET THE LOOK:
Start with clean, air-dried hair.
Apply a quarter-sized amount of Redken Hardwear 16 Gel to your hands and rub your fingers together.
Rake your hair back with your fingers, combing through your lengths for wet appearance, adding more Redken Hardwear 16 Gel as you go.
Once you have your desired effect, take a few pieces of hair from your hairline and brush them across your forehead for a messy, fresh-out-of-the-shower appearance.
Once your desired look is achieved, spritz the NEW! Redken Triple Pure 32 Hairspray all over for high hold without crunch.
Finish off with a few spritzes of Redken Shine Flash 02 over the whole look to get a high-gloss appearance.
Paris Fashion Week – Sourcing and sustainability.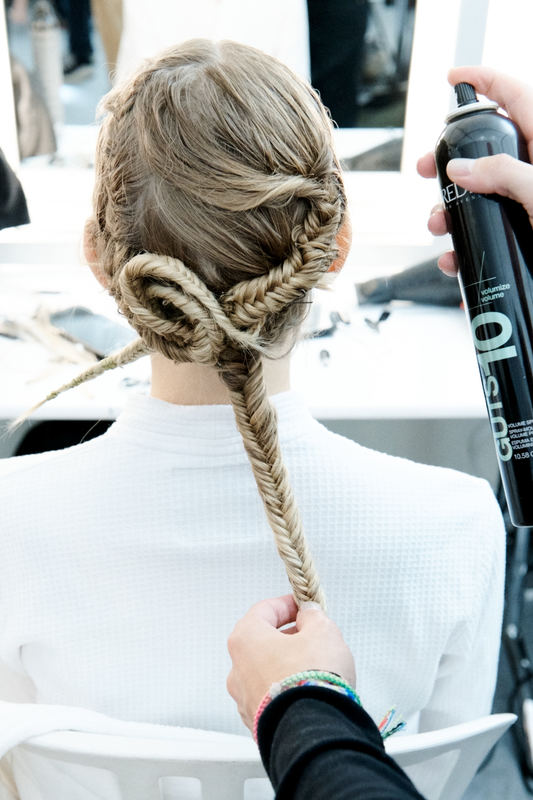 Their looks and the steps they took to get there – recycled fabrics, locally sourced textiles, and a vintage post-depression feel – spoke volumes about the movements going on behind the scenes.
Swooning for sustainability: Alexander McQueen
Undoubtedly one of the most beautiful collections at Paris Fashion Week, Alexander McQueen was more than just the designs that captured our hearts, it was the sustainable, local and repurposed practices Sarah Burton utilized while creating this collection. Sourcing fabrics from Northern Ireland and recycling McQueen patterns, lace and tulle from previous shows.
Hair looks capitalized on pirates and the high seas. "We're backstage at Alexander McQueen. McQueen looks always have a touch of romance – always beautiful, always with a touch of British sensibility. I was inspired by pirates and the high seas, with a small braid in the front inspired by Adam and the Ants, who often wore a similar look," said Redken Global Creative Director Guido Palau. "I've finished off the braids with a gold ribbon wrapped around them, which gives a slightly Victorian vibe. My key product for this look was Redken Guts 10, which I slathered heavily into each section to give it a product-y feel, which helps to form the braids. I finished with a few spritzes of Redken Shine Flash 02 to reignite the look and give it a high-shine, wet look." He added.
GET THE LOOK:
Section your hair into three sections, one on each side of your head, and one in the back. Clip up the first two sections.
Taking the remaining section and begin applying a heavy amount of Redken Guts 10 from the lengths to ends to saturate strands.
Once the full section is fully saturated, begin French braiding the hair down to your ends then secure with an elastic.
Repeat on the remaining two sections.
Once all sections are complete, take your center and side section and begin wrapping them over one another at the back of your head, securing with hairpins as you go.
With the remaining section, allow it to stick out off to the side of your head then pin to your head shape to create a 360-degree shape to the overall hair look.
Using a comb, comb out some of the baby hairs at the front of your head and tightly braid the section, securing the end with a small elastic.
Spritz Redken Shine Flash 02 all over the look for added polish.
Use your fingertips to soften around your hairline and allow some remaining baby hairs to peek through.
If desired, wrap a bit of gold ribbon around the braids for an added touch.
---
For more color formulas, tips, and tricks visit www.redkensalon.com/, follow along and tag us in your creations on social media @Redken!