Each and everyday hair is exposed to multiple factors that can cause damage — from brushing to chemical treatments and even UV exposure. However, as we transition from air-drying to heat-styling this season, damage from hot tools is one of the biggest stressors. The runways were a big indication that the blow-dry is back but before you begin we begin to curl, wave and straighten their hair this season, be sure to pick up this must-have heat protectant.
Why You Need a Heat-Specific Styler
Many post-shower products are aimed at hydrating, conditioning and moisturizing the hair, which is a great first step. However many leave-in treatments don't address heat protection. Any time you are adding heat to your style an additional layer of heat protection is a must to cut down on color fade, excess split ends and damaging the cuticle layer of the hair.
Must-Have Heat Protectant
Providing versatility is a win-win anytime it comes to investing in hair products and with a unique two-phase formula, Wella Professionals EIMI Thermal Image is the only heat protectant you'll need this season. Phase 1 works to nourish the hair and provide heat protection while Phase 2 leaves hair silky and smooth for a flawless finish. In addition to this, Wella Professionals EIMI Thermal Image can be applied to both damp and dry hair prior to introducing heat to protect up to 220°C.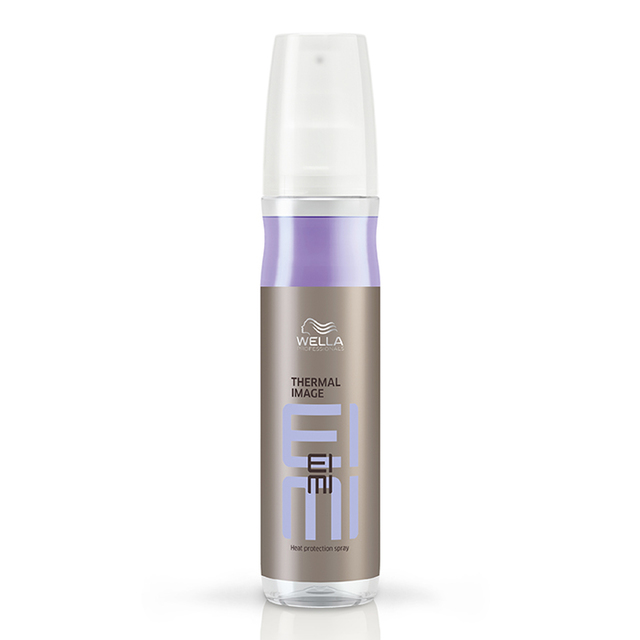 How To Use
Before applying always shake and then mist through the hair. This can be applied to damp hair before blow-drying or on dry hair before using hot tools. If using on dry hair, be sure to allow the product to fully absorb and is dry to the touch before applying heat.
See It In Action
Heat protectants are an essential step in any style and something everyone should always keep stashed in their beauty cabinet. To see exactly how Wella Professionals EIMI Thermal Image protects against heat, take a peek at this video.
How It Will Improve Your Style
The thing about heat protection is that while it is essential each time you blow-dry or utilize hot tools, the impact is something that is also measured cumulatively. By applying a heat-protectant each time you style, you'll notice the immediate effects as well as improved damage control over time. By cutting down on damage, this will also improve the appearance of your hair the next time you decide to air-dry as well.