The trends seen at NYFW AW 2021 runways are proving that optimism is all around. Slinky pajama-like outfits are being replaced with new structured ways to strut as shown on the runways this year. While many are opting for digital shows a few are inspiring us with in-person socially-distant shows — which is what Chrisitan Siriano opted for to show off his Fall 2021 collection. Held at Gotham Hall, he admits that creating during a global pandemic was somewhat of a challenge. A brave juxtaposition from his Spring 2021 show held at his home in Connecticut, his designs live up to his iconic vision with tulle, statement pieces and party dresses offering inspiration for a festive season ahead.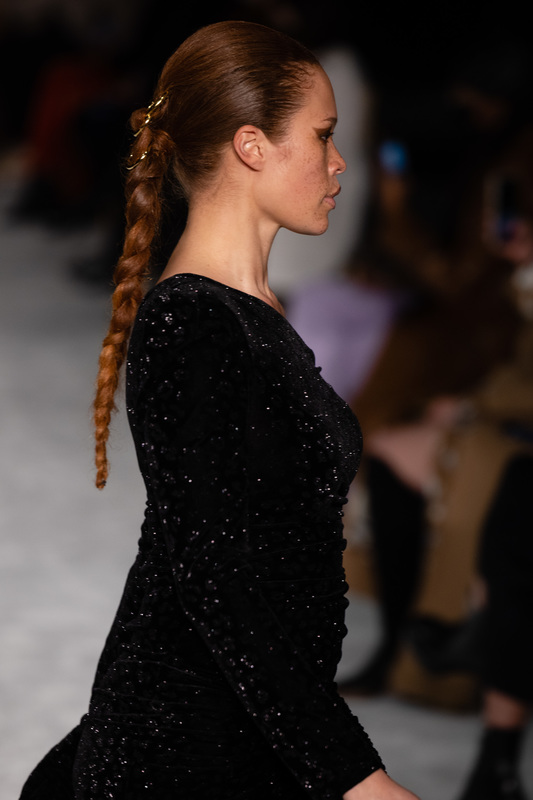 When it came to the hair, Sebastian Professional International Artist Anthony Cole created intricate long braids and circular details throughout to harmonize the collection. Take a peek behind the scenes and learn more about how Cole created the runway look below!
Get the Look:

Step 1: Apply Sebastian Professional Whipped Crème for coarse hair or Sebastian Professional Mousse Forte for finer hair throughout, blow-dry smooth.
Step 2: Emulsify three pumps of Sebastian Professional Dark Oil in hands, layer into hair and brush smooth.
Step 3: Section hair from above hair recession down the back of the crown and clip away temporarily. Pull remaining hair on sides and back into a low ponytail.
Step 4: Unclip the top section and comb back. Starting right on top of the low ponytail, weave circle hair accessory through hair, looping through 2-3 times. Leave the remaining end of hair loose.
Step 5: Emulsify one pump of Sebastian Professional Microweb Fiber in hands, distribute it into remaining loose hair for added grip.
Step 6: Create a three-strand braid with remaining hair down to the bottom, secure with an elastic band. Pull at hair in the braid lightly to expand and create a fuller look.
Step 7: Spray Sebastian Professional Shaper hairspray all over to smooth down any flyaways and secure the braid in place.
Step 8: Finish with Sebastian Professional Dark Oil Fragrant Mist for lightweight, natural shine and a mesmerizing scent.

*For short textured hair, apply Sebastian Professional Whipped Crème to define natural texture. Mix Sebastian Professional Dark Oil and Sebastian Professional Potion 9 together and distribute throughout hair to enhance manageability and renew shine.
Credits:
Lead Stylist: Anthony Cole, Sebastian Professional International Artist
Photography: Cody Rasmussen