Fashion week isn't just about what's happening on the runways; behind the scenes, tips and street style looks play a huge role in the trends we see for the season ahead as well.
We all have our favorite celebs and influencers we love to follow and there's another we're adding to the list that shouldn't be missed! Paris Jackson! The daughter of the King of Pop arrived in style at London Fashion Week showcasing a plethora of colors in her kaleidoscope wrap. To accentuate her wardrobe she donned her signature bronde locks with effortless loose waves. The key to those perfect waves… the health of her hair! Follow along below as Matrix Celebrity Stylist George Papanikolas shows us just how he got her color and how to care for it with Total Results The Re-Bond System.
Launching in salons in March, the benefits of the new Matrix Total Results the Re-Bond System are endless. You and your clients can now keep lightening and coloring without the fear the damage.
---
To start George used his signature 2 step highlighting technique.
Free hand at the roots/crown/face frame, then back-comb slices to give brighter ends.
Step 1: Light Master Lightening Powder & 40 Volume MATRIX Cream Developer & Light Master Freehand Additive & BOND Ultim8 Step 1 Amplifier
Step 2: Light Master Lightening Powder & 20 Volume MATRIX Cream Developer & BOND Ultim8 Step 1 Amplifier & seal everything after with BOND Ultim8 Step 2 Sealer
Matrix Total Results The Re-Bond 3-Step System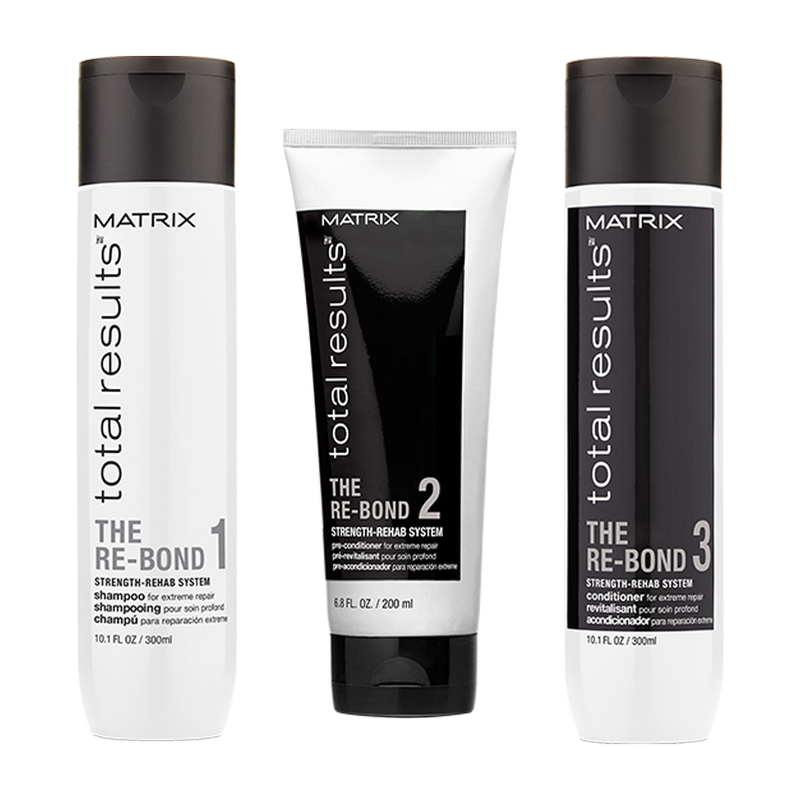 Matrix Total Results The Re-Bond reconstructs damaged hair at the deepest level—actually repairing the structural bonds that are destroyed during chemical services. This game-changing repair system is packed with an unprecedented amount of active ingredients to help fortify weakened, over-processed hair. Hair is left revitalized, repaired, strong, smooth and manageable. The Re-Bond improves every strand while maintaining hair's resilience.
"The Re Bond 3-Step System will repair internal strength after damage from 3 previous lightening services, offering a next-generation solution for over processed hair. It can be alternated with any total Results care and styling system, and is an ideal take home regimen after any in-salon hair color or lightening service," says George Papanikolas.
The regimen for extremely damaged hair from chemical services and heat styling:
◦ Step 1 —The Re-Bond Shampoo. Powered by citric acid, removes unwanted product build-up "cleansing the canvas" for the subsequent steps. Apply on damp hair, lather, and rinse. Use daily.
◦ Step 2 —The Re-Bond Pre-Conditioner. Infused with maleic acid, reconstructs weak bonds. Apply thoroughly on wet hair, leave on for five minutes, and do not rinse. Use 1 time per week.
◦ Step 3 —The Re-Bond Conditioner. Thanks to high concentrations of taurine, the final step in the Re-Bond system perfects and sustains bond resilience leaving hair strong, healthy and as good as new! Layer over the Pre-Conditioner Step-2 then rinse and style as desired. Use daily
To learn even more about the Matrix Total Results The Re-Bond 3-Step System – click here!
---
Want to try on a new shade this season? Check out these top hues and stay tuned for fashion-forward styles from Matrix!