COLOR.ME offers endless possibilities in the salon with a range of high-performance, fashion-forward shades. As a compact colour line, the aim has always been to deliver optimum functionality within the salon, which is why this latest innovation is so exciting. Unveiling a groundbreaking new product, COLOR.ME expands the colour range with NEW pH.D! An alkaline to acid pH transformer, pH.D instantly creates no-lift, no-shift, deposit-only colour from all COLOR.ME SHADES, with the exception of TONERS and HIGH.LIFT. Keep reading to learn more about pH.D, how to use it, and find out why you'll love it! 
"As a compact range on a mission to help colourists work smarter, not harder, I am constantly exploring the best innovations in colour technology. pH.D gives colourists the ability to transform permanent colour into a true no-lift, no-shift deposit only colour, increasing service options while decreasing inventory." - KEVIN MURPHY 
WHAT IT IS
An alkaline to acid pH transformer, pH.D instantly transforms oxidative colour into gentle acid colourations.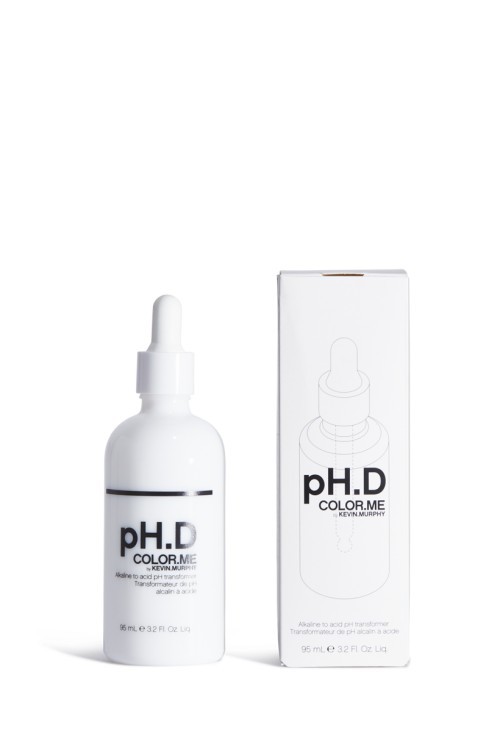 INGREDIENTS
Essential oils from Lemongrass, Sweet Orange and Grapefruit are rich in flavonoids and help the cuticle lay flat while reflecting light and creating shine. This combined with Vitamin C supports the pH levels to ensure colour retention.  
HOW TO USE
You can utilise pH.D in a myriad of ways, from tone-on-tone effects to darker colourations and grey blending. 
Prior to applying the pH.D colour service, cleanse the hair with the KEVIN.MURPHY wash that is best suited for your client's hair. Follow with ANGEL.RINSE to even out porosity, preparing the hair for colour. 
Mix your SHADE with pH.D and LIQUID.ACTIVATOR based on the pH.D mixing guidelines and apply to the hair. *pH.D was designed to be applied directly from the APPLICATOR.BOTTLE onto towel-dried hair. The special LIQUID.ACTIVATOR ensures the fluidity needed for easy application and distribution. 
Visually apply the formula for anywhere between 5-20 minutes.
Post pH.D, gently cleanse and condition the hair with ANGEL.WASH and ANGEL.RINSE to complete the service. 
Luminating Effects
Darker Colourations & Grey Blending
WHY YOU'LL LOVE IT 
Streamlining the need for multiple colour lines in the salon, pH.D gives you more options behind the chair. Offering quick results, pH.D makes hair more manageable with softer, smoother results and an easy-to-blow dry finish.