Gray coverage has always been one of the most prominent services in the salon. With consistent appointments, it is one of the best ways to build your book and a solid, devoted clientele. While application has always been fairly quick, the processing time can really slow down both you and your clients. Now, with the latest in permanent color innovation, Redken is providing you with the answer — Redken Color Gels Lacquers 10 Minute!
With 100% coverage on up to 100% white hair, this breakthrough color allows for fast coverage and full control in a permanent liquid formula with high saturation and the same shiny results everyone loves about Color Gels Lacquers. The secret behind this formula lies in the fast kinetic dyes, which deposits pigment in a shorter processing time. Additionally, Proprietary Smart Pause Technology allows stylists to speed up the process without the worry of over-processing.** Due to this, stylists are able to achieve virtually the same color results between 10 and 15 minutes.
Color Gels Color Lacquers 10 Minute joins Color Gels Color Lacquers — allowing the stylist to choose which formula is best for their client.

What You'll Love About It:
While the original Color Gels Lacquers is great for complicated techniques, touch-ups with more than an inch of regrowth, fashion looks, or other services that might require a longer application time, Color Gels Lacquers 10 Minute is ideal for quick root touch-ups, client's trying to squeeze in at the last minute, fitting in walk-in appointments to your schedule or simply offering your tried and true gray coverage clients a reason to visit the salon sooner.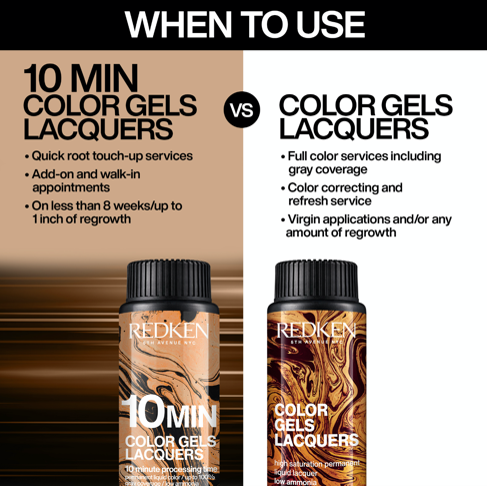 The Shades:
Currently available in three of Redken's most popular shades you can enjoy Color Gel Lacquers 10 Minute in 5N (Walnut), 6NN (Chocolate Mousse) and 7N (Mirage). In addition to this, 11 more shades will be joining this color family in November 2021!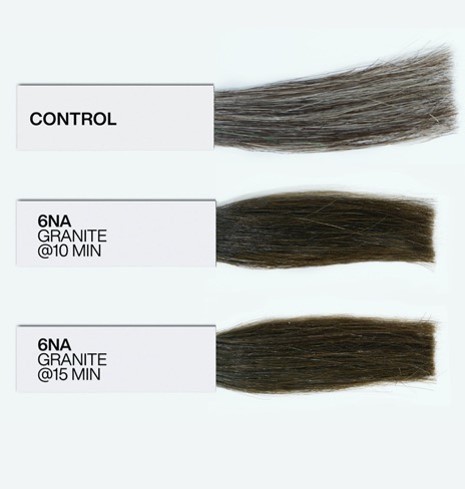 What Stylists Are Saying:
Whether clients or stylists have a busy schedule, fitting a root touch up service is now easier than ever. When asked about Color Gels Lacquers 10 Minutes, Redken Celebrity Colorist Tracey Cunningham (@traceycunningham1) says, Color Gel Lacquers 10 Minute is "a homerun in terms of convenience and coverage" saying "this is great for clients who need a touch up before an event because it's so quick and easy for me to fit them in!"
In addition to the ability to easily fit a root touch up in, stylist love the fact that they do not have to worry about overprocessing. Redken x Mizani Brand Ambassador Rachel Redd (@rachel_redd) says: "This innovation saves me so much time. The 1:1 match between Color Gels Lacquers 10 Minute and Shades EQ Gloss makes it so easy to create the most beautiful color creations and with new Smart Pause Technology, I don't have to worry about the color overprocessing!" Easily taking the stress out of a hectic schedule or a client in a rush, from start to finish Color Gels Color Lacquers gives stylists all of the control with none of the worry!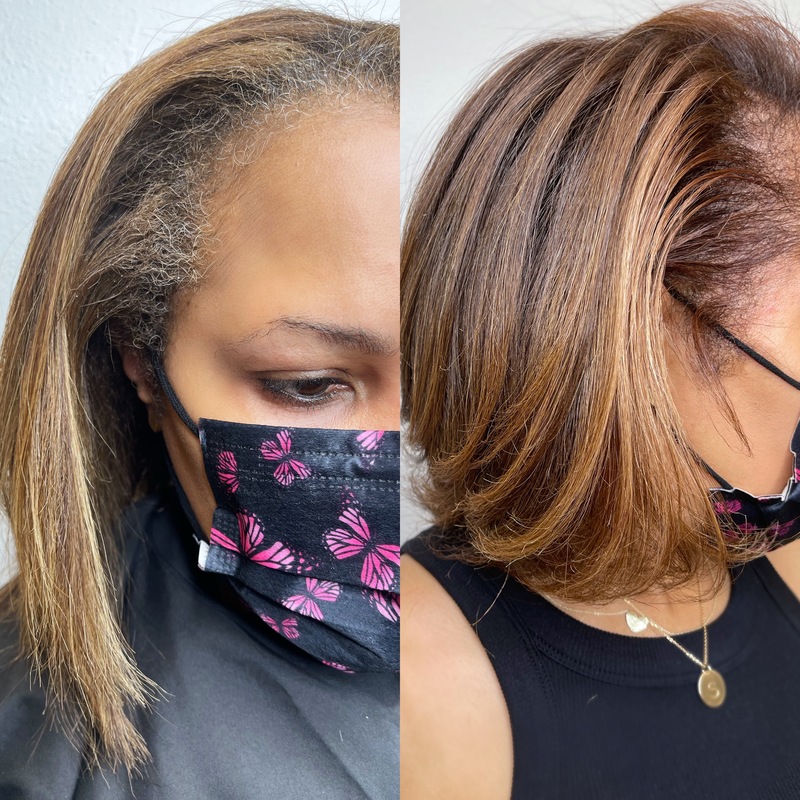 *Kline's 2020 Salon Hair Care Global Series
**Virtually same results between 10 and 15 minutes
NEW! Redken Color Gels Lacquers 10 Minute is available starting September 2021 everywhere Redken color is sold, including SalonCentric, SalonCentric.com and via State|RDA distribution.