Stylists and salons are constantly looking for new ways to cut down on costs while improving efficiency and performance. In an industry where time and product equates to profit and loss, finding new ways to cut down on waste and speed up services is essential. Now, with a new bleach option on the block, your routine just got that much easier.
Introducing NEW! Redken Flash Lift Pods Bonder Inside!
Whether you work in a small space, travel or are on-set, have a busy backbar in need of inventory management, are constantly making additional formulations or tossing leftover bleach, Redken's latest release is perfect for you and your salon. We're excited to introduce NEW! Redken Flash Lift Pods Bonder Inside! With up to eight levels of reliable lift and a game-changing built-in bonder formula, everyone's favorite formula now comes in predosed pods for the most convenient way to lighten. With no need to measure powder or add bonder simply add developer, mix and watch the water-soluble conditioning film quickly dissolve!
Why You'll Love It
As salon organization changes and house calls become more abundant, this latest innovation is giving colorists even more options. "The launch of Redken Flash Lift Pods Bonder Inside adds unmatched convenience to the lightening service, without sacrificing performance or hair health. From salon or suite appointments to house calls, no day is the same for stylists in 2020 and we want to give our professional community the tools they need to succeed. So much has changed in the past year alone and it is important for our lightener portfolio to innovate and meet the needs of today's stylists. Now, with the launch of Redken Flash Lift Pods Bonder Inside, stylists have the option to choose the lightener format that works best for them," says Redken General Manager Candy Gebhart.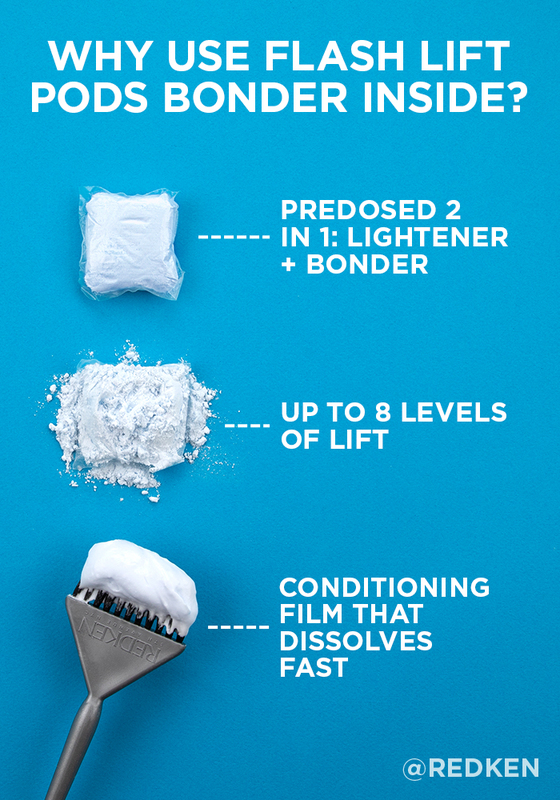 How to Use
Use with Pro-Oxide Developers: 10, 20 or 30 Volume (maximum)
Follow a 1:2 mixing ratio:

1 pod (15g)
1 oz. developer (30ml)
Pour 1 oz. (15ml) of developer over 1 pod and mix well

Development Time:

Up to 50 minutes determined according to the desired results
Do not use heat
Do not leave the product on longer than the recommended time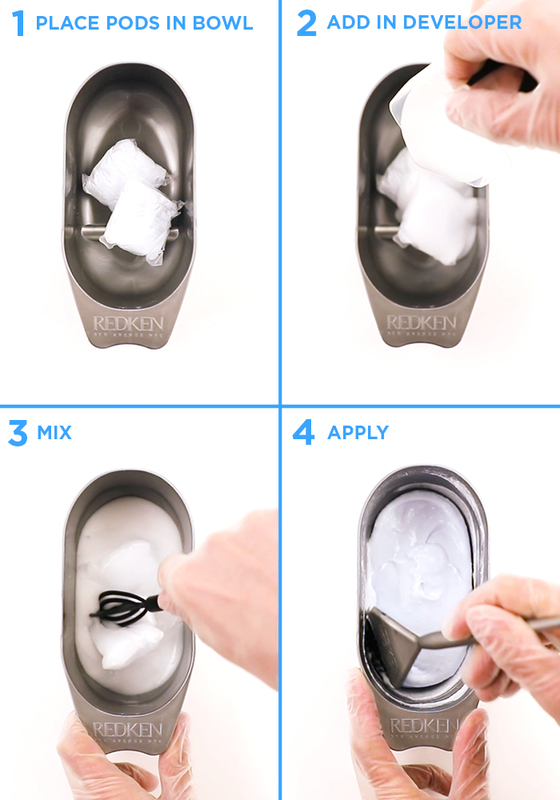 Redken Flash Lift Bonder Inside is already a cult-favorite for its ability to effortlessly lift up to 8 levels - offering you better results while cutting down on damage. Furthermore, on top of cutting down on product waste in the salon, the new predosed pod packaging also saves up to 10 metric tons of plastic in 1 year. Additionally, the clear film around the pod is conditioning, water-soluble and dissolves quickly when mixed with developer.
Redken Brand Ambassador Johnny Ramirez is already obsessed with this new release, calling Redken Flash Lift Pods Bonder Inside "a game-changer for all stylists" and a "modern way to lighten."
He goes on to explain, "Using Redken Flash Lift Pods Bonder Inside means I can lift the hair to a perfect, even canvas, which allows me to steer the color in any direction that I want, while keeping hair healthy. The new pod format means those beautiful results are even easier to achieve. Being able to give stylists in my salon a way to streamline their color appointments is major for me. As a traveling stylist myself, packing my kit with Redken Flash Lift Pods Bonder Inside takes the stress out of color appointments on-the-go."
Now, the only question is – pods or powder?!