Self-care is at the top of everyone's list this season. Due to this, more time than ever before is being spent on beauty routines. From practicing multi-step skincare regimens to creating more of a focus on in-depth cleansing and conditioning routines, the shower is the next place we'll see self-care routines expand. This is because scalp care has been on everyone's radar and is one of the best ways to positively impact the health of your hair.
An Ideal Scalp Regimen
Each and every day, the scalp comes into contact with various environmental factors that can impact the skin and hair follicles. Normal cleansing and conditioning have the power to remove oil and buildup, but every few weeks a deep clean is necessary to refresh the scalp. If the scalp is neglected, it can lead to flakes, overly oily strands or even clogged pores, which is exactly why a scalp-specific regimen is key.
Before You Shampoo
Prepping the scalp prior to shampooing can go a long way to improve the function of the scalp. The new Wella Elements Purifying Pre-Shampoo Clay is the perfect first step. Formulated with Kaolin clay, this mask cleanses of excess oil to rebalance the scalp, increase volume at the root and leave the scalp with a new purified feel.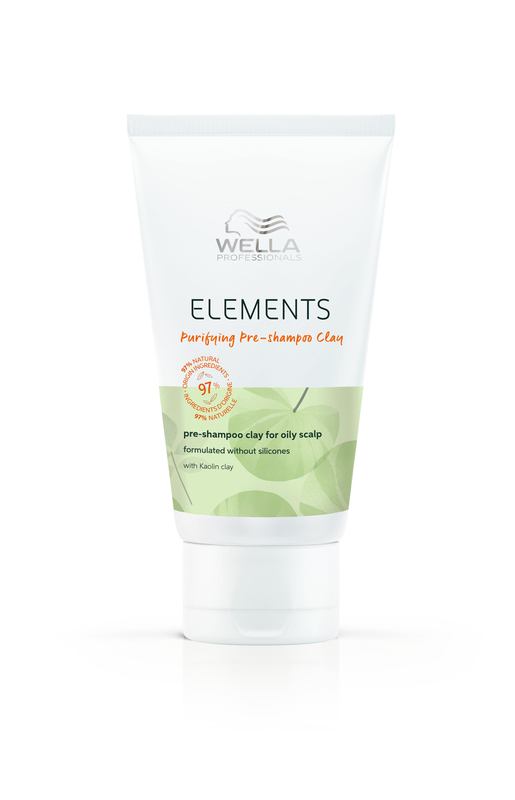 Wella Elements Purifying Pre-Shampoo Clay: The Details
In addition to improving scalp healthy, this formula is made of 97% natural origin ingredients, created without silicones, is free of animal-derived ingredients and is dermatologically tested. To apply, start on a dry scalp and work section by section. Leave the mask on for 5 minutes and then massage. Following this, emulsify the formula and follow with Wella Professionals Elements Renewing Shampoo and Conditioner for best results.
Why You'll Love It
Gentle on your scalp and gentle on the planet — Wella Professionals Elements Purifying Pre-Shampoo Clay + The Wella Professionals Elements range is gentle on the scalp and protects against frizz and breakage, making it ideal for all hair types. In addition to the formulas being free of sulfates, silicones and animal-derived ingredients, they are also created with responsible packaging of up to 100% post-consumer recycled plastic. Elements also offers refillable recyclable pouches made of recycled plastic created with 72% less plastic per ml, to reduce your footprint without sacrificing hair care.