The key to healthy hair and a killer style? It all starts with the state of your scalp.
Wash. Rinse. Repeat. Over the years we've all been conditioned to believe that by following these simple rules, we can achieve healthy hair and our desired style. While this may be true for the most part, bad hair days still happen and you can easily be left with a lackluster finish. What has come to light in the past few seasons is the importance placed on the function of the scalp. By achieving a well-balanced scalp, you can ensure better hair days, healthier hair and an improved appearance. Continuing to raise the bar, targeted scalp care innovation is changing the way we care for hair both in the salon and at home. Read on to learn the many benefits that improved scalp health can have on your style and our favorite ways to rethink your routine!
Brush Before Washing
Whether you use a scalp massager or a traditional brush, thoroughly brushing or massaging your scalp prior to shampooing holds a wealth of benefits — from increasing blood flow to ridding the scalp of buildup and cutting down on tangles, plus it feels great!
Use Targeted Hair Care
If you're looking to create a specific look or take care of your color, chances are you'll invest in a style-specific hair care system. The same goes when it comes to balancing your scalp. Swapping out your go-to products for Wella Professionals Invigo Balance range is the easiest way to jumpstart your scalp care routine in the salon or at home.
A few of our favorites:
Watch The Heat
From the shower to your blow-dryer, excessive heat is a surefire way to cause scalp discomfort. When drying the hair, you're also drying the scalp causing moisture to evaporate. If hot air is concentrated for too long in the same place you can easily cause scalp blisters, peeling, or itchiness. To avoid this, use a concentrator nozzle so you have more control over the air and keep the blow-dryer consistently moving to avoid hot spots.
Protect Prior to Color
Coloring your hair can leave your scalp susceptible to dryness and irritation. In an effort to cut down on these effects, enhance the color experience and provide protection and prevention against moisture loss, Wella Professionals has just released Marula Oil Blend Scalp Primer. This professional product is applied to the scalp prior to oxidative coloring and lightening services to provide a more enjoyable and comfortable coloring experience.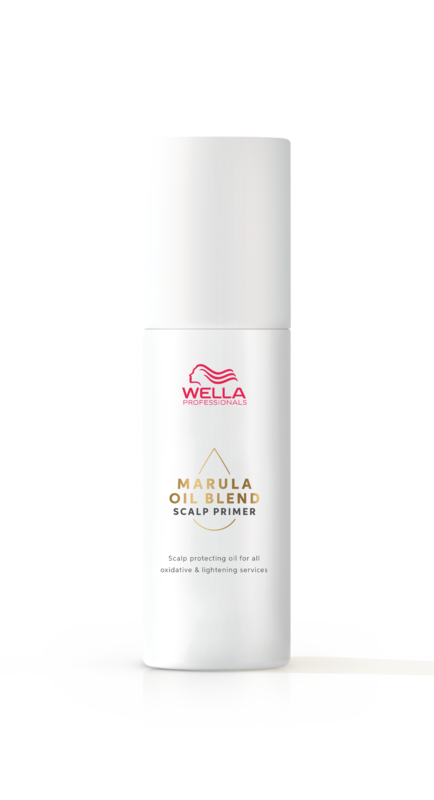 For more expert advice about scalp care, be sure to tune into WellaEd Virtual Sessions: Decode The Scalp on Monday, September 20, 2021, at 10:00 AM PST. Grab your tickets here!