We've all been there: You wake up in the morning with literally zero motivation to hop in the shower and shampoo your strands. (No judgment, we promise!) Instead, you apply dry shampoo in hopes of concealing your oily roots, only to find that it's not enough—you must do something with your hair to avoid looking like a total hot mess. Don't worry, we've got you covered! Check out five easy peasy hairstyles to throw together on your laziest non-wash days.
Look #1: The "Chic and Sleek" Ponytail
Whether you go low, high or somewhere in between, a sleek ponytail looks chic while also instantly disguising dirty roots. To create the look, determine the ponytail's placement, then create a center or a deep side part. Use a brush to smooth down any flyaways, pull the hair into a ponytail and secure it with a clear hair elastic, then apply a smoothing cream or gel to give the hair a sleek, "wet" appearance. Finish with hairspray.
Our Pick: KEVIN.MURPHY SESSION.SPRAY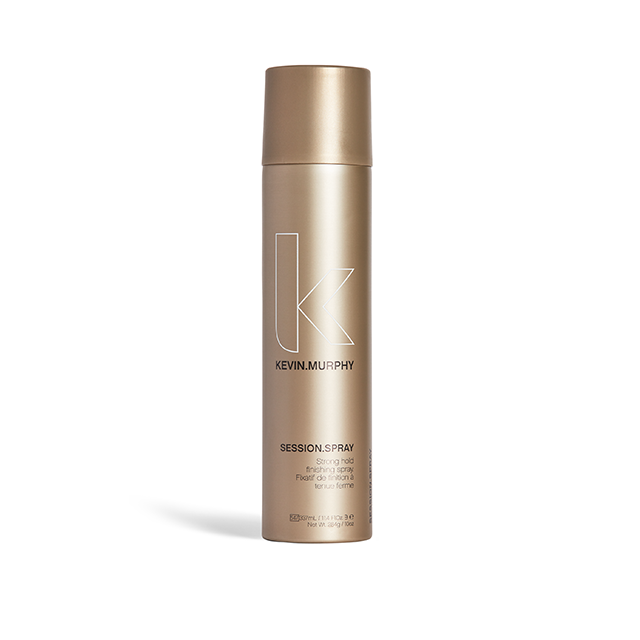 Look #2: The "Running Errands" Low Bun
Nothing makes you want to shampoo your hair less than knowing that you have an endless list of errands to complete throughout your day. To look like you tried without actually doing so, create a side part, then loosely pull the hair into a low bun at the nape of your neck and secure it with a hair elastic. Gently pull at the hair at the crown to give your style volume and lift, then pull out a few face-framing pieces and throw on a pair of hoop earrings or a hat for a chic, effortless look.
Look #3: The "Office-Ready" Side Part
Want to look put together for work without a ton of effort? Apply dry shampoo, then toss your hair over to one side. Wet the mid-lengths and ends of your hair with a spray bottle filled with water, then apply a small amount of styling creme, gel or sea salt spray and gently scrunch your ends. Use a decorative clip or barrette to pin the hair along the side, then allow the ends to air-dry.
Look #4: The "Cool Girl" Half-Updo
'90s trends are in full effect, and one of the leading styles is the bouncy half-updo. Ideal for Day 3 or Day 4 after a blow-out, apply a little dry shampoo to your roots, then divide your hair into two sections and pull the top section into a high ponytail. Gently tug at the roots to add lift, pull out a few face-framing pieces if desired and then head out the door.
Our Pick: Redken Deep Clean Dry Shampoo
Look #5: The "Messy Bun With A Twist"
Yes, messy buns may be your go-to 'do on non-wash days, but there is an easy way to give the effortless style a modern edge. Simply pull the hair up into a high ponytail, then, instead of twisting the ends together into a traditional bun, grab a 1-inch (or smaller) section of hair and twist it away from your face. Once you reach the bottom of the section, gently "pull up" the hair around the ends to add volume, then push it up to your ponytail and pin it in place. Repeat until the entire ponytail has been pinned into a bun shape, then finish with hairspray.