The hum of the blow dryers took over the space as stylists immediately started creating their looks. As we watched on we saw each and everyone's face light up as they unwrapped their new Sam Villa 2-in-1 Iron and began discussing their concept with Rodney. This year, part of being a Redken NBT artist not only meant attending the NYX Face Awards in LA and various events around town, it also meant spending the day at Bangstyle and working on an editorial photo shoot with Redken Brand Ambassador and Owner of Cutler Salons, Rodney Cutler.
As the day went on, Rodney carefully moved around the room discussing styles, observing and teaching technique while mentoring these 6 amazing stylists. His effortlessness throughout the day left us wondering what Rodney's first shoot was like. He explained, "My first shoot was in New York, I was very fortunate to assist the incredible, iconic editorial stylist Max Pinnell for an Allure cover. My first task was to clean out his bag after product had spilled in it, so I spent the first 3 hours of the day cleaning his bag – a reality check that session work is not always glamorous, but always worth the effort!"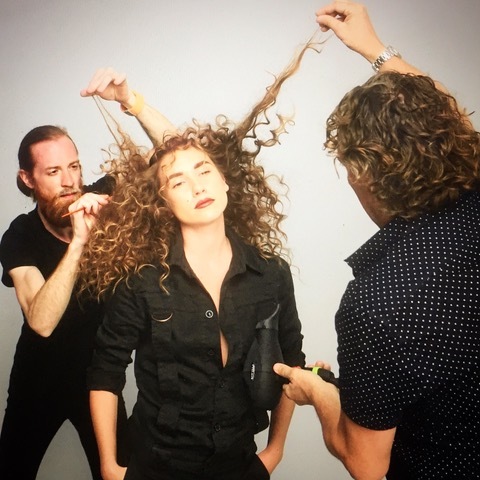 We spoke to Rodney about how being a session stylist is also knowing how hair will translate on film, when we asked Rodney Cutler the best way to hone this skill he said to start with "basic, fundamental techniques, from the perfect pony to learning the ways in which you can use a curling iron." Many top stylists agree that going back to the basics is the best way to improve your skill set. Additionally, "reach out to session stylists and offer to assist them, you'll be amazed with how much you learn through observing someone else first-hand," he said. It is also important to research and be aware of what is trending in the world of fashion, "from hair magazines to editorial shoots in fashion magazines, familiarize yourself with editorial hair stylists, photographers and makeup artists," Cutler says.
Part of being a stylist and learning session work is defined by the constant want and need to learn more about your craft. When it comes to creating your own style or vision Rodney agrees "it is important to feel good about your work but not good enough so you stop learning." Staying on your toes, retracing your steps and lending a helping hand to any stylist in need is how you stay motivated and grow in the industry.
While all of the stylists took a great deal away from this experience, so did Rodney. "It's just so amazing how enthusiastic and passionate hairstylists across the globe are; I learn so much by being around them, through their fresh perspectives and how progressive they are with sharing their work through social media," he says. While he loves being in the salon or on set, he finds that educating has a different effect on him, "To this day whether it's working with a client in the salon or a fashion show, seeing the ends result gives me goose bumps, so to see the joy in a young artists creating just that is amazing."
When it comes to creative direction and working on editorial shoots, you'll never find Rodney without Redken Fashion Work 12 and his Mason Pearson brush, and while preparation is key, he agrees that flexibility is just as important. "There's so many different scenarios: sometimes your initial concept works, and when it doesn't it's important to stay calm. Speak to the photographer and go over your ideas, and be mindful of how long it will take to change. Even when the concept is working, it may not be just right. And remember, you can always add more product, but you can't take it away!" Cutler adds.
As a Redken Artist, Rodney Cutler embodies all aspects of the brand; he knows that at the core there is always a support system through his fellow artists. "It's important to remember that there was a day when we were all inexperienced! It's critical that we surround ourselves with supportive people and empower and supportive those around us whether you're leading or assisting."
Stay tuned to see behind-the-scenes of this fabulous day and hear from each of the Redken artists about their experience on set!