In the 1960s  publishing houses and creative agencies created "summer Fridays" because they needed to be able to head out of work early to hit up the Hamptons. We're gonna go ahead and say that this might be where our itch to get the weekend started stems from during the summer months. Speaking of summer, 4th of July really snuck up on us this year. It felt like May gray and June gloom went on forever and then all a sudden, it's sunny! At least the weather perked up just in time for the fireworks! 
Looking for a few ways to celebrate America's birthday —and the rest of the summer —in style? Keep reading for a few top products picks to get you there this summer because the season has just begun! 
Fight The Frizz
If the runways were any indication, natural chic is back and better than ever. This means to stay fly this summer you'll just need to touch up your tresses with a little glam. Keeping cool is key this season. Because is too hot to blow dry, instead let you hair air dry and touch up with a wand or add a braid where you need it most. Worried about frizz? Fight the feeling with Redken Frizz Dismiss.
Pack your must-have anti-frizz set with Redken Frizz Dismiss Shampoo and Conditioner Minis, which are both sodium chloride and sulfate-free and contain sustainably sourced Babassu Oil to tame frizzy hair, increase smoothness and enhance shine while moisturizing, detangling and protecting hair from frizz. Follow up with a Redken Frizz Dismiss Rebel Tame Mini, a hydrating and heat protective leave-in cream for frizzy hair that also contains sustainably-sourced Babassu Oil to provide frizz control while hydrating, detangling and protecting hair from heat up to 450 degrees. Finally, finish all your summer looks with a few spritzes of Redken Control Addict 28 Hairspray Mini, Redken's anti-humidity hairspray that holds the hair in place for 24 hours without residue or flaking – so all of your summer looks will stay put.
Low Key Cool
For those of you that like to stay low maintenance around this time of year, we've got the perfect pick. Stash Redken's One United in your weekender before heading off to the Hampton's... 
This multi-purpose product is a best-selling favorite for good reason. This do-it-all leave-in detangles, conditions, strengthens, smooths and protects against heat and static. Plus, it's lightweight and easy to layer with any other products in your regimen.
For The Nature Lovers
Whether the mountains are calling, or you're simply a nature-loving city girl there are new naturally-based products that will tick all the boxes. Redken's Nature + Science All Soft Shampoo and Conditioner Minis, which are formulated with naturally-derived birch sap to cleanse, soften and replenish moisture for beautiful, healthy-looking hair. Plus, they're sulfate, silicone, and paraben-free with 100% Natural-Origin Fragrance. Learn more here.
Dial Back The Brass
Just visited the salon to get your touch up before summer? We're loving the shades we're seeing rolling out too. The only thing to worry about this summer will be the onset of brass. And anyone who loves their blonde highlights as much as we do know the feeling. Dial back the brass this season by stopping it before it starts. The new Redken Blondage Mask is an ultra-pigmented purple hair mask for blondes that will ensure your strands say silky cool blonde this summer. Got 5 minutes to spare? That's all you'll need to correct unwanted yellow and orange undertones in a heartbeat!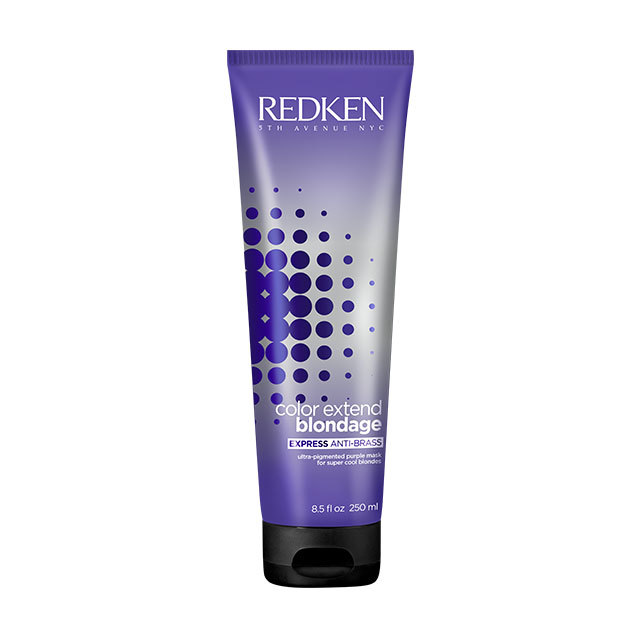 ---
For more fashion-forward styles and product picks and be sure to stock up on all goodies the Bangstyle store has to offer!