There is no doubt about it; everyone seems to be more social during summer – which in turn usually requires a polished finish and a ready-to-go style. And, when it comes to taking care of your hair, the summer months require special attention due to those external factors – social activities, the sun, and an excess of heat styling. Looking for a few ways to update your style while taking care of your hair? We've got you covered! Keep reading for our top tips for a carefree summer style plus the best ways to take care of your strands!
Keeping in good condition this summer.
As the sun can make your hair dry, I always recommend doing regular conditioning treatments during summer to ensure hair is in its pristine condition at all times. Use hair masks on your hair a couple of times a week and in between doing these treatments use a good quality conditioning shampoo and condition to ensure your hair is getting the nourishment it needs. The sun and humidity during summer can also make hair frizzy, and keeping hair conditioned will avoid this. After you have washed your hair and prior to blow-drying, mist some heat protection spray throughout your hair and also distribute some oil/hair serum throughout your hair, particularly focusing on the mid-lengths and ends. Hair oils and serums are great for getting rid of frizz and flyaway hair, giving the hair extra moisture and sealing down split ends.
Never underestimate the power of a pony!
For the days when you can't help but want to get the hair off of your neck – you can thank the summer humidity for that! Alongside keeping you cool, a ponytail is a perfect style to wear post-conditioning treatments since these tend to weigh down your hair.
To step things up a notch use a smoothing brush to get everything under control as you pull back into a high, medium or low pony! Then take a small tendril of hair or a piece of fabric (or even leather) and wrap it around the elastic and fix with a bobby pin to turn your style from après gym to glamour girl.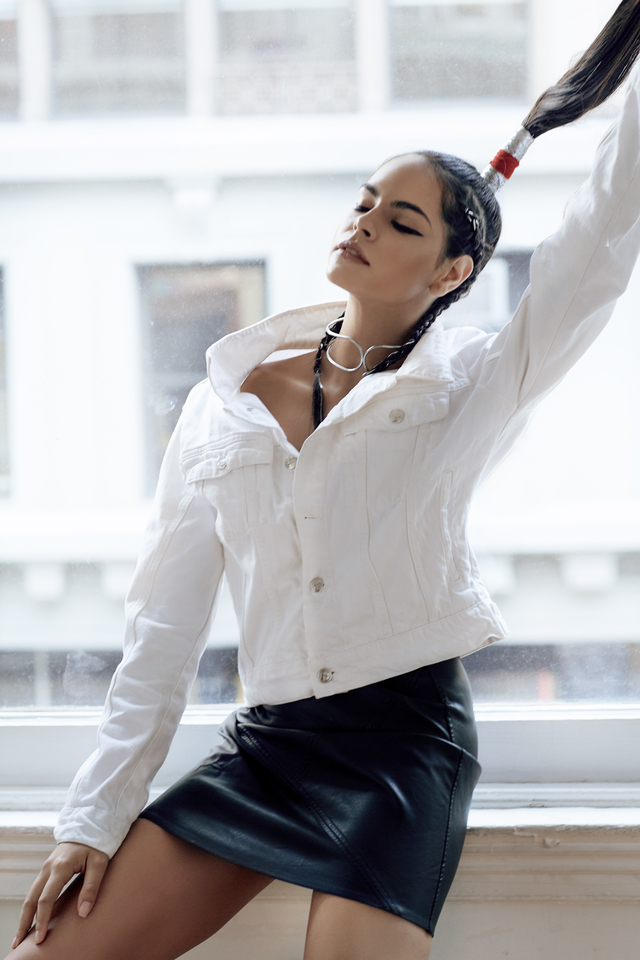 Image: Evie Peterson
Give Your Hair A Break
The great thing about conditioning treatments is that they also provide your hair with further protection from heated styling tools and avoid further damage being done to your hair. If you can, try to stay away from using heated styling tools during summer to give your hair a break from heat damage. Instead, try to experiment with updos like relaxed buns and braids, which are also incredibly chic hairstyles for the summer time and super on trend. Be sure to also get regular trims during summer to get rid of any split ends and keep your hair looking and feeling it's very best. – Quotes from Suzie McGill, Owner of Rainbow Room International's Uddingston Salon, Schwarzkopf UK Ambassador and International Artistic Director at Rainbow Room International
Plan Your Color Accordingly
Most people want to go lighter when it comes to the summer months and often opt for highlights. However, clients should take into consideration how light they want their hair to go, as the sun can lift highlights and make them go even lighter. Also, when it comes to getting your hair colour done before a summer holiday, you should try and book in for the colour appointment around a month before you go, as if you're not using UV protection, colour can sometimes fade or change in the sun. I always recommend using a colour enhancing/saving shampoo and conditioner when you are on holiday and through the summer months, preferably with UV protection, to keep your colour looking its best. Goldwell's DualSenses Color Rich Brilliance Shampoo and Brilliance Conditioner are two of my favourite products for bringing out luminosity in coloured hair. They include a unique FadeStopFormula too, which minimises hair colour from fading with each use. – Quotes from Neil Barton, Goldwell Ambassador and Owner of Neil Barton Hairdressing
Picking A Style To Show Off Those Shades
Once you've gotten the color you desire, next comes the style! Waves and curls or soft bends are the best way to show of your summer shades. Whether you start on air dried, second day or newly blow-dried hair – use a wand to add texture – this gives varying depths and peaks to reflect each dimension.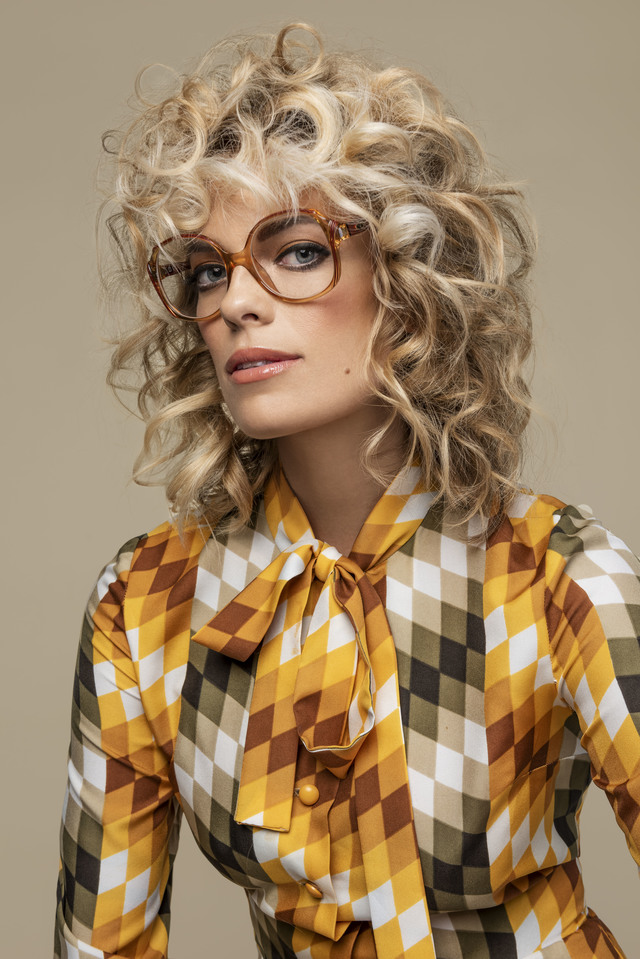 Image: Publik Salon
How to protect your hair from UV rays
Like your skin, your hair needs protection from harmful UV rays and there are so many products on the market that can be used to protect hair from these. One of my favourite products is Tigi Bed Head Beach Bound Protection Spray, as it has UV complex, which helps to filter and protect against harmful sunrays. It also has heat protection up to 230C and anti-humidity shield that helps to fight frizz and gives smooth, tangle free hair. It really is a fantastic product for summer time and contains a number of ingredients, oils and extracts that also keep the hair looking and feeling great, as well as repair active technology to ensure hair is strong and breakage is reduced. With this spray and most other heat protection/UV products, I always recommend spraying/distributing throughout damp hair and focusing particularly on the ends, which are most prone to breakage. - Quotes from Carly Price, Partner for Muse of London
The Best Way To Beat The Heat
Due to the fact that the ends are much more prone to damage a great style to couple with this is a beachy wave! Our top tip for creating beachy waves starts with leaving the ends out! When curling sections around the barrel, use varying angles and alternating directions to create undone texture. Keep the ends out of this is rule #1 – the great part about it is that its great for your style and for your strands! Pair this with our favorite UV protective products for the ultimate summer style this season.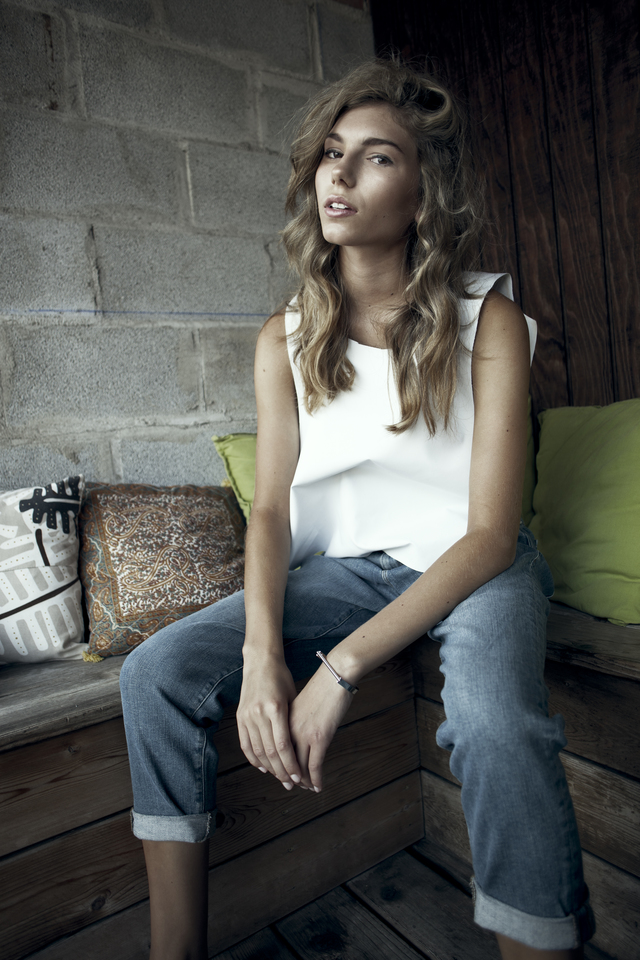 Image: Nevsy Zee
---
For more fashion-forward styles and product picks and be sure to stock up on all goodies the Bangstyle store has to offer!