Humidity can work wonders on your skin - leaving it looking soft, supple and perfectly glowy. Your hair, however, is a whole other story. No matter your hair type, humidity can easily wreak havoc on any hairstyle. Whether you're travelling somewhere new, on-set in the tropics, or happen to live in a more humid environment - products are the single best way to fight the frizz.
When deciding on the best plan of action, picking up products that are designed to "smooth" the hair will ensure your natural texture still shines through because smooth hair has more to do with the health of the hair and the way in which the cuticle lies than completely changing your curl pattern. It is the antithesis of frizzy and often gives off a sublime shiny finish, which is why adding this category to our style regimen is so crucial.
What we recommend:
Ask any stylist and they'll agree, a seamless style always starts in the shower! Cleansing and conditioning your hair is the first step you can take to prep your hair for the elements. Therefore, ensuring hair is gently cleansed and nourished with the right blend of ingredients is key.
Part of the SMOOTH regimen, SMOOTH.AGAIN.WASH and RINSE are the ultimate way to tame your tresses and fight back against frizz. Formulated with Monoi Oil - with a delectable tropical scent - this system moisturises while strengthening and protecting your hair from the elements. *For best results, SMOOTH.AGAIN.WASH and RINSE can be used daily.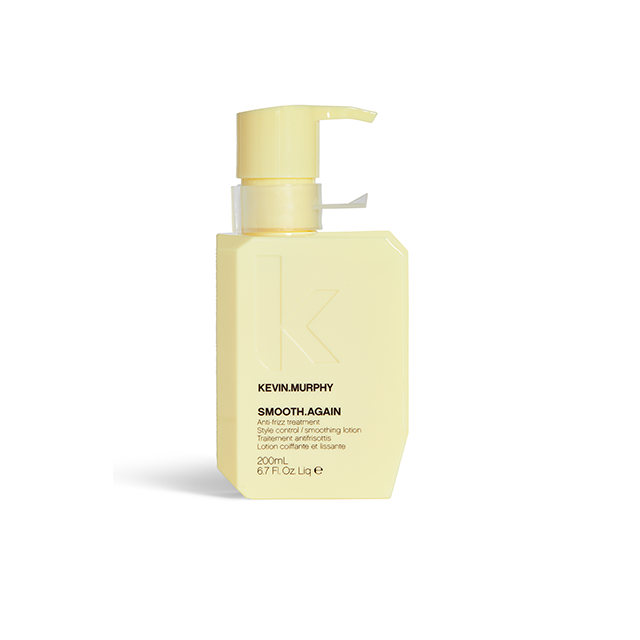 This leave-in smoothing treatment is our top pick for those of you who love to wash and wear your hair. Apres shower, apply SMOOTH.AGAIN to treat the hair with smoothing benefits while also cutting down on frizz and flyaways. Working as a treatment and a styler, SMOOTH.AGAIN is a one-and-done pick.
If heat-styling is part of your regimen, adding EVER.SMOOTH will completely change the way you feel about blow-drying. This innovative formulate cuts down on styling time, extends the life of your blow-dry and fights against frizz with Heat-Activated Polymers that work to lock in condition and shine where you need it most.
If you're curious about which products are best for your hair, try out the KEVIN.MURPHY Product Matchmaker - a quick online quiz that will deliver a customised regimen straight to your inbox!