Celebrity colorist Tracey Cunningham is known across the beauty industry for her stunning hair color and the creation of the ombré, but anyone who's ever been a client, chatted with her, seen her at Redken event, or followed her on Instagram knows that it is her attention to detail, her dedication to her work, humble nature, tireless work ethic, passion for education and improving the health of hair for her clients that really sets her apart in the industry.
This month, Tracey Cunningham launched her first book — Tracey Cunningham's True Color: The Essential Hair Color Handbook — which is a mix of a memoir, detailed color, and healthy hair guide, as well as industry inspiration for aspiring stylists. Filled with stories from one of her first jobs as a nanny for Bette Midler's daughter Sophie, to working her way through the salon industry in L.A., as a new mom to starting on the floor, and opening her first salon, MéCHE in the heart of Beverly Hills. Intertwined in her story, Tracey has a thorough color guide detailing past clients and inspirational images that will help any stylist or client find their true color. With excerpts from her devoted celebrity clientele and heartwarming advice from one of the industry's greats, Tracey's book is filled with originality from start to finish.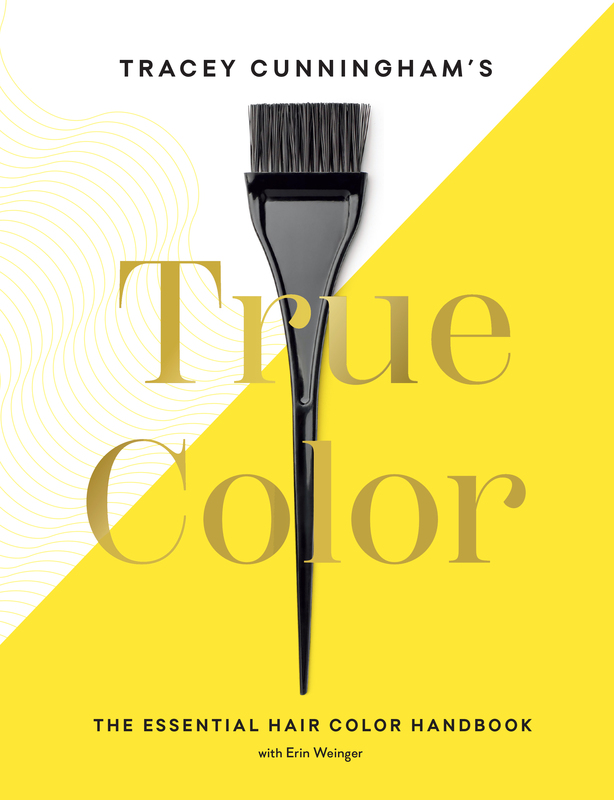 Getting into the history of her connection to color, the book also details historical facts about the role of hair color since its inception to present-day innovations.
When it comes to Redken hair color, Tracey details just how she fell in love with the line. "Redken launched a product that ended up chaining my life. When I started working, I was used to using a permanent hair color that I didn't fully love. But when I got to Sally Hersheberger, I met an assistant named Tyle — now one of the busiest assistants and MéCHE — who told me that I had to try Shades EQ, an acidic hair color Redken brought to the market in 1983, designed to neutralize the hair's pH and smooth out the cuticle. I was obsessed as soon as I tried it, and it's still one of my favorite products to use today. In fact, I love Shades EQ so much that it's the reason I agreed to sign on as a Redken ambassador in the first place. " — An excerpt from True Color.
With the chance to chat with Tracey about her upcoming book, we got to know a little more about some of her favorite career moments and gain few extra tips for clients and stylists.
A must-have morning ritual, coffee is a necessity before a busy day at the salon for Tracey. She works full days and often has house calls on her way home. As a highly sought-after colorist with an impressive clientele list, Tracey always reminds her assistants to be smart about their futures. While self admittedly, her advice to her younger self would be to "keep your mouth shut," she also advises aspiring stylists to remain humble as they build a career "don't spend your paycheck on a fancy car, put it in savings, invest in your future, get a 401K."
Tracey was a single mom when she began her career at the Art Luna salon and it was here she learned much of what she aims to emulate in her salon presently. She didn't always have access to the choices she has now. Being a new mom, she took every opportunity, worked hard, and sacrificed to get where she is today and it is an inherent drive that you can still very much see in her work ethic today, from the color she creates to the ambiance she has created with her business partner Neil Weisberg at MéCHE Salon.
Learning many life lessons from those around her as she gained experience, one of her favorite personal memories with Bette Midler is how she taught her to make Gefilte fish, a dish that requires not only finding the necessary ingredients from various shops but preparing them with attention and care.
Much like her relationship with Bette Midler, Tracey is a natural educator and loves to see her assistants learn, grow, and succeed. While her biggest piece of advice for clients is to always bring a picture to appointments, one of her biggest pieces of advice she has for aspiring stylists is to do the work and show your boss that you have what it takes to be on the floor. From the way you dress, "If you want to be an executive, you've got to look like an executive," she says, to the time you dedicate — bring in models, work on your days off and show your work to your bosses to get noticed.
Tracey adds that she has been so lucky to work with Redken. As a colorist, "Redken gives you everything you could need," she says — with her favorites being Chromatics for gray coverage and Shades EQ, Redken products allow her to remain creative behind the chair while getting the consistent results she relies on for her clients.
While Tracey can usually be found at MéCHE Salon in Beverly Hills she hopes to one day soon create a charity. Learn more about Redken Ambassador Tracey Cunningham by picking up her book Tracey Cunningham's True Color: The Essential Hair Color Handbook written with Erin Weinger available for purchase on Amazon, Barnes & Noble, and Bookshop.org, or follow her on social media @traceycunningham1 for the latest Redken color formulas and celebrity style inspiration.