If there is one thing you pick up right away about Rumbie Mutsiwa from listening to her chat on podcasts, reading her interviews, or flipping through her social media, it is her energy. Her excitement and passion for her career is electrifying and contagious. The work she creates both in her salon Rumbie & Co. (@rumbieandco) in Chippendale NSW, and in her session work is truly stunning and easily proves the artful mastery of her craft. Beyond her beautiful work, Rumbie is propelling the education and embrace of Wavy, Curly, and Afro hair in all facets of society. From salon and stylist education to engaging the client and commanding editorials, her net is cast wide and the world is listening.
Rumbie originally moved to Australia from Zimbabwe to study Psychology, fell into Registered Nursing and began her career in geriatrics. Although always interested in hair, her move into hairdressing came later when she witnessed her sister facing challenges with her hair. After watching her sister deal with several salon mishaps, the lack of hairdressers specializing in Afro hair was apparent and Rumbie then decided to change course to correct this.
Self-taught in braiding and weaves, her skills were heavily sought after from family and friends requiring her services. Quickly outgrowing seeing them in her living room, Rumbie knew she needed to seriously commit to this new career.
Upon completing her apprenticeship, she recognised the fact that not even her teacher knew much about Afro hair, and it was in this moment she took on the responsibility of understanding the science behind curly hair because she was exhausted from receiving anecdotal information. "I created a 'science lab' at my house and as I grew in my skills technically as a junior stylist. I realised that looking to learn from my seniors, I repeatedly saw dread, trepidation, and panic when a curly-headed person walked in for service," says Rumbie. "They almost always left unhappy, without the right result, with their hair in bun and with tears and frustration. Over time I started thinking critically, and where possible implemented Afro hair techniques. That coupled with new techniques I created in my spare time and learning the anatomy and physiology of curls set me up for success. I eventually realised that the need wasn't just for Afro hair, it was for Wavy, Curly and Afro hair as well."
From here, Rumbie began to document all of her findings, creating her own manual that eventually morphed into the SOPs for the team and classes. Her clientele grew through word of mouth, she began to rent chairs in renowned salons and developed a loyal following of those who needed an expert in Wavy, Curly, and Afro hair. Fast forward to today and Rumbie Mutsiwa has her own salon Rumbie & Co. in NSW, an eponymous product line and has seen her editorial work grace the pages of VOGUE. Read on to learn more about Rumbie's process, her career, and her top tips for Wavy, Curly, and Afro hair!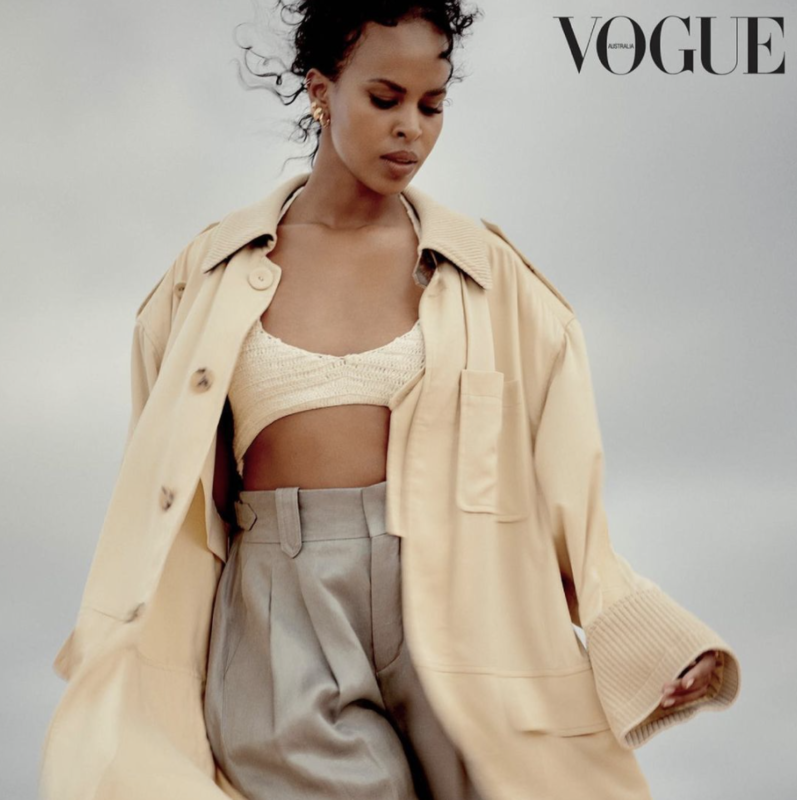 Hair by: @rumbiemutsiwa for @sabrinaelba featured in @vogueaustralia
Photography: @saskiawilson / Stylist: @pipmoroney / MUA: @gillielove / Producer: @em_i_a

Q. What has been the proudest moment in your career?

I have had many proud moments but the most recent would have to be when myself and my product range was featured in Marie Claire, I was a contributor for a VOGUE Australia photoshoot, and a feature with Sabrina Elba in the same month (this April). Seeing both magazines on the shelves at the same time gets me teary-eyed. Thinking it all started with a deep instinct (unlike I'd ever had before) and without knowing what was heading my way, I pushed through the unknown and I am realising every day that "I am enough" to lead in this curl movement, to enjoy that fact and that there's more to come!
Q. Do you have any advice for clients and/or stylists when meeting a new client?

Clients: Look for qualified, curl confident, hairdressers who can help simplify your curl maintenance to leave your hair nice and soft.
Hairdressers: Definitely get upskilled on curly hair. Our clients are moving towards learning to love themselves just as they are. In my opinion, they are looking to be empowered through simple education, which is why there has been such a rise in Youtube experts. Food for thought.
Q. Do you have any expert-approved ''rules' when it comes to colouring Wave, Curly and Coily hair?
Curly hair needs TLC when it comes to colouring, especially with Coily hair. I'd dissuade anyone from using the harshest formulations. If anything, plan and communicate to your clients how many sessions it'll take, particularly when going lighter.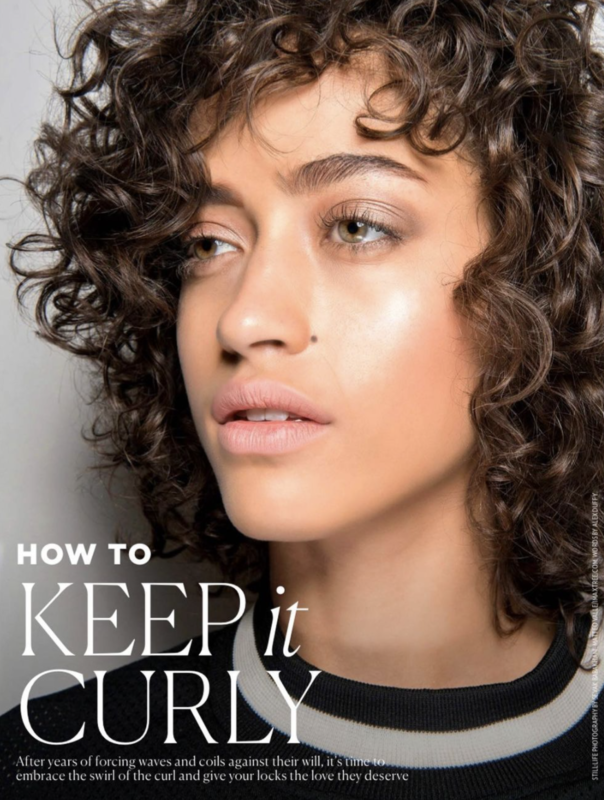 @rumbiemutsiwa featured in @marieclaireau


Q. What are your top hair tips for Wavy, Curly & Coily clients?

CURLY
Hydrate, hydrate, hydrate. The right products will make life frizz-free.
Without implementing straight hair tendencies, curly hair is so simple. See a curl specialist to create a simple regimen. As long as the curl specialist helping you is science-informed and not just anecdotally taught, wearing your curly hair will be liberating and such a breeze. If it's complicated there's a better way. Our team at Rumbie & Co can help.
Straightening with heat, chemicals, or keratin smoothing treatments are not the only ways to wear your hair. There are options to be free and presentable.
Style hair when wet (don't towel dry) you wouldn't want to take out what the hair requires to only replace it via secondary means. Instead, let products complement the styling process
COILY
Afro textures are fragile — they need TLC and they will thrive.
Like all curls – hydrate, hydrate, hydrate.
Like wavy and curly textures, style hair when wet. Do not towel dry.
Afro textures respond better to thicker products without appearing weighed down.
This texture needs a great, absorbing, and nourishing butter to give shine to the curls, as coily textures can appear duller than other patterns.
Conventional products are nowhere as hydrating as our curls require. Traditional shampoos can strip hair leaving it dry and coarse. The Rumbie&Co products will hydrate regardless of which product in the range you are using.
How do you know the products are working? The hair will feel softer and at times curl on its own or with minimal effort. Your hair must not be largely affected by humidity. (This may have to do with technique as well.) The hair is frizz-free.
Shampoo should always leave the hair clean but also super soft.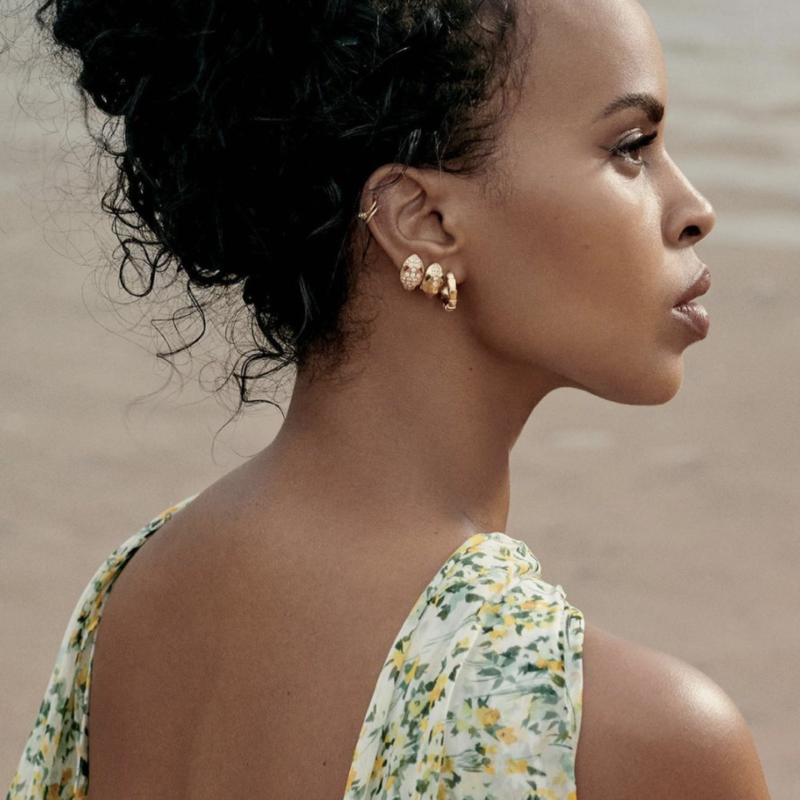 Hair by: @rumbiemutsiwa for @sabrinaelba featured in @vogueaustralia
Photography: @saskiawilson/ Stylist: @pipmoroney / MUA: @gillielove / Producer: @em_i_a
Q. What curly & coily hair trends can we look forward to this season?
Dry Curly Cuts: Find a curl specialist to create the look. It can awaken hair patterns and leave you will an effortless style.
Curly Curtain Bangs: This look looks great for hair patterns that are long and loose.
Wash & Go: Embracing your curls is in. No matter your texture pattern or if you diffuse or air-dry, washing your hair and defining your natural curl is a whole vibe.
Accessorised Parts: Start by parting your curls how you would like to wear them, then apply clips and pins down the part, on either side, to keep things fun.
Curly Topknots/Buns: Smooth your hair in a top ponytail then create a textured bun. The trick is to make it look effortless, don't overthink it
Playing With Colour: Have fun! There is always a colour out there that will suit your style.
Q. As a stylist, do you have your own signature style?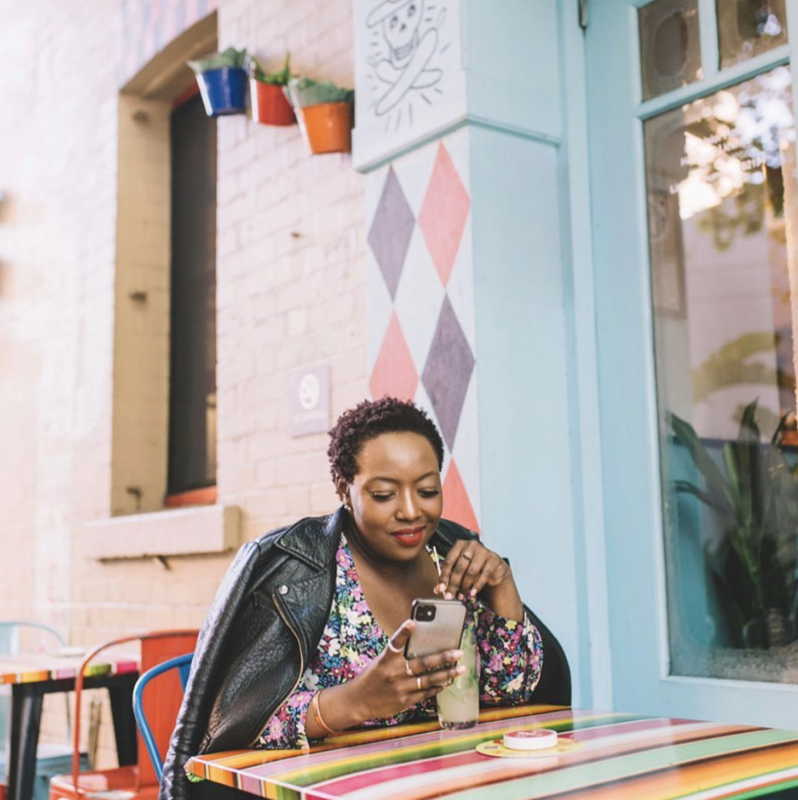 @rumbiemutsiwa // @tenikomo
I'd have to say yes! It's versatile! I get bored very quickly and I like switching it up. From wearing my natural afro hair to straightening it, cutting it, growing it, changing the colour, or wearing braids, weaves, wigs, and attachments. My style changes based on how I would like to express my personality. My notion is: why stick to one look when I have a plethora to choose from? You can't deny the transformational power of hair. I embrace it!