Each and every day our strands get put to the test. They are bleached, braided, pulled into topknots, heat styled into sleek blow-dries, and curled or straightened to our heart's content. Even if you treat your hair with extra TLC things like UV damage and product buildup can eventually lead to a lackluster appearance. Fighting against these outside factors might be easier than you think — with a few key product switches achieving smoother, more luminous hair is in sight.
How to achieve more luminous hair:
Just like any hair care routine, achieving luminous results start in the shower with targeted products that aim to increase the health of the hair.
Swap out your go-to shampoo and conditioner for a moisturizing formula dedicated to smoother, frizz-free results. Wella Professionals Oil Reflections Luminous Reveal Shampoo and Conditioner are just that — created for all hair types, this lightweight duo cleanses and conditions with added moisture and instant luminosity.
Healthy hair habits:
Brush more often
Set your hair up for success by brushing hair as often as possible to help natural oils move from the root to the mid-lengths and ends. If you wear your hair naturally wavy, curly or coily add this step in prior to showering to help the process while also cutting down on knots and tangles during cleansing.
Increase self-care
Self-care is a necessary habit that benefits your mind, but can also benefit your hair as well! Taking the time to add a hair mask every few weeks is a luxurious routine that can reap endless rewards for your strands. After utilizing Wella Professionals Oil Reflections Luminous Reveal Shampoo, comb Oil Reflections Reboost Mask through damp strands and relax. This mask works to replenish the hair structure with precious oils designed to nurture the hair fibers and velvety smooth, shiny and nourished hair.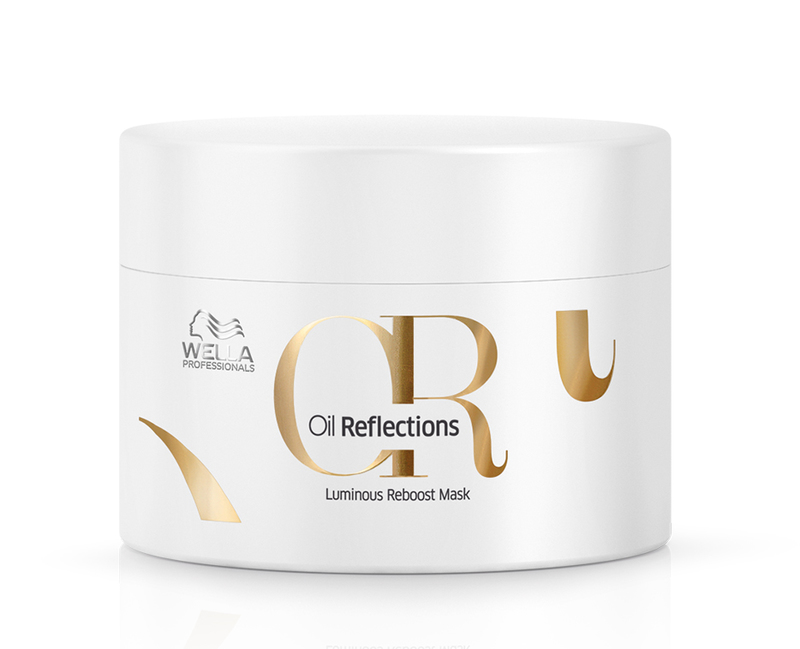 Always apply a leave-in
Whether air-drying or blow-drying the hair strands need a healthy dose of moisture to protect against the elements. Our go-to choice is Wella Professionals Oil Reflections Light Luminous Reflective Oil or Oil Reflections Luminous Smoothing Oil. The reason why we love oil post-shower is because of its ability to instantly add shine, tame frizz and increase moisture no matter what style you choose to create.
Practice oiling your ends
Many of us add a leave-in product to our hair after the shower, but how many of us follow up on this the next day? In addition to using Wella Professionals Oil Reflections Light Luminous Reflective Oil or Oil Reflections Luminous Smoothing Oil after the shower and before styling, consider using a pea-sized amount of oil on your ends each day after that as well. Whether hair is dry from exposure, highlighted, curly or fine, hair needs moisture on the ends to protect against the impact of brushing, wearing your hair up or consistently running hands through it.
Enhance curl definition without heat
All too often we use hot tools to create styles or refresh strands. Instead of relying on curling or flat irons, use a touch of oil to refine and define texture between washes. If you're dealing with flyaways or unruly texture, try working 1-2 pumps of Wella Professionals Oil Reflections Luminous Smoothing Oil into mid-lengths and ends and then smooth or twist strands to reshape texture without heat. Wella Professionals Oil Reflections Light Luminous Reflective Oil can also be used on fine to normal hair if you want to smooth slept on hair or reduce flyaways.
Which Wella Professionals Oil Reflections oil to pick?
Offering up to 3X smoother hair, a reduction in frizz and is ideal for color-treated hair, there is a Wella Professionals Oil Reflections formula for every hair type.