Photographer Gary Barragan brought together and all-star cast of stylists, hair artists, makeup artists and models to create a collaboration between Louisville's finest artists! With a militarized theme and high fashion finesse, this series of four takes on a life of its own. Tiffany Nelson was the designer the beautiful wardrobe and in the third installation of the series, Gerri' Belle (Hair Artist), Keisha Mink (Makeup Artist), and Centria Kapris (Talent) created a vision of Valiant Pastiche all their own. Glowing skin accentuated gold string accents weaved within the hair, with a strong silhouette indicative of the model's character. Take a peek for yourself and be sure to check out the Valiant Pastiche I and II, here!
---
Valiant Pastiche III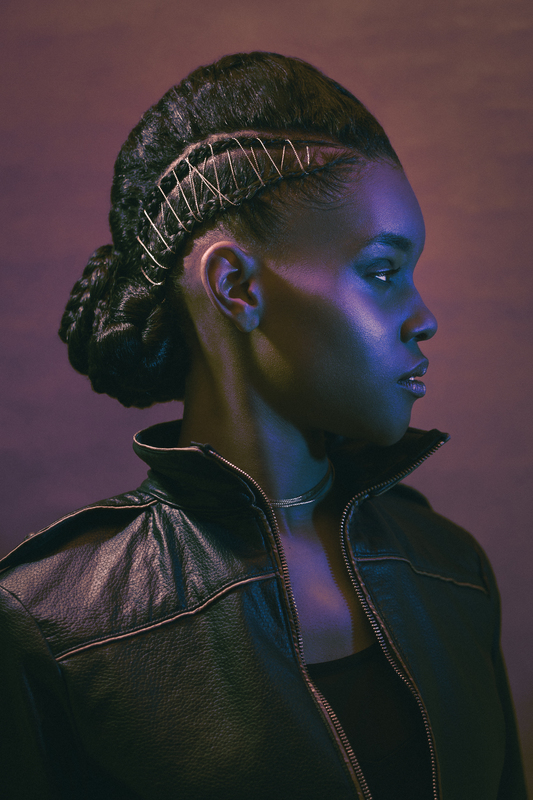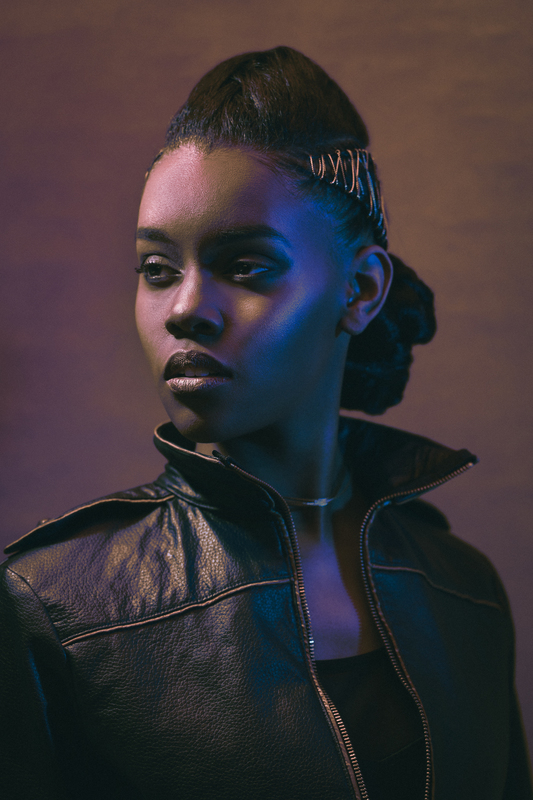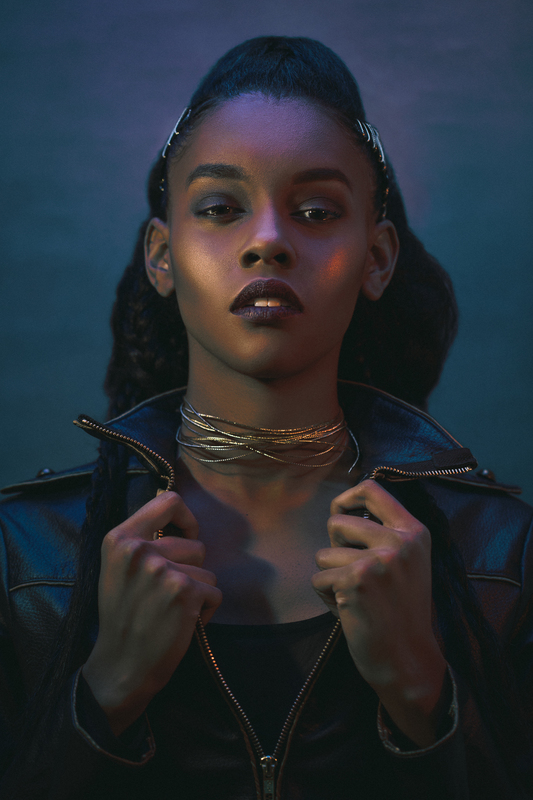 Gerri' Belle, Hair Stylist – "When interpreting the meaning of "Valiant Pastiche" I was drawn to words like "bold", "daring", and "imitation". I saw the garment and knew that since it was a dark navy color and more simplistic in design, that I would have to incorporate something to provide visual interest. I was inspired by the gold trim of the garment and decided to "imitate" that detail in the styling of the hair. The center pompadour fishtail braid was for volume and the weaving of the gold thread through the side braids on both sides was to make the look both Strong and Bold!"
Keisha Mink, Makeup Artist – "I mean just listen to the title of this project! The title is "Valiant Pastiche," the name to me automatically sounds like a warrior goddess. With that being said, every goddess must exude femininity and every warrior must have a coat of armor. The question was then, how do I translate both these elements into her makeup look? Then it hit me; I would create a feminine coat of armor by dripping the model in highlighter. I applied a heavy gold highlight to the check bones to highlight strong face structures, which channel the strength of a warrior partnered with the military jacket and dark blue hues of lighting, while simultaneously keeping the model feminine by turning her into a Golden Goddess. Milani Cosmetics lip products helped complete the look for the shoot. In one set I used a Milani Amore Matte Metallic Lip Creme in Materialistic to help accentuate the gold elements from the cheek highlight and hair accessories. Then, I was able to capture the complete essence of Valiant Pastiche with a deep plum color called Fearless from Milani's Color Statement Moisture Matte Lipstick collection, which helped to showcase the fearlessness of a warrior goddess!"
Centria Kapris, Talent – "I was honored that I was asked to do the Military Inspired Valiant Pastiche III Fashion Collection. When I wore the leather jacket on the runway, I felt, strong, fierce, bold and proud. I wanted to bring that same attitude in front of the camera."
Tiffany Nelson, Designer - "Personally, I was excited for the third shoot because I'd been wanting to do a photoshoot where I could dress and style Centria Kapris. I specifically chose navy leather with a dull gold trim because I knew they would complement her complexion while still fitting with the overall military theme. The repeated use of gold by Gerri Belle with hair styling and Keisha Mink's make-up gave this set a regal aura. Centria seemed to pick up on this because she exuded a regal feel through every way she worked the camera."
---
Check out even more images from behind the scenes below and be sure to stalk Gary Barragan on Bangstyle for the latest inspiration!