Danielle Keasling shows off her latest collection, Bond Girl. Even if you haven't seen the latest Bond movie, Spectre, these styles will leave you with some serious hair envy, and a craving for a Martini; shaken, not stirred. Take a peek at these magnificent looks and learn a little more about Danielle, her inspirations, and learn a few styling tips for anyone aiming to be a Bond Girl...  
 
---

Who is your favorite Bond? Favorite Bond Girl? 

Sean Connery, just because to me he gave off the classiest bond persona...the classy/cool/like he always had everything under control...
As for favorite Bond girl,  Honey Ryder (Ursula Andress) She was the original Bond girl...sophisticated, classic, yet extremly sexy.
 
What vibe does a bond girl give off?
 
Bond girls are always classic beauties in the films...Always mysterious and sexy, flirty, can play hard to get...basically the woman in the red dress...the room will pause as she walks in type of thing...they always walk their own path...they have gone for classy elegant beauties to some even alittle more edgy like Halle Berry in Die another Day.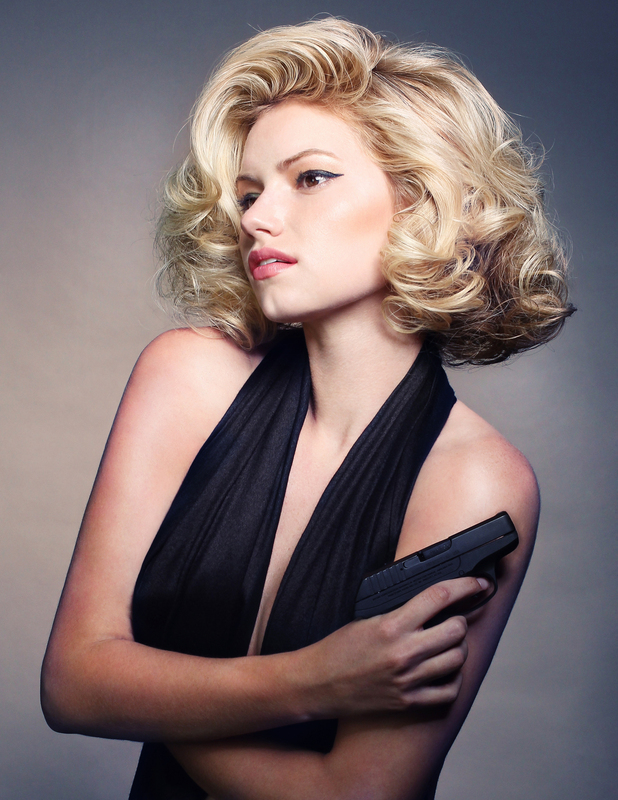 How did you achieve this through styling?
 
I love classic finishing and I love beautify smooth styling.  Classic shapes are always beautiful and will never go away and they always look polished and sophisticated.  Classic smooth styling can look empowering on woman also.  Perfect polished hair with shine to me symbolizes a woman that takes the time to create her look and holds her image in a very high standard.  
 
What were your inspirations behind this particular collection? 

I love powerful independent woman and the best way for me to recreate this in the strongest image was what made me think of the Bond girls.  

How did you prepare for this shoot? 

Well, my husband bought me a gun for Christmas????  Considering I'm not really a gun kind of girl, I had to use it for something right?   
On a hair note, all my models were actually treated with a deep conditioning treatment from Matrix haircare called a Peli-cure service to polish the hair and create shine bounce and elasticity.  Then the models were all blow dried using Matrix Style Link Smooth Setter and Style Link Volume Builder Mousse.  The hair was the set all on classic Hot rollers with Matrix StyleLink Heat Buffer, cooled and brushed out with a Sam Villa Cushion Brush. 
 

Do you think we will see more classic styles popping up? 

I think Classic is definitely coming back.  We are getting back to seeing more Art and Structure in hairstyles and these are all the foundations we see in everything from a chignon to a deconstructed wind blown beehive.  
 
 
What is your favorite style to create?

When you practice great prep and foundation all classic hairstyling is easy to execute.  My personal favorite is a beautiful modified french twist.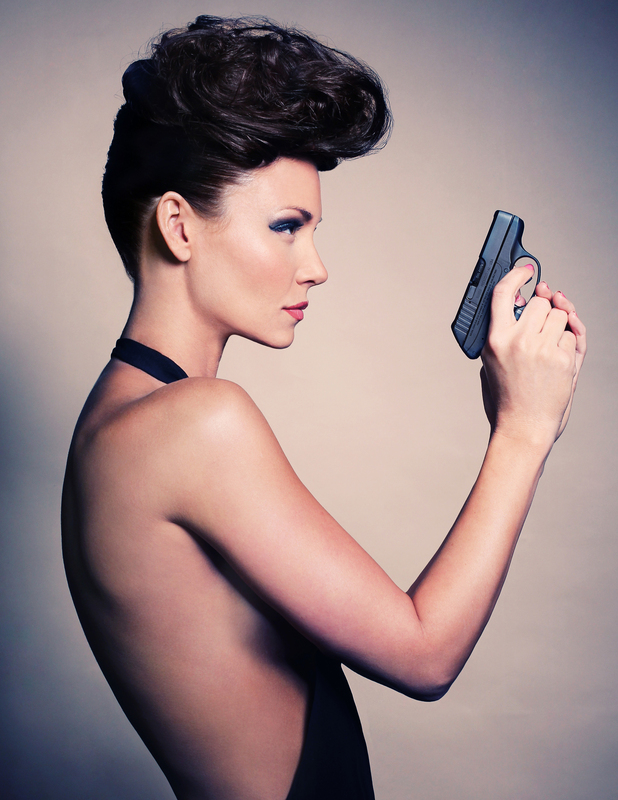 Do you have any rituals to ensure a successful shoot?

Prepare prepare and prepare some more.  Communicating with you team is essential and come fresh and ready to go.  
 
Are you artistic outside of doing hair? 

I love to create things and I love decorating.  Currently I started re painting furniture.  I ALWAYS have my hands in something whether it's hair or some other form of art.  
 
Any styling tips to share with the community? 

As my general rule of thumb, I ALWAYS use at least 5 products on everyone when styling whether Im on set, on stage or behind the chair.  You need a great foundation (a leave in elasticity treatment and a blow out cream, a structure building product such as a mousse or gel, working products such a pastes, waxes, texture spray and finishing products such as hairspray, shine finishers and anti humidity spray.  
Be sure to stalk Danielle on Bangstyle to see her latest collections and learn more styling tips!