KEVIN.MURPHY has discovered an ingredient that has been thickening and lengthening eyelashes for years and put it where it belongs - in products designed to thicken and lengthen men's hair.
This a new era for KEVIN.MURPHY. While we have been making products that men have loved from day one, this is our first and deliberate "men's own" product regime. The products are an experience as well as simply being fragranced, the wash and rinse has a cooling and tingling effect and can be used to cool down the surface of the scalp and is very useful a hangover cure.
STIMULATE-ME.WASH is a stimulating and refreshing shampoo for your hair and scalp. Camphor Crystals stimulates circulation to the scalp and helps restore a natural shine and strength to the hair. The combination of Bergamot Mint & Black Pepper work as stimulating ingredients for added circulation and cellular strength.
STIMULATE-ME.RINSE sooths and cools the hair and scalp. It contains Wheat Amino Acids that promote hair growth and cellular regeneration, and Shea Butter, which absorbs quickly and completely into the hair and scalp to rehydrate without clogging the pores.
STIMULATE-ME WASH & RINSE uses a combination of ingredients to awaken and clarify the hair and scalp, preparing it to receive the hair thickening and therapeutic benefits of THICK.AGAIN.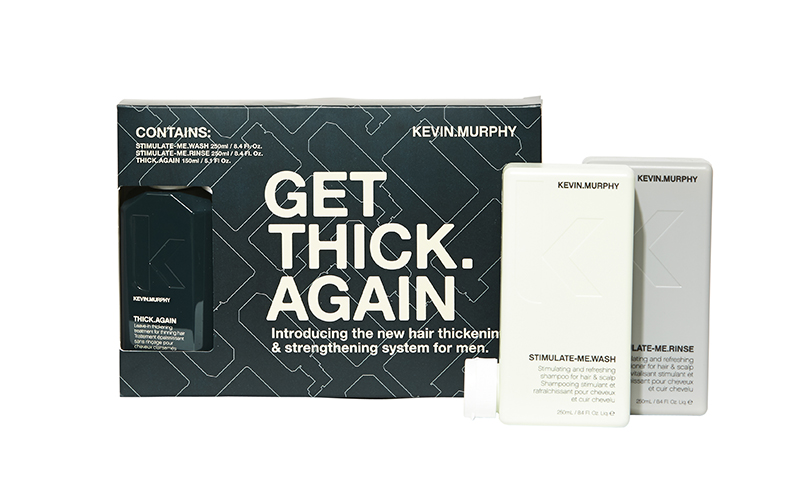 THICK.AGAIN, the new addition to the brand is a revolutionary product for men's hair. It is designed to thicken and instantly plump and densify thinning hair whilst helping to prevent hair loss.
THICK.AGAIN uses eyelash thickening and lengthening technology to strengthen hair, making your hair appear thicker and fuller and improving the quality of hair and scalp over time. THICK.AGAIN is designed to lengthen the growing phase of the hair, consequently shortening the falling phase. It helps to remove the build up of DHT, which can build up in the hair follicle; DHT build up is the number one cause of thinning hair in men
THICK.AGAIN uses a hair strengthening combination of Apigenin (a flavonoid from Parsley), Oleanolic Acid from the Lovely Hemsleya and Biotinyl–GHK, a tripeptide from the eyelash indus- try. This modern technology has been known to actually help with hair growth, while assisting in the appearance to reduce hair loss by improving the microcirculation of the scalp. This complex of ingredients will further anchor the hair to the root, thickening the hair and preventing hair breakage and thinning hair.
Directions for use:
PREP with the WASH & RINSE first and then PRIME & FINISH with the THICK.AGAIN. Use the products daily (or every time you wash your hair) for the first two weeks to allow the ingredients to kick in.