Bangstyle wants to know "Why the Man Bun??
Why hasn't this trend become more popular? Well, Ashley Flora here, ready to give you a little insight why this is so popular and, why more men should just dive in to the man bun this summer! I have a large clientele that requires this look along with the disconnected mens cuts. I have heard a lot of mixed reviews on the subject and to be honest, have seen a lot of rolled eyes and disgusted looks on peoples faces. Let's face it when the ombre trend hit, it was met with similar reaction. But now look at who all is about some ombre... the same thing happened when skinny jeans came about. It's a change in style and that makes it difficult for some to embrace. In a few years, the man bun will be modernized and loved by most.
I created a collection to share how attractive, simple and edgy you can look with this particular style. I received a little style insight as well from the three male models, the photographer and the makeup artist.
David Farsetti (Model), gave an in-depth response as to why he loves it. "I love the man bun because its wild but reserved at the same time. It is easy and free, but can still appear as "Professionally Presentable". Having a man bun makes a statement reflecting an aspect of who you are, one of a laid- back but respectable quality, and that's a statement that I myself am happy to identify with." Said Farsetti on set as he was admiring his hair.
As you can see David pulls off that "David Beckham" style pretty effortlessly. It can be a very rustic or very chic, all depending on the personality.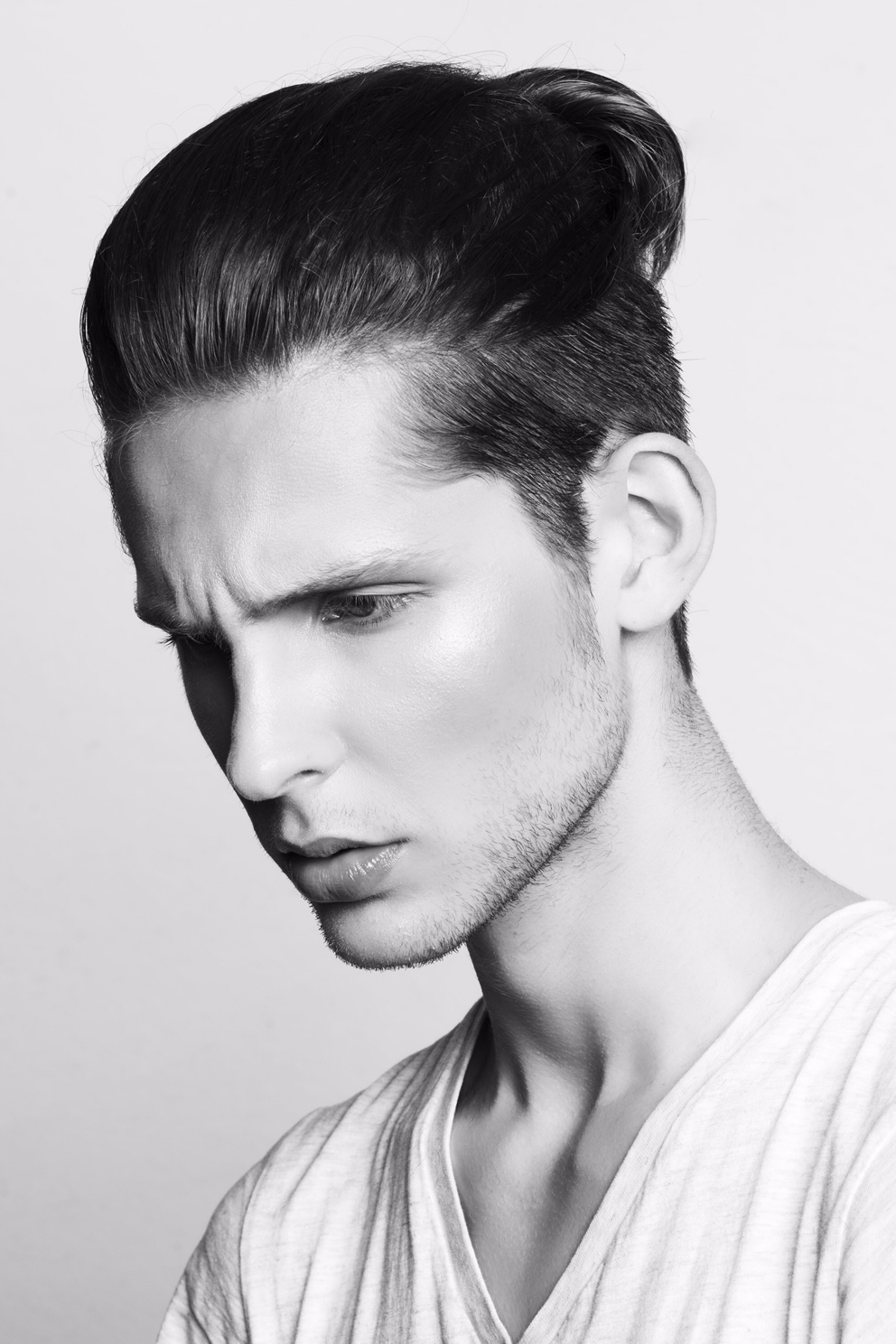 Dear friend and Hair Artist Matthew Tyldesley and Makeup artist Isidro Valencia say, "It's easy and keeps me cool." "It's summertime, hot and sometimes you just want your hair off your face and still look good" says Tyldesley. "The man bun has been super trendy since 2013 and not only looks urban, but also fashionable. Best of all, it doesn't require a ton of products to achieve the look. The man bun represents my personality, so I am going to keep growing my hair!" Valencia said with a laugh.
As a hair stylist, we are supposed to be the trend setters. The ones who encourage our clients to look their best. We suggest and they follow. This look is definitely only going to be for certain clientele and certain regions of the world.
Daniel Golz, fellow Redken Artist and Germany based blogger also gave some insight on the trend. "I think it is funny that this trend originated from the laziness of the male models. It is not a trend for me. I love this form with men, and believe the man bun will evolve over time. Right now it is the disheveled styling. Next will be the sleek styling and maybe bride styling. The trend for the man bun in Germany is recognized! Businessmen also carry the style here!" Said Golz.
When the team and I were brainstorming concepts for this shoot the photographer Steve Squall and I were chatting about the man bun. Steve has longer hair and loves to get the man bun done for "special occasions." When he came into the salon for a visit, I did a video for my youtube channel to help drum up more awareness of this style for clients and viewers. Then shortly we were tossing around ideas for a shoot. We just wanted to show how fun the man bun can truly be!
For David Farsetti I went for the more business, clean, chic feel. Then texturized it up for his relaxed "wild" feel. With Aaron Strunk (Model) I went for more texture. He loved this one in particular because it was edgy and structured. That's the feel we went with then disheveled it up to show "real life, raw." With model Chris Diaz, again, we went for a "raw" feel. Chris is very laid back and stylish with a relaxed hair style. He loves his hair to be touchable. With all 3-6 of these images Redken products were used. Mess around #10, Forceful #23, Short Sculpt #19 (Davids look)- Stay High #18, Shape Factor #22, Pillow Proof Powder Refresh, Control Addict #28 (Aarons look)- Mess Around #10, Pillow Proof Powder Refresh, Powder Grip #08, Control Addict #28
For Aaron',s he loved the intricate detail work. He loved that with the sides and back braided up, it was "shorter" in a sense. He also loves these styles just for fun, and that's what its all about! Changes happen and, what fun is life if we become "creatures of habit." Changing things up allows you to not only be seen differently but feel alive. "I like my bun because it's easy and fast to do yet still comfortable to wear and fashionable. Also, if I want to take just a extra few mins getting ready, I can wear it down a number of ways. It's versatile and will always be in style. " Strunk Said.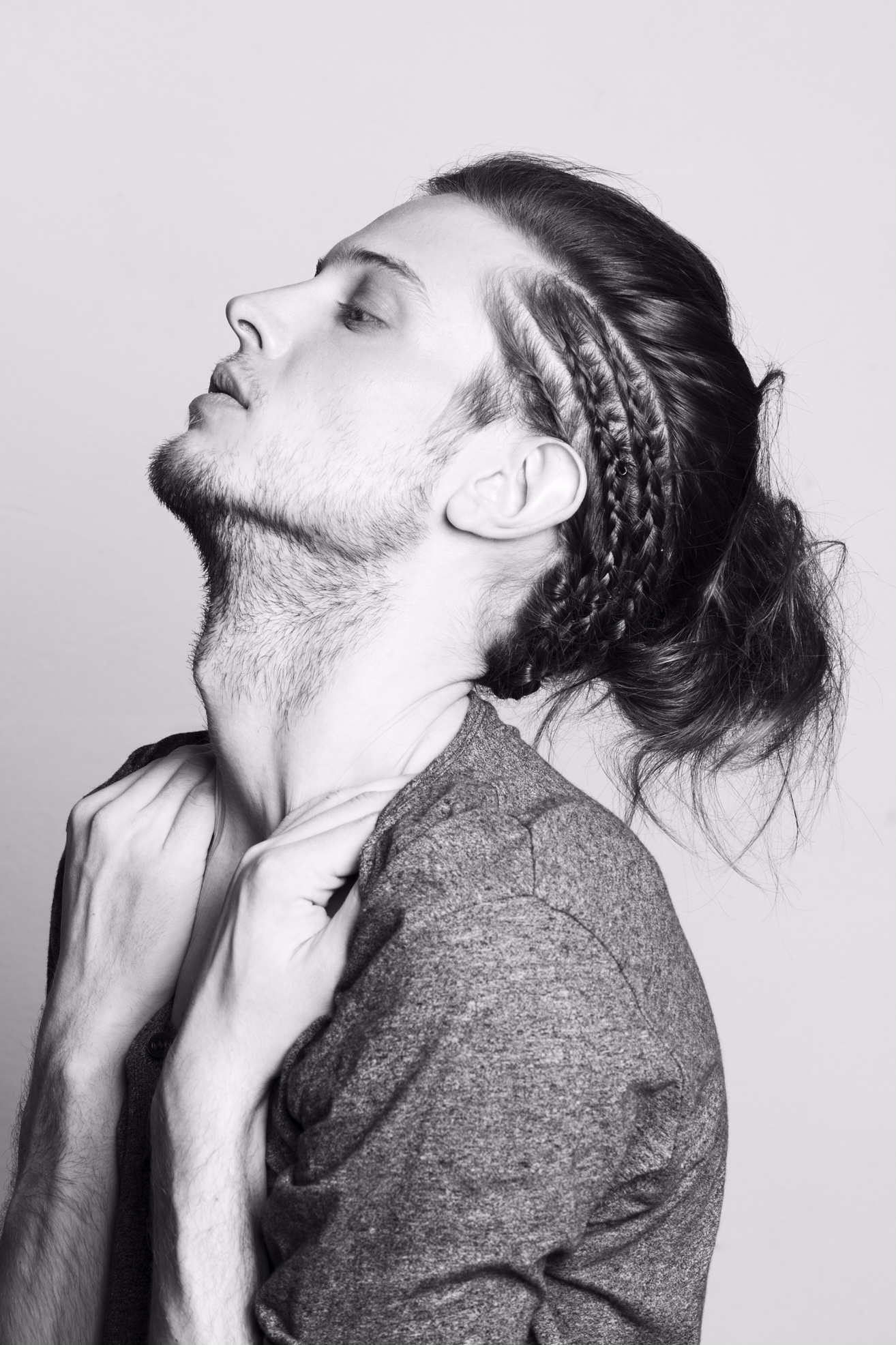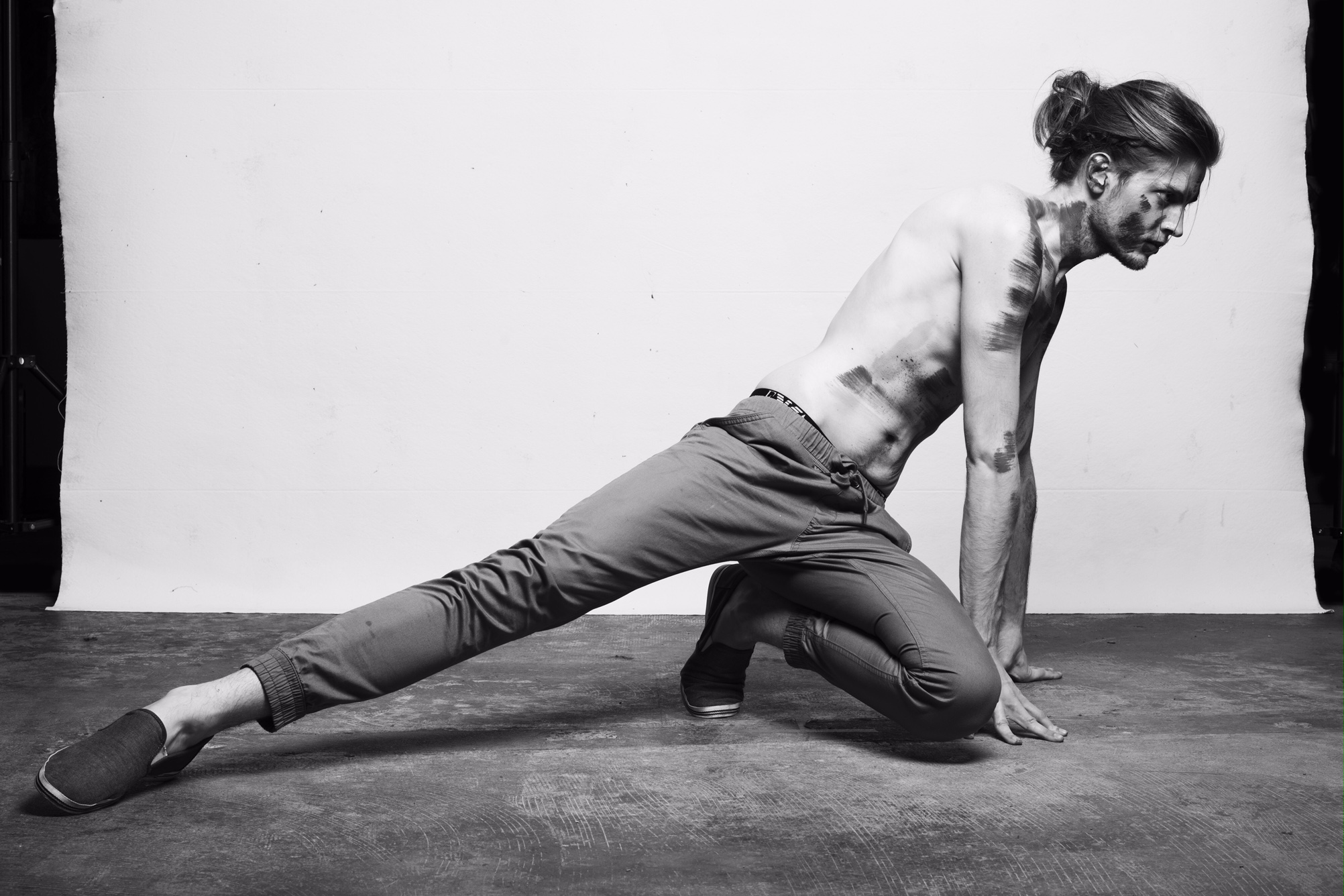 For Chris Diaz, I took the more relaxed approach with his look. Diaz explains why he loved this look so much. "So the man bun for me... a hair trend that does not see like a trend but more an approval from the public for men to have long hair. We have been caught for too long in the age of conformity... in this stereotypical white collar haircuts are boring. Man buns in a sense allow us men to lash out. Now, it's not just women that can "whip their hair back and forth"! " Diaz said with a chuckle. "It is our chance to rebel!!!" He continues to smile and laugh. Diaz loved this look so much that he wore it to work the next day and said he gained numerous compliments. So for the men that are afraid and turn away from this style I feel as if this explains it best. Do not be afraid to BE YOU. Try something NEW.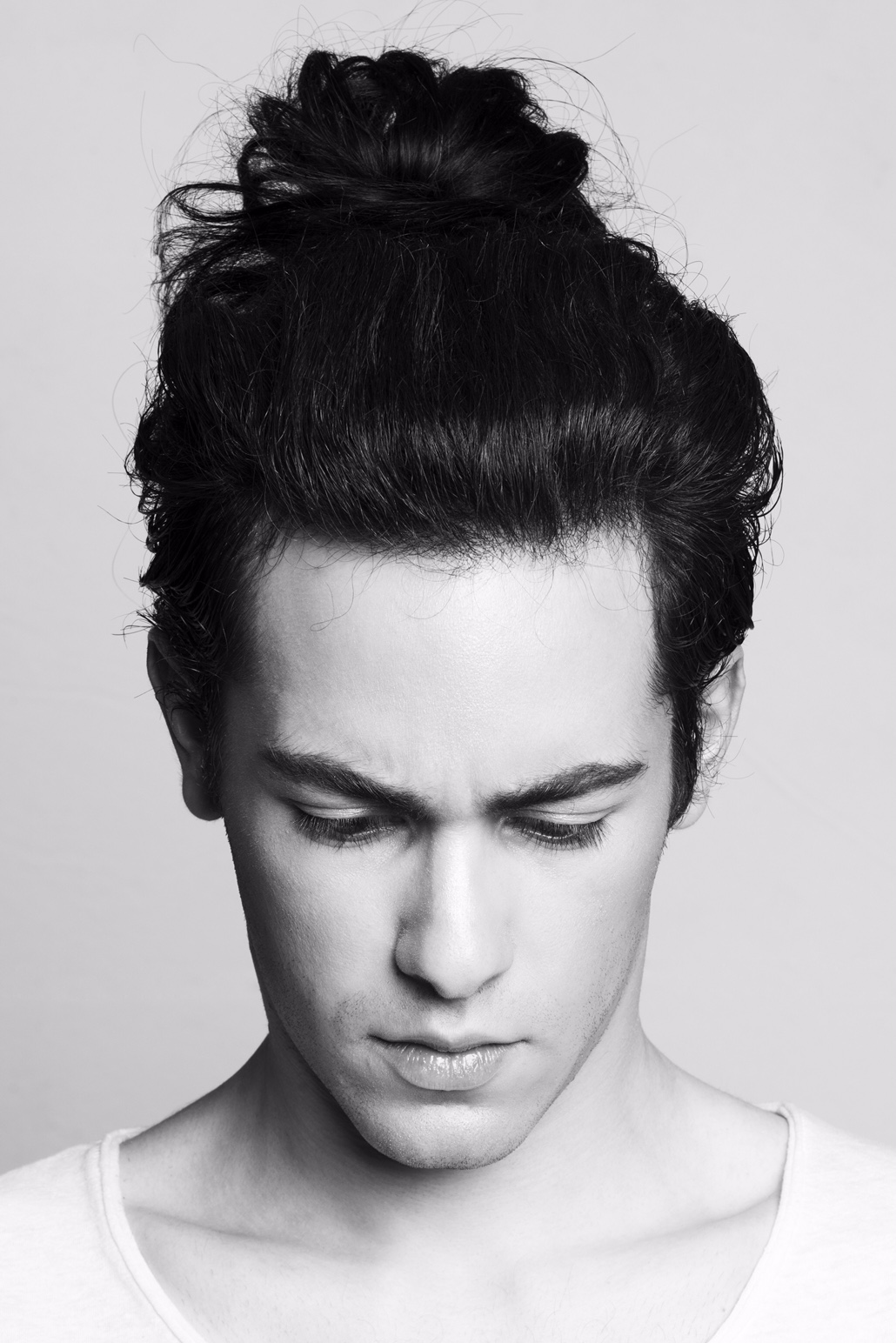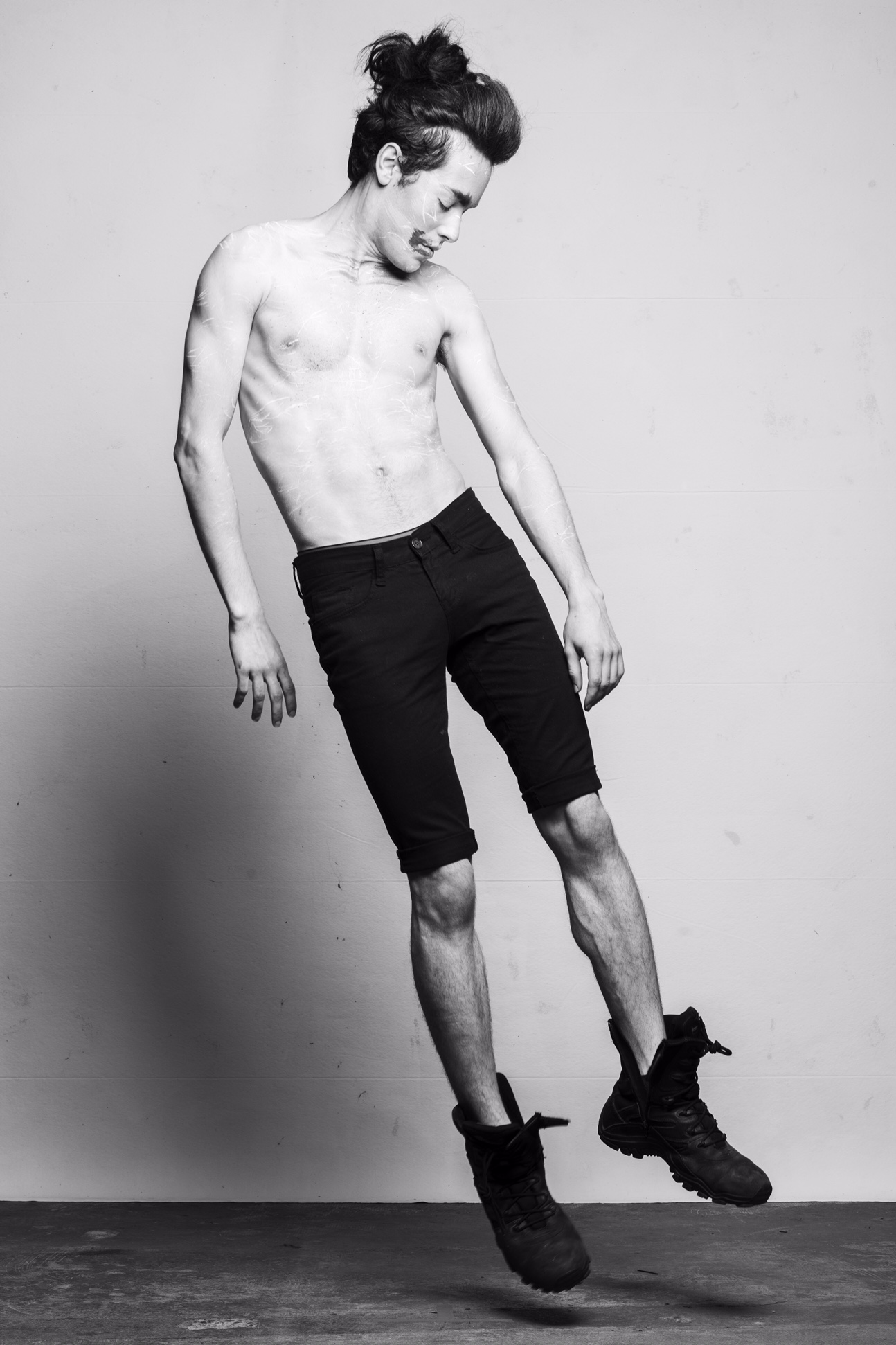 With this style comes the truth. Men have been sporting this look for years. Just like the photographer that took the images. Here is his comment on the style and trend. I've been sporting the bun almost daily for about 4 years now. I never really liked the look of a straight up ponytail. I think it might have been my love of old samurai movies that first inspired me to start "bunning it up"; I always thought the top knot was a cool look. It's an easy and fast way to get my hair out of my face and to get it off of my neck when it's hot outside. I also like the versatility of the style; it seems to fit into both everyday casual and more formal settings." said Squall.
"As far as the photography goes, Richard Avedon is one of my favorite photographers and I draw a lot of inspiration for my own work from his aesthetic. I'm a big fan of very contrasty, black and white with strong directional light. It makes for very moody, dramatic images that lends itself well to fashion photography." Steve Squall.
As a hair stylist coming up on now ten years of doing hair I have to say recently in the last 2-3 years mens hair has become much more fun. The hard parts to the disconnected cuts. I love all the texture and the effortless look of the "man bun". I love styling hair and giving a new edge to my clients. My hope is that you all fall in love with these styles and looks as much as my team and I had creating them.
Credits:
Hair: Ashley Flora
Makeup: Isidro Valencia
Photographer: Steve Squall
Models: David Farsetti, Aaron Strunk , and Chris Diaz Heyman Talent Agency
Be sure to Stalk Ashley Flora to see more of her stunning hair art!