Redken Artist, Heather King, had a vision full of bright colors, edge, and fashion that she wanted to create. To do so she brought her fellow Redken Artists together while at a conference in Vegas and crafted this amazing shoot. Each artist goes into detail about their inspirations, how they organized the shoot, and the process behind each look. Take a peek and be sure to follow these artists for even more hair inspiration! 
---


We're all guilty of a little late night YouTube binge. The kind that starts at 9pm while you're trying to fall asleep and the next thing you know it's 3:30am. Funny enough, that's how the inspiration for this project came about. I watched everything from Lady Gaga to Avenged Sevenfold and random k-pop videos.

I knew I had to create a shoot full of fashion, edge, and bright colors, "Grunge Glam" if you will. And I knew exactly who to help make it come to life. My fellow Redken artists Ashley Flora, Matthew Tyldesley, Megan Watson, Natalie Renfro, and Kanaan Rhodes. We met in Las Vegas for Redken's bi-annual RAC, and the glam session began.

My model, Kanaan, had great two tone hair, which I took advantage of. Using Braid Aid 03, I created different types of braids to make a unique corn row affect. I staggered them diagonally forward to use the other half of her full, long hair for voluminous glam waves. To create those waves I curled sections with a 1 inch barrel and using Powder Grip 03, I teased it to the sky. To finish the look I set everything with Triple Take 32 for strong yet flexible control.

Every aspect of this project was amazing and fun. We blared our favorite music from the speakers, danced, and laughed. The photographer, Enrique Malfavon, took fantastic BTS pictures and video that made it feel like we were making a music video! Forget hair jam sessions, this shoot was a total glam session. I couldn't have imagined a better way to kick off our first day reunited in Las Vegas.  - Heather King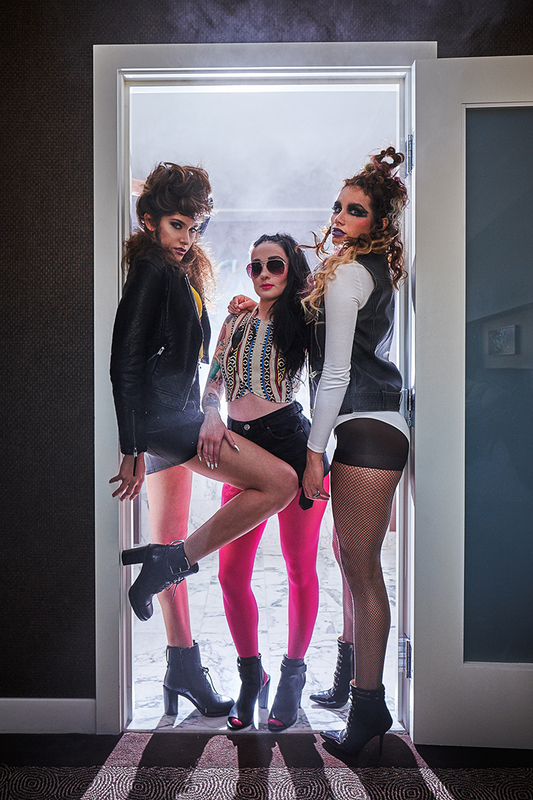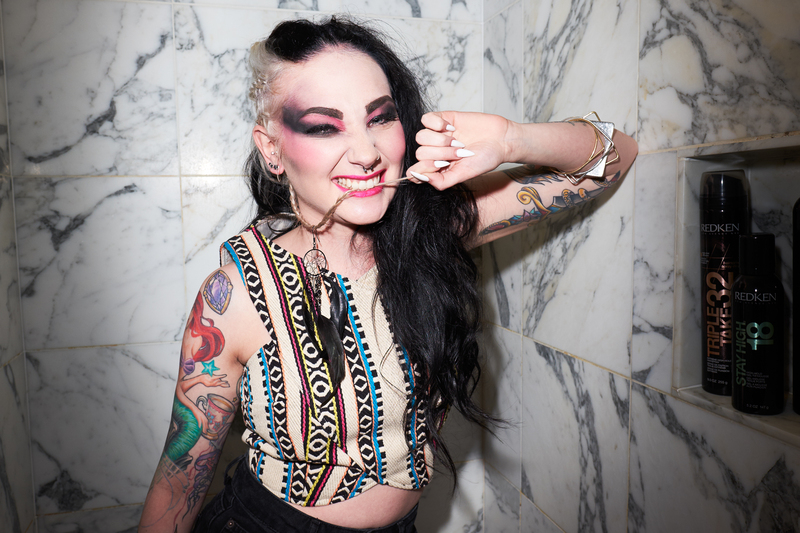 ---
Ashley Flora, Stylist
Redken Digital Education Manager

When Heather approached me witht he idea for this Vegas pop shoot, I immediately suggested we do it while at RAC (Redken Artist Connection). I reached out to my resources, photographer Clay Cook, who has workedon NAHA's, USA Today, Voice of Louisville Magazine, Nfocus Louisville Magazine and much more. He suggested Enrique and all our planning immediately fell into place. We booked the models, set the location, scheduled makeup artists Megan Watson and Natalie Alana, and gathered fellow Redken artists Matthew Tyldesley, Heather King and myself for the hair. With the beauty covered we moved on to video, with a videographer covering the behind the scenes and Redken social snapchatting the whole process, it was a blast! Heather's vision and dreams came to life.
I styled our model, Zitaly, as if I was replicating a dream catcher on the side of her head then making a poppy pompadour with a twist, a more modern take in it. I love how it turned out and I'm so excited to see what the world thinks about it.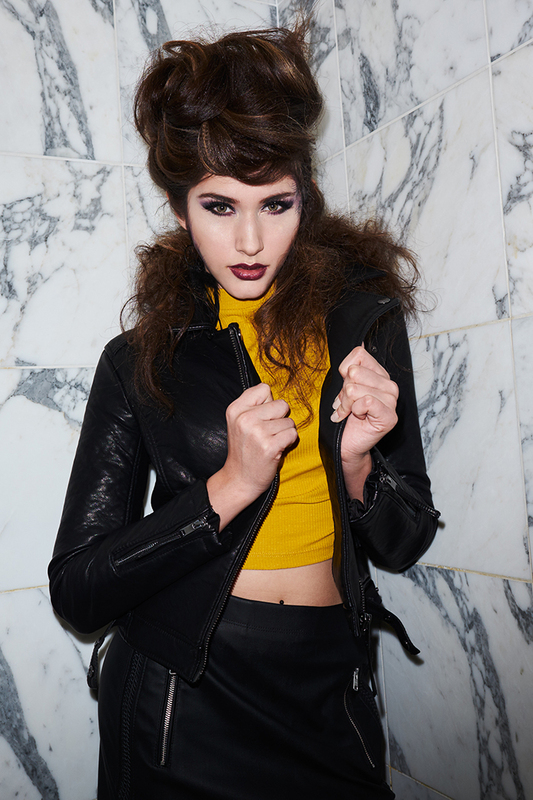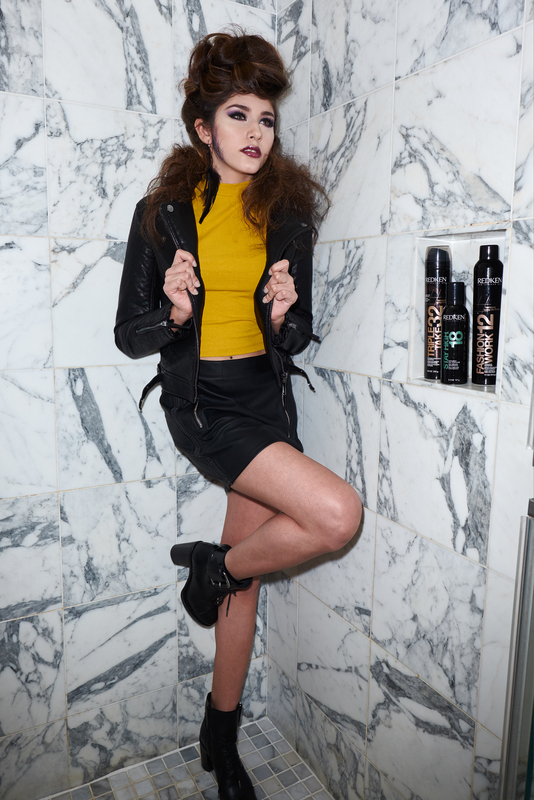 Natalie Alana, Makeup Artist
I used Makeup Forever products as well as their artist brush collection. I love that Dany Sanz created these brushes for times like these. I wanted to create a natural beauty but with a pop of distraction so I used the crisscross pattern using my flash palette.

Working with fellow Redken artists Matthew Tyldesley, Ashley Flora, Heather King, and Megan Watson was a dream come true! They inspire me constantly! Working together with them brings out more creativity in me.

- Natalie
 
---

Matthew Tyldesley, Hair Stylist

Las Vegas created a wonderful source of inspiration for this shoot. My gorgeous model, Marisela and I were game for anything creative so I let my imagination run wild. My model was high energy and inspired me to create something dramatic with Avant Garde flavor. You can feel the energy in the hair and the make up created by Megan Watson, it forged a winning look.

I started with a directional blow dry using a round brush and a Sam Villa Professional Dryer. I then create zig zag sections on top and on the sides. Within these sections created random cornrows and twists.  Once finished braiding, I went back and pulled a few hairs from each braid to loosen them up. On top oh her head I used elastic cord to create volume that lifted the top and created a loop by wrapping the cord around the hair. I added custom hair extensions I made, which I placed in the back and nape area. I then used a dual curling iron to create the waves. Each section was wrapped, cooled, brushed out and finished with lots of hairspray to make it ready for the camera.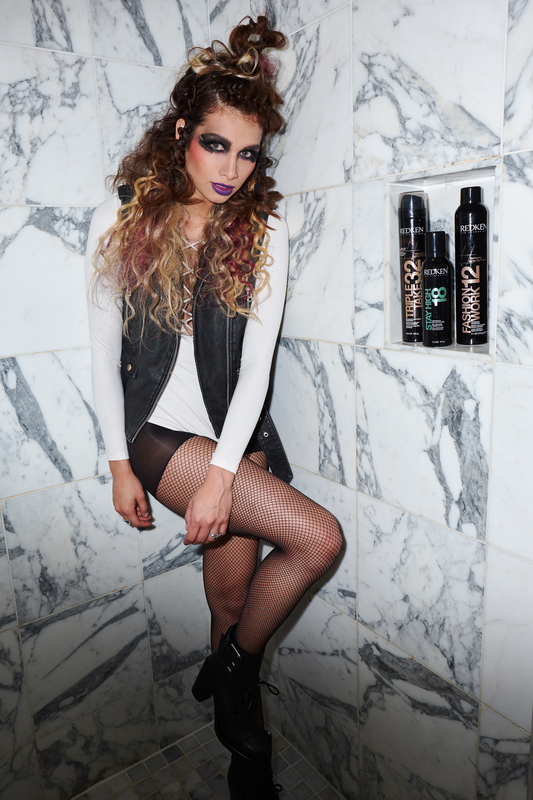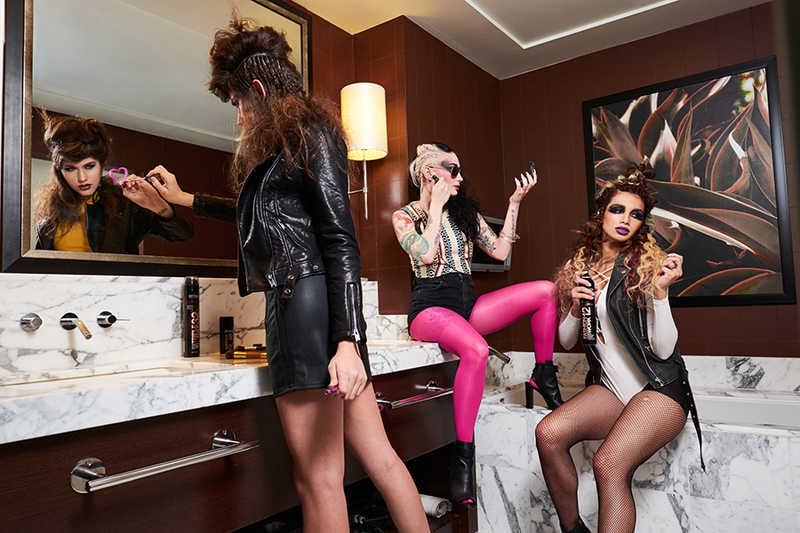 Megan Watson, Makeup

I was really inspired by the style Matthew created on our model. It was very whimsical, with an aquatic feel to me, reminiscent of a sea urchin. To accentuate this, I decided to do a very dramatic smokey eye with pops of color in the corner and inner rim of the eye. I also attached three sets of lashes to the lid and high cheekbone area to create more drama and play off the tentical look Matthew created. To give extra whimsical touches, I gave her a bright dramatic cheek to sculpt the face and a bright purple lip. 
 I really wanted to play the two toned haircolor on our model Kaanan, so I created an asymmetrical application - a soft look on one side and a over the top grungy look on the other. To create the look I used Kat Von D locked-in foundation to give me a completely blank canvas to work on. Then I used Urban Decay shadows to create the soft smokey look on the her left eye and a combonation of blushes and shadows to create the purpley pink effect on her right eye and up into her hairline. I had so much fun creating both of these looks and took the opportunity to walk on the Avant Garde side. The merge of hair artistry and makeup artistry was really evident in this shoot! -Megan

Must-Have products:
Elastic Cord
Hair Extensions
Double Barrel Curling Iron
---
Be sure to stalk all of these amazing Redken artists on Bangstyle for their latest looks for inspiration and product knowledge!
Credits:
Hair | Heather King 
Hair |  Ashley Flora @aflorasalon
Hair |  Matthew Tyldesley @hairbymatt
Makeup Artist |  Megan Watson
Makeup Artist |  Natalie Alana
Model |  Kanaan Rhodes
Model |  Marisela De Montecristo @mariselademontecristo
Model |  Zitaly