Steeped in tradition, being a Scumbag is all about the experience. When you head to the shop for a cut everything has a place. From the smell to the look, the feel and the sounds, being a Scumbassador means you fit in to the Schorem world and stand out from all the rest.
Reuzel started with two Scumbags, Leen Bergmann and Bertus Jan Rietveld, kickass barbers who feel that their trade is more than just a job, it is their passion, their calling, what they're meant to do in this thing we call life. They don't believe in trends, they are tried and true with their Signature Cuts and Barbershop Classics, totaling 22 styles to pick from. You either pick one of these styles or you get lost, because you're in the wrong place.
This craft, brewed like a fine beer, uses only the best products to finish styles. With 4 pomades, 2 tonics, shampoo's, a conditioner and the latest in beard care, Reuzel is changing the game of styling. Through hair care, they are aiming to transport you to a lost time. If you can't make it to Schorem; with its smells of pomade and cigarettes, Rock-a-billy music blaring, laughter and dirty jokes, you can have a piece of it at home.
No matter where you are, it is about the experience and the cut. Classic, blown dry and greased to perfection. These cuts paired with Reuzel products will bring your style and your mind back to a better place and time. They are meant to be "Good smelling, high quality and high performance" and are for everyone, greasers and professionals alike.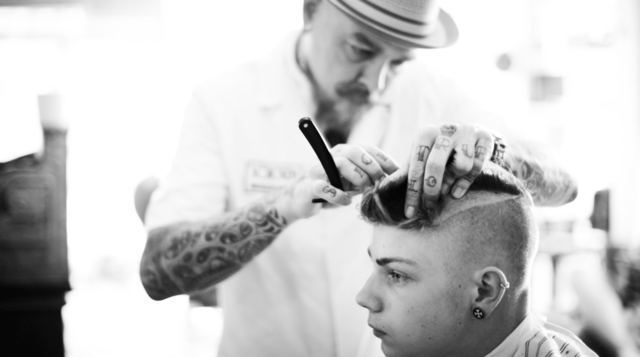 Don't be an asshole, be a Scumbag and fall in line with the rest of your Schorem with Reuzel.