Got 10 minutes?— in the time it takes you to stand in line at Starbucks, you could have freshly covered grays.
Living in a constantly connected world with more obligations than ever, we realize just how precious our time truly is. Due to everyday demands, many of us are left with less capacity to do the things we love the most, and this includes taking care of our beauty routines. Lunchtime has always been a great time to fit in an express wax or mani and now with the latest development from Redken, you're also able to fit in an express root touch-up!
Fast Solutions for Gray Coverage
Many of us shutter at the first sign of grays. Left wondering if we pluck, will seven more actually show up? As we transition from root shadows to root touch-ups, we are left looking for quicker, easier ways to cover grays. Redken has always been at the forefront of hair color innovation and with the release of Redken Color Gels Lacquers 10 Minute, they're offering a solution to one of the salon's top services — gray coverage!
The beautiful thing about this new release is the fact that it benefits both the stylist and the client. Not only is it easier to fit in more walk-ins or last-minute appointments, but this service also allows clients to book into times they normally wouldn't. This service can easily be paired with a Shades EQ glossing treatment, a professional conditioning treatment, a blowout or simply an out of the salon wash and go!
The Quick Facts:
Color Gels Lacquer 10 Minute is a liquid formula allowing for easy and quick applications
Ideal for quick root touch-ups
100% coverage on up to 100% white hair
Proprietary Smart Pause Technology allows stylists to speed up the process without the worry of over-processing.
Stylists are able to achieve the same color results between 10 and 15 minutes.
1:1 shade match with Color Gels Lacquers
Color Gels Lacquers Vs. Color Gels Lacquers 10 Minute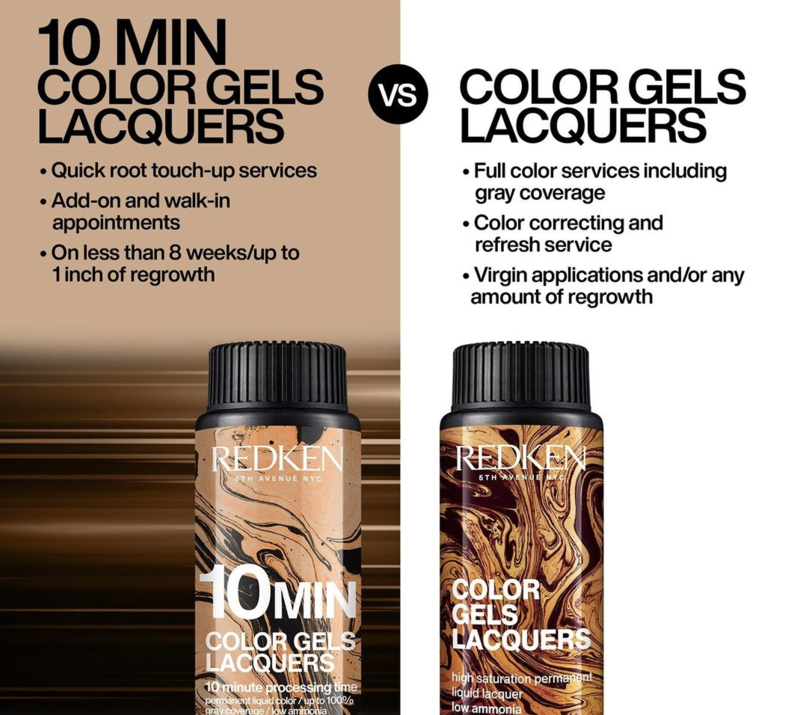 Color Gels Lacquers 10 Minute is being added to the already impressive Color Gels Lacquers range and even shares the same developer. Deciding between the two comes down to timing.
There are actually some appointments where more time is needed for a color application — if the new growth is over 1-inch, if there is a complicated application method like a color correction, or you are creating fashion colors, reach for Color Gels Lacquers.
Color Gels Lacquers 10 Minute is ideal when clients need a quick root touch-up, for add-on or walk-in appointments or if there is less than 1-inch of regrowth. With the same liquid application and unbeatable shine seen with Color Gels Lacquers, stylists are able to achieve unbeatable results in less time without the risk of over-processing, so deciding between the two may be harder than you thought!