ItsAshBenzo is known for her instaworthy styles and carefree lifestyle. In this tutorial learn how to recreate this high fashion topknot, a style to be coveted by any it-girl. For a finished look, pair your topknot with fresh, natural looking makeup - a neutral lip and come-hither mascara. The best part about this topknot is that it is meant to accentuate your face and your neckline. Pair with a minimal halter or off the shoulder ensamble and a fun neck piece, leave the statement earings for another night.
Giannandrea, International Creative Director for Macadamia Professional created this beautiful look and is giving you the insider scoop to the steps.
---
1.) Apply Macadamia Professional Blow Dry Lotion from mid-lengths to ends of wet hair. Blow dry mid-sized sections with a large round brush to create a smooth blow out.
2.) Using a large paddle brush, gather all the hair upwards to the crown of the head. Secure the hair into a ponytail with an elastic once hair is brushed smooth on all sides.
3.) Emulsify one pump of Nourishing Moisture Oil Treatment in hands and run it through the sides and loose ends of the ponytail to create shine.
4.) Wrap hair into a bun and leave the ends out in the final twist. Secure with a clear elastic band.
5.) Wrap remaining hair around the base, covering the first elastic. Secure with straight pins at the base.
6.) Smooth flyaways and secure by spraying Flex Hold Shaping Hairspray around the entire style.
7.) Finish with a light mist of Weightless Moisture Dry Oil Micro Mist all over to add shine.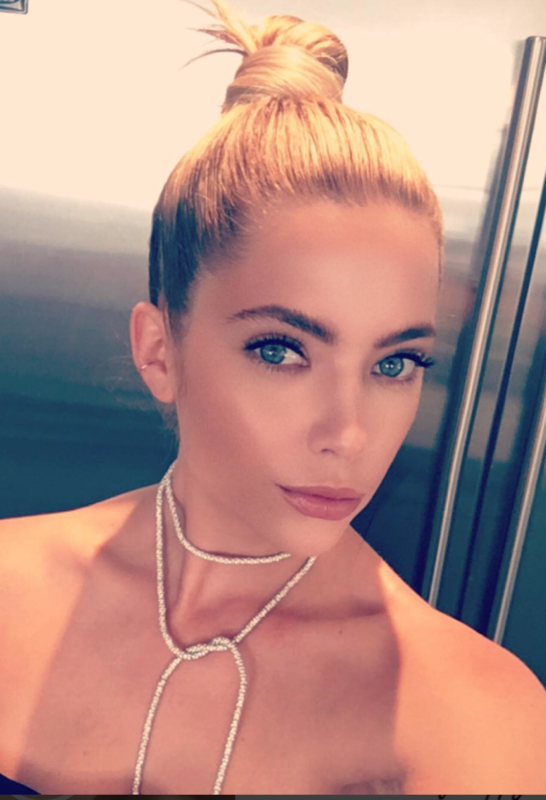 ---
Be sure to stalk Giannandrea and Macadamia Professional on Banstyle to see all of the latest celeb styles!