As 2014 draws to a close, it's always fun to take a minute to stand between the year behind us and the one about to be ahead of us. It's a time to gain a perspective on where we've been and how that will influence where we go next. Looking back at the steadily growing surge in men's grooming, we wanted to get a little perspective of our own. So, we asked a few of our favorite artists on Bangstyle who are doing fantastic things in the world of men's styling, to tell us a little about some of their favorite trends of the past year, and how they think that will play into what we'll see this upcoming year.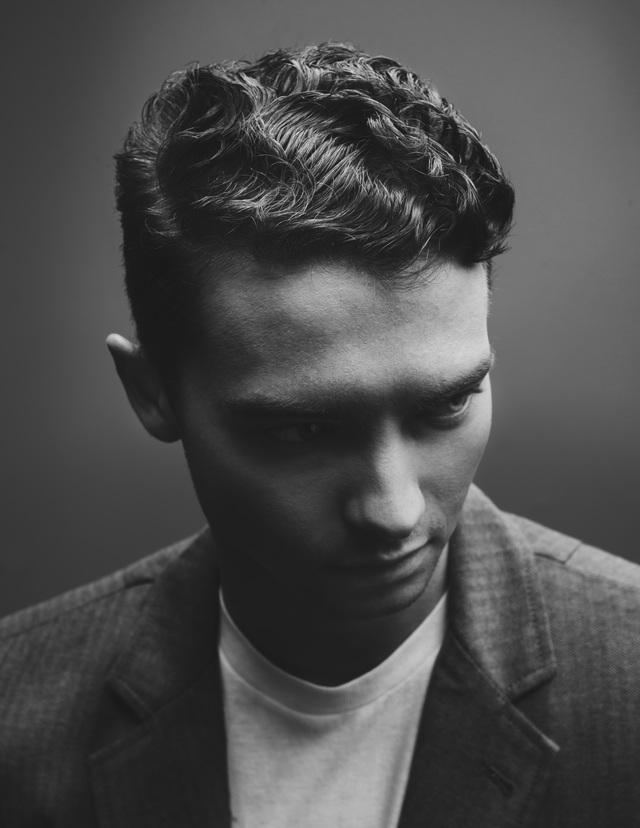 The men's grooming category is much needed and I love it. As a Master Barber-Stylist, for some time, men's hair-cutting and styling was not viewed as "important", but with more and more men caring about there appearance and looks, it is back to stay. The rise in men's grooming popularity came from not being able to get razor shaves at salons by cosmetologist. Such barbershop staples like, razor shaves, shoe shines and hot towel facials were lost with the emergence of chain salons that claim to service men. The trends that I am seeing now are longer lengths on the top, shorter on the sides and I'm loving the "man bun" right now...look for more of that in 2015.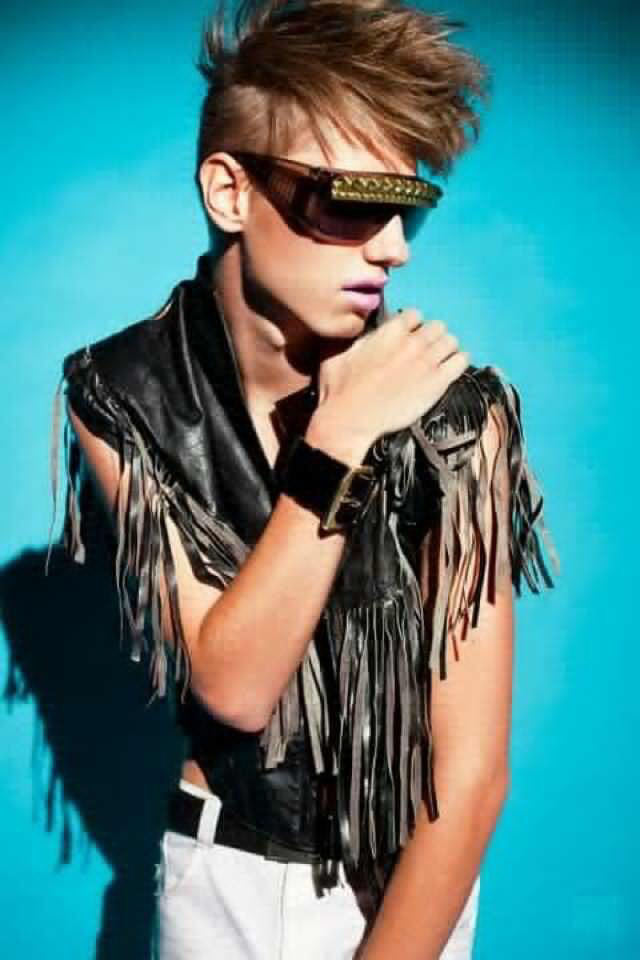 <a data-cke-saved-href="" href="" www.hairlabdetroit.com"="" target="_new">
One of the biggest men's hair trend for 2014 was the slick comb over look. This stylish look is finished with a deep side part sweeping the hair over to one side with a holding product and finished up with a light shine spray.
Texture experimenting has also been a men's hair trend in the salon this year, whether they were flaunting their natural curls or chemically changing their textures.
For the "I woke up like this", man, longer razored looks have been seen. Shorter layers throughout the longer lengths gives the men, for an easy 4 minutes in the mirror. A tossle with their fingers and their favorite hairspray is all these guys need with this look.
I'm very excited to see where these men and their hair trends will go in 2015.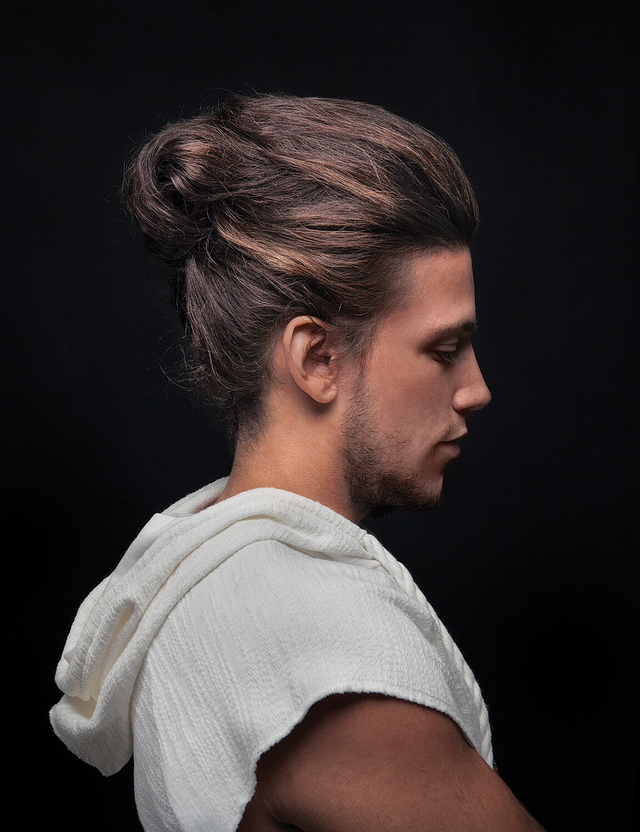 Hairdresser: Eric St-Jean, Styling; Gabriel Bergeron, Photo: Nathan Lang
In the past few years, men are becoming more willing to have fun with their hairstyle. Which is even more fun for us hairdressers! For me, men's hair is very exciting to cut because of all the possibilities available to you - from all the barbering looks that came with post Madmen madness to the fully textured hair from the 70s that has made a comeback. I just let my creativity flow.
My winter hint: A lot of guys are letting their hair grow, rocking a pompadour style, and since they don't necessarily want to cut it, I like giving them a new look by playing with their shaved sides and adding a fading effect. Keep in mind that these areas are meant to be used in a creative way. The effect is simply incredible.
Ps: Now that a lot of guy shave long hair, teach your clients to create amazing man-buns It can turn a guy's style from messy to runway in a flash. Don't forget, they need good shampoos now too!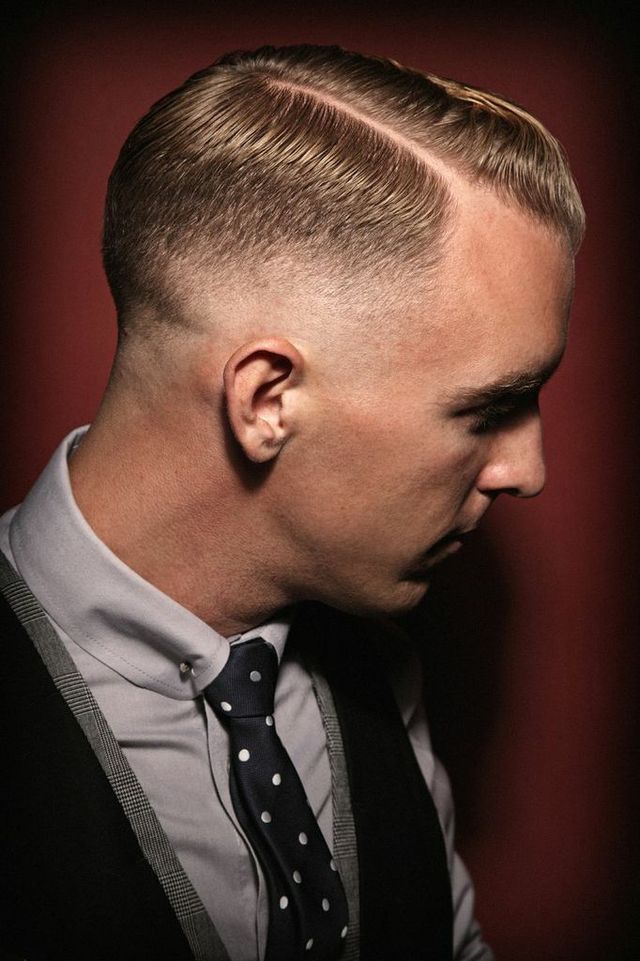 The men's category in continuing it's growth and expansion with no sign of men moving away from their current enthusiasm to look and feel good across all of the age and social categories. Existing trends that continue to be popular are the 50s pompadour, ducktail, and of course razor fades. We are being increasingly asked for flat tops which indicates a resurgence of the trend again which was last seen in the 50s and again in the 80s. Long Trim Pomps are also growing in popularity. The neat smooth shape created by scissoring and sweeping back the sides lends a more cultivated look to the traditional pomp. As with the other popular trends these precisely-cut shapes will mean that maintenance haircuts are required at least every few weeks, and some flattop wearers get haircuts as often as once a week which will mean that highly regular, planned trips to the barber will still be a necessity for most.
As with all popular looks that are so precise, I predict that in the next 12 months we will see opposite trends, a more relaxed take on the existing popular styles. The looks will become less formal and structured meaning that styles will be inspired by the natural look of the hair and less reliance on the stronger styling aids to achieve a formal look. I am expecting tousled, curlier styles to make an appearance, meaning that the look will become a lot more relaxed.