With clients making their way into the salon post-lockdown, you'll most likely see mistakes, coverups or at-home blunders. From bleeding highlights to unwanted tones, color corrections can range in difficulty and above all else require a degree of patience to be fixed. As a colorist, you might need to do a little digging to get down to the root of the problem, but with your expert knowledge and professional products, you can fix [almost] anything. Read on to learn about a few common color correction techniques and tips to reverse them!
Unwanted Tones
Unwanted tones can pop up from a variety of factors. Hair color might not have been lifted high enough, the wrong toner could have been applied, or hair could have undergone damage from external elements such as chlorine or sun damage causing discoloration or premature fading. While tone is one of the most common issues within color corrections, it can also be one of the easiest to fix with Redken Shades EQ. From warming up a tone that came out too ashy, to canceling out brassiness, there is a Shades EQ formula for anything. In addition to correcting unwanted tones, the new Shades EQ Bonder Inside adds a new level of protection when it comes to damage and breakage. Following any color or lightening service, Shades EQ Bonder Inside helps reduce residual alkalinity post-service while leveraging Citric Acid and Taurine to help protect the strength of sensitized hair, this technology ensures a smooth cuticle for shine and condition.
Placement Gone Wrong
The most common mistake when it comes to placement usually comes from bleeding foils. Whether there was too much lightener in the product, foils weren't folded properly or they got too hot and expanded, causing leakage, this can cause bleed spots. In addition to this, the difference between baby lights and balayage can easily change the outcome of anyone's color. When correcting placement gone wrong, this process can often require a great deal of time and dedication. Weaving will need to be used to pick out the pieces that need lightening (or darkening) and then alternating color formulas should be used to redo placement with highlights and lowlights.
Pick Products Wisely
Once you have a plan of action, the success of a color correction comes down to your tools — or the products you have to fix the color. An element that is imperative to the outcome of any color correction lies in the ability to focus on the integrity of the hair, making the health of utmost importance. With a range of products from lightening to finishing that protect the hair from the inside out.
Flash Lift Bonder Inside: This lightener provides a helping hand during lifting services and is also available as Flash Lift Pods Bonder Inside for easy measuring and mixing. With built-in bonder technology to lift and protect in one-step formulations is a breeze.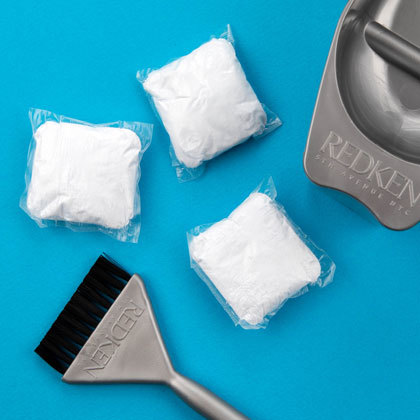 Shades EQ Bonder Inside: Shades EQ has always been a favorite to add shine and condition, but is now becoming even more popular with the addition of Bonder Inside for its ability to fight damage and regulate the pH of hair from the start.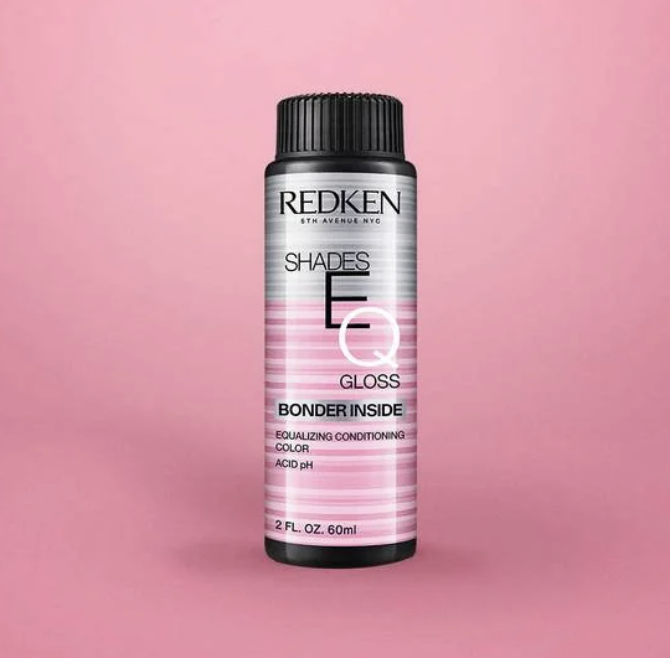 Redken Acidic Bonding Concentrate: With in-salon and at-home products, this range has the ability to cut down on damage while improving strength and hair resiliency following salon bleach and color services. In addition to this, you'll notice a 56% reduction of breakage*, 11X smoother hair**, 82% reduction of visual split ends***, color fade protection, and intense conditioning.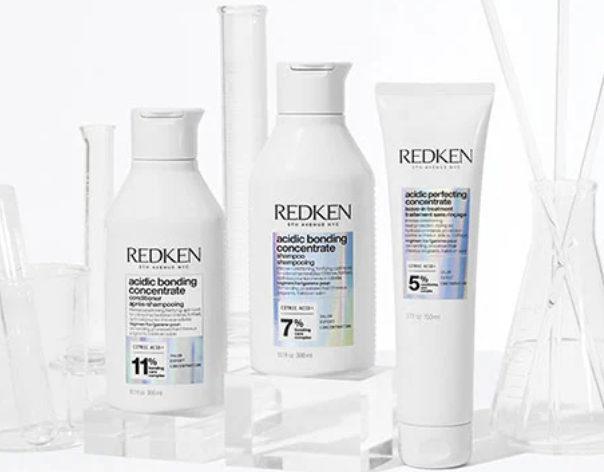 Utilizing bonder at every step of a lightening service with the Redken Power Trio (Flash Lift Bonder Inside, Shades EQ Bonder Inside, and Acidic Bonding Concentrate Shampoo & Conditioner), results in up to 77% less breakage.*
*When used as a system of Acidic Bonding Concentrate Shampoo & Conditioner vs. non-conditioning shampoo
**When used as a system of Acidic Bonding Concentrate Shampoo, Conditioner & Leave-in Treatment vs. non-conditioning shampoo
***When used as a system of Acidic Bonding Concentrate Shampoo, Conditioner & Leave-in Treatment