Although great hair color starts in the salon, when it comes to keeping your blonde or highlighted hair looking its best this summer, it all comes down to home care. As we all get ready for a season full of sunshine and pool days, there are a few key tricks to keep in mind to achieve an effortless finish.
Be Aware of UV Exposure
Although we've all been looking forward to our day in the sun, the harsh effects of UV rays on your hair can be detrimental to your color. Often causing premature fading and undue damage, consistent exposure to the sun can cause your color to appear dull, lackluster, and brassy. To cut down on exposure, invest in a solid sun hat and utilize a leave-in product, like Redken One United Leave-In Conditioner that improves takes care of the integrity of the hair while protecting against external aggressors.
Mind The Heat
Although you might love the way your hair looks when blow-drying, straightening, or curling it, thermal styling can also wreak havoc on your color. As the perfect primer for heat styling, Redken Extreme Play Safe can be a great first layer to improve the manageability, condition of the hair, reduce the appearance of split ends, and strengthen the hair while guarding against heat styling.
Protect Poolside
Whether diving into the pool or into waves, varying water can have negative effects on the state of your hair color. Instead of leaving your strands susceptible, consider combing a conditioner or deep conditioning treatment through your hair prior to jumping in. The layer will act as a barrier between the water and your color.
Treat + Tone At Home
One of the best ways to improve the look and feel of your hair color year-round is by adding an at-home toning treatment to your shower routine. While Redken already has an impressive color extend lineup, the latest release — Color Extend Blondage Color Depositing Masks for Rose Blonde, Honey Beige Blonde, Icy Blonde Hair Color, or the original Express Anti-Brass Mask is key to creating a perfect blonde finish.
These color-depositing masks temporarily tint the hair to impart tone, add shine and nourish the hair for a healthier look and feel. Leave masks on for 5 minutes for a subtle deposit or 10 minutes for maximum impact. The longevity of their results is determined by hair porosity and frequency of washing and is the perfect pick-me-up for natural, highlighted, or balayaged clients.
Color Extend Blondage Color Depositing Mask for Rose Blonde Hair Color
Best for levels 8-10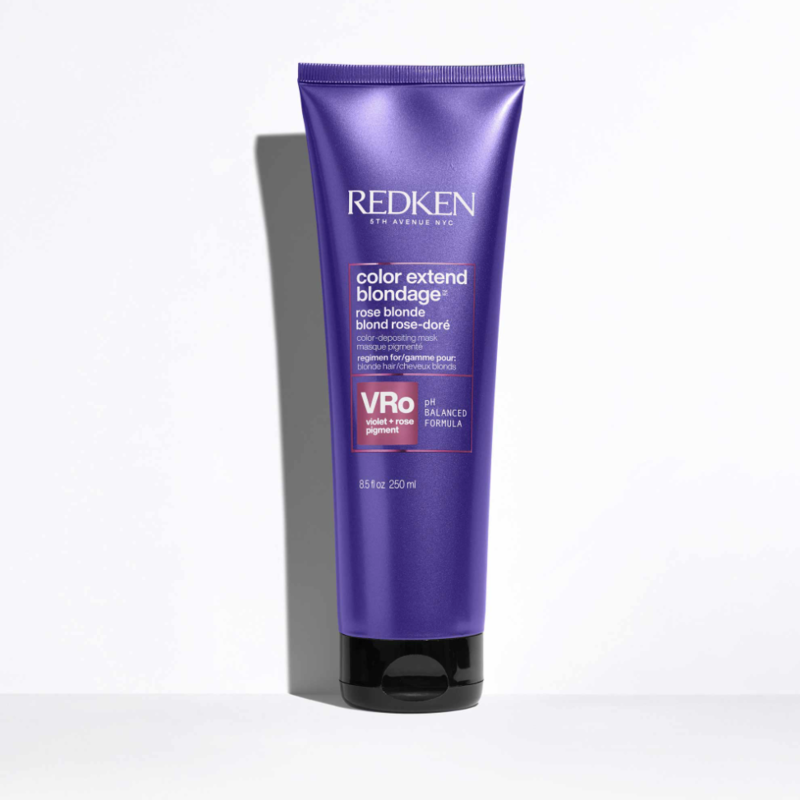 Color Extend Blondage Color Depositing Mask for Honey Beige Blonde Hair Color
Best for levels 7-10
Color Extend Blondage Color Depositing Mask for Icy Blonde Hair Color
Best for levels 9-10