Self-care is always important, but now more than ever is the perfect time to pause, take a deep breath, and indulge in some self-pampering. Staying safe at home doesn't mean you have to forgo a spa day, either. With a little help from Keune, you can create a luxurious spa experience right in your own home! 
Keep reading for our favorite ways to update your self-care routine and create the ultimate at-home spa experience. 
Set the Right Mood 
A day at the spa is all about relaxation and wellness—and your at-home spa should be no different. Setting the right mood is important! So, log out of your email, put your phone on silent (or, better yet, leave it in another room), and light a few candles or some incense. Turn on a relaxing playlist and slip into your comfiest robe or pajamas. This alone can already make you feel instantly more relaxed. 
Treat Yourself
Now that you've got your home feeling more like a spa, it's time to treat yourself—literally! Indulge in a luxurious hair treatment mask to help revive and nourish dry, stressed, or damaged strands. 
For Intense Hydration & Shine: Use Keune's Care Satin Oil Mask for serious nourishment from the inside out. Your hair will be left irresistibly soft and silky without feeling greasy or weighed down. To really amp up the shine, add a few drops of Keune's Care Satin Oil Treatment to the mask before applying. 
For Serious Strength: Try Keune's Keratin Smooth Mask, which is enriched with keratin and keravis to help repair and soften dry, damaged strands. Over time, this hair mask treatment will help transform your hair by replenishing keratin from the outside in. 
For Captivating, Frizz-Free Curls: Apply Keune's Care Curl Control Mask, which is specifically designed to enhance natural or salon-created curls. The mask is enriched with natural wood pulp to help intensify the natural elasticity of your curls while simultaneously fighting unwanted frizziness. 
To Help Your Color Last: Opt for Keune's Care Color Brillianz Mask, which creates a protective barrier around strands to help prevent color from fading. Plus, UVA and UVB filters help to limit sun-related damage, while herbal sunflower seed extracts add nourishment, hydration, and shine.
For Some Serious TLC: Use Keune's Care Vital Nutrition Mask treatment to soothe your strands. This treatment penetrates deep into the hair shaft to provide much-needed nourishment from the inside out. Plus, not only does it help restore damaged hair, but it also helps prevent future damage by creating a protective barrier around your tresses.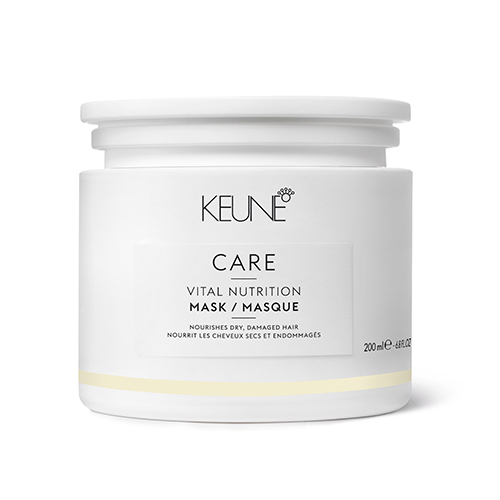 While you let your hair mask treatment do its work—each of these masks should be left on for a while to allow them to do their work—take the time to indulge yourself for a true spa experience. Pair your hair mask with a face mask to pamper your strands and your skin at the same time or give yourself a mani/pedi while you wait. Flip through that magazine that's been sitting on your coffee table forever or run a hot bath for a relaxing, full-body soak. It's all about taking the time to care for yourself without guilt or distractions. 
Treat Yourself… Again! 
What makes a day at the spa feel so indulgent? Multiple treatments! After rinsing out your hair mask, choose a second (or third!) treatment to truly pamper yourself.  
For More Manageability: Keune's So Pure Moroccan Argan Oil and So Pure Moroccan Argan Oil Light are true powerhouses when it comes to achieving soft, manageable tresses and protecting against future environmental damage. 
To Add Even More Hydration: Keune's So Pure Moisturizing Treatment penetrates deep into the hair to help counteract damage and soothed overly stressed strands. 
To Soothe Your Scalp: Try Keune's So Pure Calming Elixir, which helps rebalance and soothe irritated scalps while also adding volume and softness to your hair. 
For Split-End Repair… While You Sleep: Keune's So Pure Moisturizing Overnight Repair treatment helps strengthen, hydrate, and balance your hair while you sleep so you can wake up with the hair of your dreams!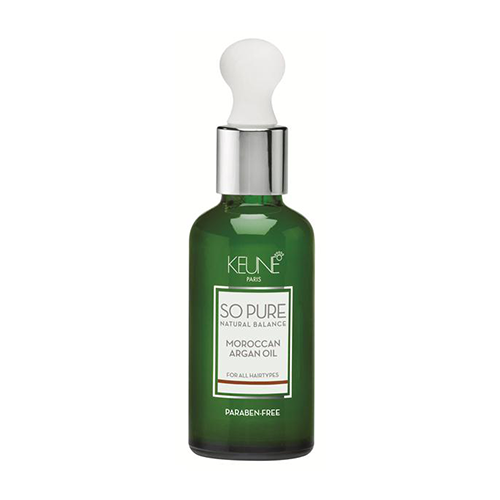 Follow up your treatments with an energizing cup of green tea or soothing chamomile, do a few light stretches, and enjoy the lasting effects of taking the time to focus on your health and wellness! 
---
Keune, for the salon professional since 1922.
To learn even more about their brilliant color, stunning styling, and trend inspiration be sure to stalk Keune on Bangstyle and follow them on Instagram, Facebook, Twitter, and Pinterest!