You may have seen Casey's beautiful work on social media or on Bangstyle, her stunning creations with waves and bobby pins are setting a major trend for the summer. Falling in love with her work, we wanted to know more about this fabulous artist! A single mom of two, Marley, 14 and Sebastian, 8. Casey has been a cosmetologist for almost 15 years now specializing in hairstyling for weddings and fashion and now she owns her own salon, Modern Classic Beauty. Keep reading to learn more about Casey and see her stunning work.
---
I started out at the Art Institute of Fort Lauderdale for Fashion & Fine Arts. My father passed away when I was finishing and I moved back to Jacksonville, FL to be close to my mom. There wasn't really anything for me to do with fashion in Jacksonville at that time and I was struggling to find my path when I was getting a haircut one day and it just sort of hit me - I bet I can do that too! I enrolled in a local beauty school immediately and everything just clicked for me. I think my art school background was a huge asset because I was used to following patterns, so very familiar with the color wheel and I was already fluent as a trend forecaster.
​What drew you to hair styling?
I've always loved playing with hair and how it can transform you. My earliest memories are my dad letting me put his hair in sponge rollers while my parents watched old westerns on TV. In Jr. high, I started coloring my hair purple and chopped it really short which wasn't really the norm in my rural small town. After I got my license, I assisted in a large salon and spa that attracted a ton of weddings. A lot of the stylists there didn't really enjoy doing updos and would send them all my way. And that's when I found my true love of hairstyling!
​What is your favorite technique to use?
I'm a big fan of teasing. I find it serves as a bit of comic relief on weddings days, too because I'm good at making everyone look really crazy in front of their friends before I bring it all back down to soft & pretty. There really is an art to it and I just love big hair.
​What has been the biggest defining moment in your career?
Besides being featured on Bangstyle? :) I mean, seriously, over 2,000 people liked something I created and the comments have just been amazing. I really feel like I have been acknowledged as not "just" a hairdresser but as an ARTIST. It is an incredibly amazing feeling.
My career has allowed me to work in New York for Fashion Week & Bridal Fashion Week and I have been lucky enough to travel the world working weddings in places like Tulum, Mexico and Provence, France.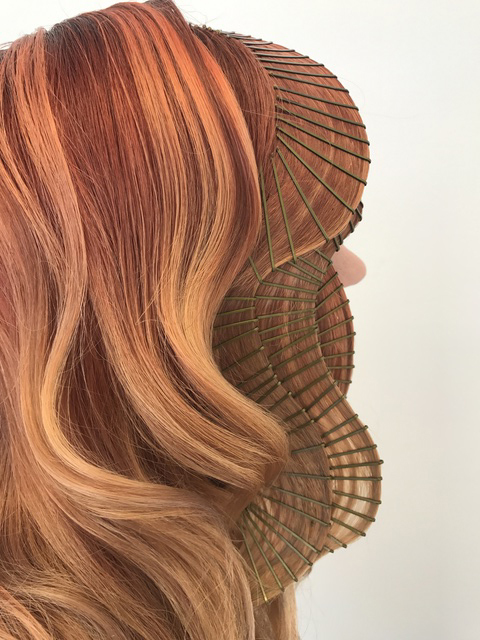 Is there a specific area you often find yourself looking to for inspiration?
I love to help people. I'm really a creature that likes to come up with creative solutions and I find a lot of inspiration in that. I also love seeing other people's work and thinking about how and why someone came up with what they did and understanding their process, too. There's a Van Gogh quote that I live by that goes 'I am always doing what I cannot do yet, in order to learn how to do it.'
What is the one product/tool that you can't live without?
Hairspray without a doubt! Specifically, Kenra Volume 25. That stuff is a lifesaver in the south with all of this humidity.
I feel like I could really do almost any hairstyle I want with that hairspray and a few bobby pins.
If I had to pick a tool, it would be The Beachwaver. This thing curls the hair FOR YOU. (You'll see why this matters to me in a later question) And when I'm using it on a client, I don't have to put my arms in crazy positions, which is becoming more important to me the longer I do hair.
How did you dream up your latest styles?
It was a bit of a fluke. I was hanging out with my friend and fellow hairstylist trying out some new braid techniques and was just not feeling it. It was one of those days where nothing was clicking and I looked over at this box of bobby pins we both had been upset with because they seemed to just be a bad batch and we do so many updos that we were both just going to throw them away like, 2 whole pounds of bob pins - buhbye. I just remember thinking how her hair had a really nice wave to it and I looked at that box of bobby pins and thought finger waves! With bobby pins! And I ran with it. I got caught up in how architectural it looked and it was so very satisfying. I am typically very, very against pins showing AT ALL and now I can't stop thinking about what else I can do to show them off.
Boy did the tips of my fingers hurt after because those particular pins were so tight and inflexible and I needed to open each one to place it!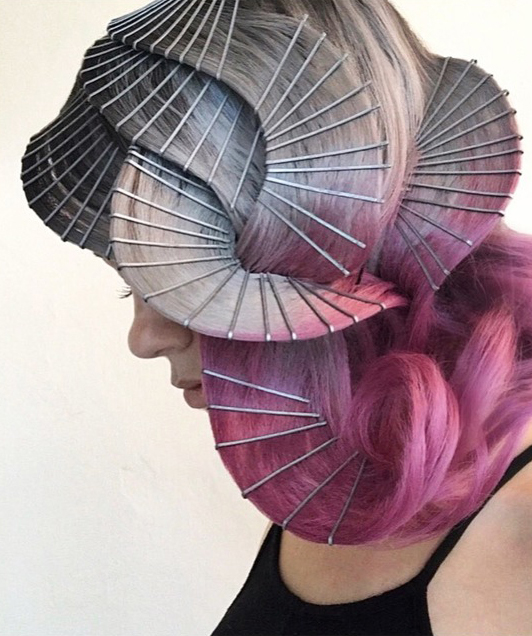 How do you use styling to enhance your images?
I think with every element you use in your images you need to think about what the focus is and what it needs to compliment or contradict and that applies to both it's color and shape.
How did you work with your makeup/styling team to craft a final image?
This particular image was all me plus my friend Sara Jane's natural beauty. :) I love to collaborate but, at the same time, total control can be a beautiful thing.
If you had a superpower, what would it be?
Love this question! I'm a huge sci-fi nerd. Probably something along the lines of telekinesis where I could curl hair with my mind - I'm always wishing hair was already curled, prepped and ready for me to do my thing.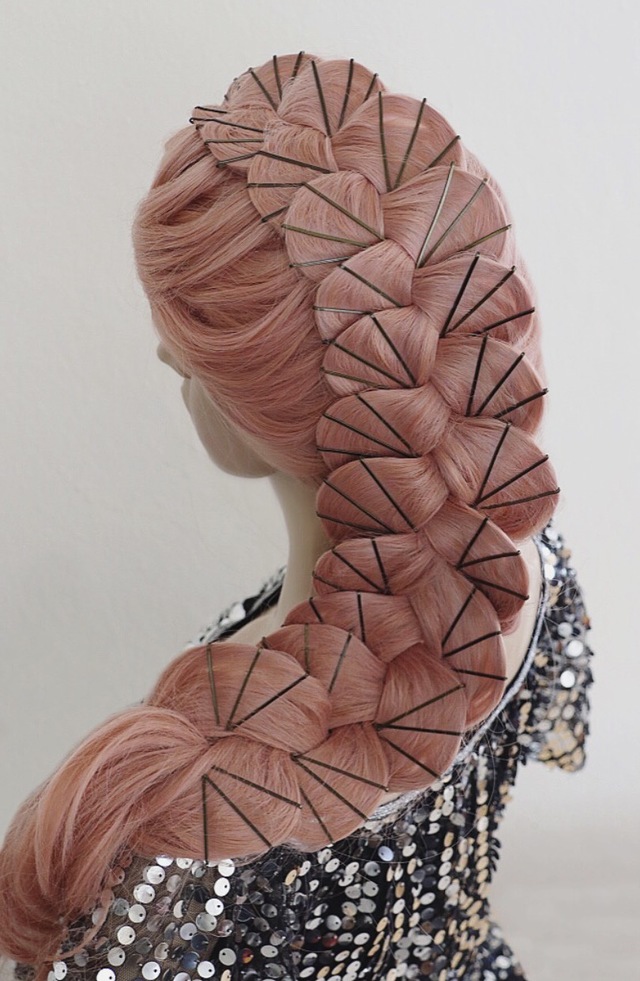 Who were your mentors along the way and how have they shaped your career?
I assisted a really great salon owner and just all around strong woman, Valerie Brooks. She really cared about every detail in her salon, every stylist, and every client. I worked in at least 3 different locations with her before opening my own space. She was very talented and a great teacher that made you feel comfortable to ask questions and genuinely wanted you to grow. I have always tried to recreate that feeling with anyone I am working with.
What hair/color trends can we look forward to this season?
I'm going to manifest a return to more structured styling. I, personally, like it when my hair Does. Not. Move. I've worked really hard to be able to say confidently that the hair I leave you with is going to look the same at the end of the night (and possibly good enough for brunch the next day!)
---
Be sure to follow Casey aka. the UpdoGuru on Bangstyle and Instagram! @UpdoGuru and stay tuned for more tips to get the look!