In recent seasons, music festivals have done much more than inspire auditory musings. With a major exploration into the fashion and beauty industry, they have become quite the ground for creating new trends. As we scroll through our Instagram and Snapchat stories we can't help but pick up on the colour, sights, sounds and fashion from bloggers and festivalgoers alike. This season we noticed an emphasis on hair colour – from the likes of Dove Cameron with her baby-pink hue to Kylie Jenner with her many shades of the rainbow. Festivals have officially transcended boundaries and made their own culture – bringing beauty along for the ride.
This year, to inspire our artists we decided to hold a FESTIVAL.COLOUR contest. We wanted to see what festival season looks like where you live and see what colour creations our artists came up with. Rachel France, a stylist from Bury, Manchester created a fabulous hair colour transformation on her client Aimee (a natural red head) just in time for the warmer summer months.
Inspired by the trend toward rose gold in fashion, Rachel knew that this was the perfect transition for her client. The soft, feminine colour, dubbed 'Raving Rose Gold', complimented her natural beauty while allowing her to stand out in summer style.
In order to cut down on maintenance, Aimee and Rachel decided to keep her natural root colour and simply add to her mid-shaft and ends. Rachel and Aimee knew achieving this colour was going to be a process and after 2 visits they got the perfect shade!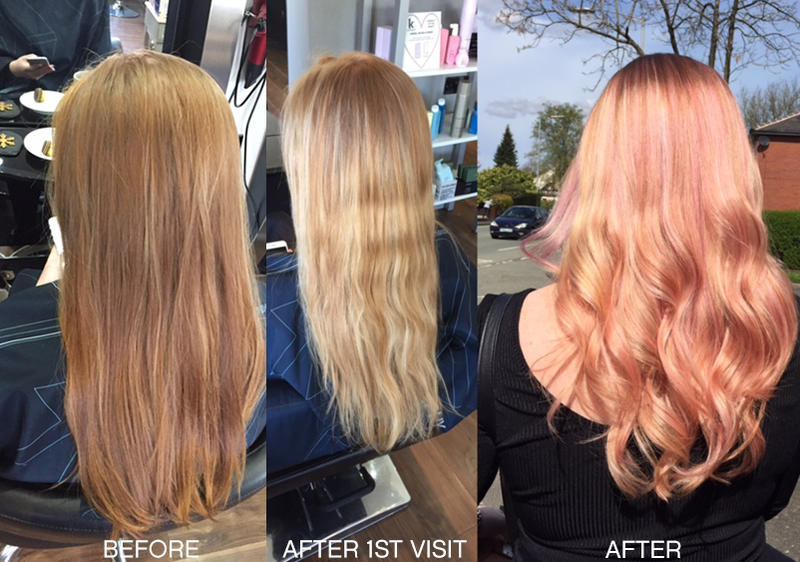 GET THE LOOK:
Using a weaving technique (ensuring roots are left out), apply highlights using POWDER.LIGHTENER and 3% CREAM.ACTIVATOR. (As you move through the head, you may want to switch to 6% CREAM.ACTIVATOR.)
Let foils develop for 25 minutes.
Apply the rose gold formula: 10g 5.86 + 10g APRICOT + 20g CLEAR + double 1% CREAM.DEVELOPER to everything outside the foils. Start at the top of the hair and slowly move down the head to ensure a soft blend.
Once development is complete, rinse the foils and apply STAYING.ALIVE, then rinse the entire head and apply RE.STORE to fully close the cuticle.
---
We absolutely LOVE the look Rachel created – a soft hue with plenty of light. Be sure to follow Rachel France on Instagram @rachelfrance89 and her salon @style.mehairandbeauty for even more hair colour inspiration!